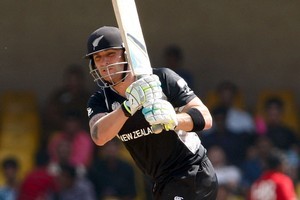 New Zealand's win over Zimbabwe was an important one and it would be wrong to understate the quality of that performance.
There had been far too much time and talk in the lead-up to this game. Much of that talk had been around how this could be a banana-skin game for the beleaguered Black Caps.
There were volumes on the quality of Zimbabwe's spin attack and our supposed lack of skill in dealing with spin on the subcontinent.
Maybe the team had been insulated from those discussions but they certainly had plenty of time on their hands to not only monitor comment, but also stew on their own thoughts, which appear not overly confident right now.
Even with the doubt that surrounds our team at present, they still went into the game as favourites which was another thing counting against them. This was a pressure game, have no doubts about that.
So to witness such a clinical dismantling of Zimbabwe was tremendously heartening. The way they attacked this game once they knew they would be bowling first was bang on.
They showed great control with the ball and also, most importantly, with the bat. It was a display worthy of just where they should sit in comparison with Zimbabwe.
I especially liked the pace at which Brendon McCullum and Martin Guptill batted. It has further convinced me the right approach is acceleration throughout one's innings as opposed to helter-skelter at the start.
I can't help but think they were given a favour when Zimbabwe chose to bat first. Sure, batting first in batting conditions is touted as a non-negotiable but this game had a genuine 'match-play' feel about it and I personally would have asked a New Zealand batting line-up lacking belief to go out and set a total.
It would have been a psychological challenge to them and posed more mental hurdles to overcome than bowling to restrict and then chasing. Instead, it was the Zimbabweans who looked nervous.
The job to get to the quarter-finals is pretty much done now. Although Zimbabwe could knock off one of the other teams, I suspect even if that is the case New Zealand will end up with a superior net run rate.
Now they just need to get the middle order some time in the middle. There are three games left but only two meaningful hit-outs before sudden-death time and our crucial middle order has really had only one opportunity, which they squandered against Australia.
Hamish Bennett's performances over the last two games have made it hard to reselect him. I want him there because he provides some nice variation with extra pace but he has become a bit risky. Surely Jacob Oram must return now.
But with all this said, was that a performance that says this team are genuine contenders or do they just drift in no-man's-land between minnow and top-tier team?