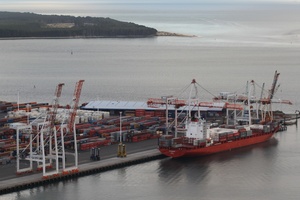 The Bay of Plenty Regional Council is reviewing how it notifies the public about oil spills after a refuelling accident went unreported last week.
The oil spill happened at the Port of Tauranga last Wednesday when ship Liloa lost oil while refuelling. The public were not notified of the spill, even though there was some contamination of sea grass in Pilot Bay that was collected, bagged and removed on Thursday morning.
Bay of Plenty Regional Council pollution prevention manager Nick Zaman said iwi and staff at the Tauranga City and Western Bay District Councils were informed about the spill on Thursday morning following the clean-up.
"We intended to release the same information in response to any public or media queries, but received no queries about the spill.
"However, we are reviewing when and how we publicly notify such spills in future.
"An oil spill poses a risk or threat when the health and safety of the community are put at immediate and obvious risk.
This was not the case at Pilot Bay last week."
Although the Liloa has been out of the country for a number of days, Mr Zaman said the investigation into the oil spill was ongoing.
"The focus was initially on the clean-up ... investigations such as this require a high level of detail and information and this is still being worked through."
He said the regional council was still unsure how much oil had been lost and wouldn't know for sure until the investigation was completed.
Buddy Mikaere, environmental consultant and co-ordinator of a number of hapu and iwi groups opposed to leaving the Rena wreck on Astrolabe Reef, said this experience showed how much care was needed with the handling of fuel.
Mr Mikaere said he would have expected wider publicity about the event and more people should have been involved.
The Bay of Plenty Times was unable to contact the owner of the ship.
For more articles from this region, go to Bay of Plenty Times