At just $12,000 the new 360 High-Side from Mac Boats is safe and sturdy.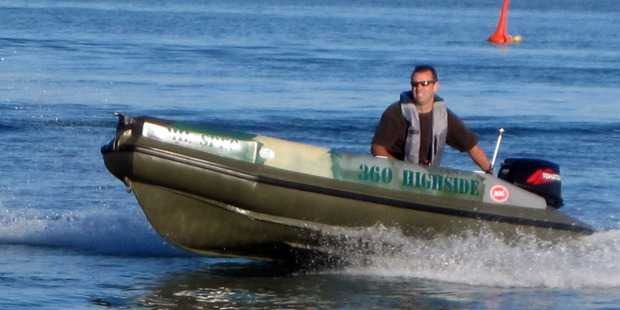 Those of us who have spent a long time in or around the boating industry often wonder why our favourite pastime is not more popular.
Being on the water seems to put a big smile on the faces of virtually everyone who heads to sea, be it in a small dinghy or a luxury cruiser. People, as a general rule, appear to noticeably relax as they step on board, a sense of fun and adventure takes hold and all is suddenly right in the world.
Add in the fun and excitement of catching fish, the exhilaration of being towed at speed, the joy of being moved solely by the near-silent wind and the pleasures of discovering a new place to drop anchor and it is a wonder the whole country doesn't drop everything and go boating every chance they get.
Of course, some people just never get exposed to the sea and the joys of boating. For others, the main issues appear to be cost and concerns around safety.
The new Mac Boats 360 High-Side appears to have been designed to address just these issues. At just 3.6 metres LOA it is not only easy to handle, tow and power, it is also virtually unsinkable and comes with a price tag of just $12,000.
Better still, that includes an 18hp Tohatsu outboard, a trailer, navigation lights and even the sort of electronics package not usually found on a boat of this size: a Garmin Echo Sounder, anchor light, deck lighting and underwater lights (for attracting baitfish); all controlled from a conveniently located switchboard.
For those not familiar with the brand, Mac Boats are quite different to other boats. Rather than being manufactured from GRP or aluminium, they are made from rotational moulded polyethylene; the same material often used in children's playgrounds and water tanks.
Although polyethylene has not really caught on as a mainstream boatbuilding material (despite being around since the 1980s), it has some real advantages over conventional materials. It is, for example, incredibly strong. In a series of recent tests involving Mac boats, Auckland University found that polyethylene has five times the impact strength of fibreglass.
To graphically illustrate just how strong this is, the company has two photos on its website: one showing what appears to be a four-wheel drive vehicle sitting with its front wheels on an upturned Mac dinghy; the other showing a piece of polyethylene suffering only minor damage after being hit by a shotgun, fired from just 4m away.
The construction method has other advantages, too.
According to Mac's sales manager, Mike Wilson, polyethylene does not fade, rust or rot, does not suffer from osmosis or electrolysis and is impervious to petroleum and corrosive liquids.
He said Mac boats were engineered to the toughest US Coast Guard standards, were manufactured from UV resistant marine grade polyethylene, featured a double skin, one-piece construction to ensure longevity and, perhaps most importantly, were virtually unsinkable.
The boats are also all made in New Zealand to ISO9001, ISO14001 and Australasian rotational moulding standards.
"Polyethylene is also warm to the touch on those cold winter mornings and does not heat up like alternative materials," said Wilson.
Another advantage is the wide variety of colours available. In the case of the new 360 High-Side that means a khaki hull with lightly camouflage topsides, making it ideal for those into hunting, too.
Based on feedback from existing customers, the company has included a number of new features in the little 360 High-Side.
"The idea was to make the boat very user friendly, although some may describe it as 'blinged out'," said Wilson.
Much of the attention has focused on producing practical, easy-to-access stowage. There are now twin lockers (for stowing tackle and safety equipment such as life jackets, flare kit and a first aid kit) and, handily concealed in the D-shape pontoon construction, additional built-in lockers for rods, gaffs and the like.
There is also further stowage under the floor for a set of oars; out of the way but quickly accessible if required.
Both the cockpit floor and the anchor locker hatch have been covered with Nautilex, ensuring good grip in the wet. The anchor locker hatch is also a fairly versatile bit of kit: padded, it can be used as a third seat; when fishing, it can be turned over and used as a bait board.
The other two seats (one aft to starboard for the driver and the other forward on port) are of the swivel variety and mounted on pedestal bases with more stowage underneath.
Although only 18hp, the Tohatsu two-stroke is still capable of propelling the 360 High-Side to a top speed of 23-24 knots and to a regular cruising speed of just over 17 knots.
The package also comes with a Road King trailer and a trailerable weight of just 195kg, light enough to be easily towed by even the smallest of family cars.
At just 3.6m LOA, the 360 High-Side needs to stay relatively close to shore and well away from the serious, rough stuff. That said, it has a longer waterline and, thanks to its inherent buoyancy, is considerably more seaworthy than many of the kayaks one encounters a fair way from land.
As this magnificent summer slowly comes to an end, it would be no surprise to find that a fair few people are seriously considering buying a boat for the first time. They should add the 360 High-Side to their list.
It is small enough to handle by oneself, light enough to tow with virtually any vehicle, cheap both to buy and to run and virtually unsinkable.
On a nice day, it is more than capable of cruising out to one of the inner islands or to a good fishing spot in the channels. Should the wind and waves get up in the afternoon, the crew may have to get home slowly but they will almost certainly do so safely.

360 High Side
• LOA: 3.6m
• External beam: 1.64m
• Internal beam: 1.24m
• Freeboard: 650mm
• Construction: Rotationally moulded polyethylene
• Capacity: Three people
• Engine: Tohatsu 18hp two-stroke
• Towing weight: 195kgs
• Price: $12,000