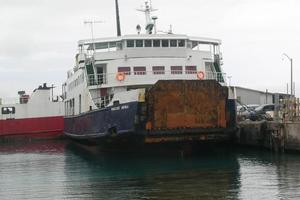 Fifteen minutes before the Tongan ferry Princess Ashika sank with the loss of 74 lives, passengers were asked to bail out the swamped cargo deck, a survivor has told an inquiry.
Tevita Lotaki Kanongata'a, 70, who lost his wife and young daughter in the August 5 tragedy, told the Royal Commission of Inquiry into the sinking that he had spoken to the captain about his concerns as he saw water rising on the cargo deck.
"I told him please return to Nuku'alofa because we had children and our wives onboard and I was also concerned for myself because I was too old to swim."
Mr Kanongata'a said the captain told him he knew about the rising water and illustrated he knew how much water the cargo deck would take in different stages of their voyage, Matangi Tonga newspaper reported.
A seafaring man himself, Mr Kanongata'a said he went down to the cargo area four times during the voyage and became increasingly concerned at the sight of water coming in and not going out.
He returned to the passenger deck and told his wife the vessel had holes in it.
Mr Kanongata'a told the inquiry that 15 minutes before the ferry sank, a public announcement from the bridge called for all crew and able passengers to help bail out water on the cargo deck.
He said that as he was on his way to help, a crew member came up from the cargo area and told him not to go there "because they would drown".
He did not see crew bailing water out, but saw that the cargo had moved to the port side and vehicles were moving from side to side.
"The water had filled over half of the deck, especially to the port side because the cargo had moved there."
As he tried to return to his family, another announcement called for everyone to go to the centre of the passenger deck but some were already hanging over the railings ready to jump.
Mr Kanongata'a said the majority of passengers were still in the passenger cabin when the vessel started to sink.
Within seconds it had turned upside down and disappeared.
The inquiry continues.
- NZPA