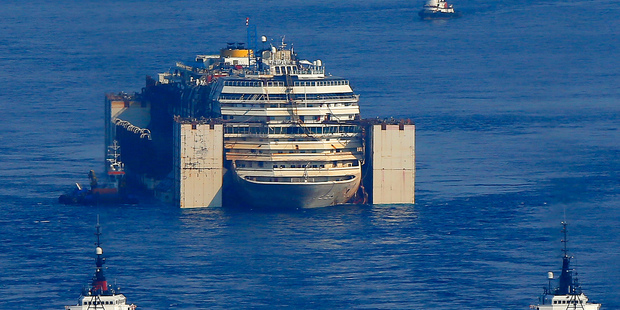 As the stricken Costa Concordia limped its way towards Genoa last week, Italy was remembering the 32 people who lost their lives in the cruise ship disaster.
All, that is, except for the captain. Francesco Schettino, the slick-haired skipper of the doomed vessel, was photographed on Saturday jetting around the holiday island of Ischia, accompanied by a gaggle of glamorous women. Local media suggested he was celebrating signing a book deal.
The huge liner was expected to arrive in Genoa today, where it will finally be broken up. Yet to onlookers it appeared as if the much-criticised captain had not a care in the world.
On Tuesday, he had posed for photographers at the Italian publisher Pietro Graus' third annual "White Party" - an exclusive event that the mogul hosts on the island in the Bay of Naples and at which all the guests wear white.
Appearing tanned and relaxed, the captain - at present on trial for manslaughter, abandoning a ship and causing a maritime disaster - posed with two women in a photograph which was splashed across the front pages of a local newspaper the next day.
"Clamoroso: Schettino" [Blatant: Schettino] read the headline in Il Golfo. The photos were reprinted across the Italian press, provoking fury.
Angelo Mangiante, a television host, said: "Thirty-two dead, 110 injured. And he, Schettino, is still on holiday, guest of honour among the VIPs of Ischia. I am ashamed of this Italy."
Schettino has become the focus for much of the anger about the disaster.
He denies abandoning his ship.