A suspected arson at a beautiful but remote Northland settlement has revived grievances over land ownership. Maori affairs reporter Yvonne Tahana pays a visit to Matauri Bay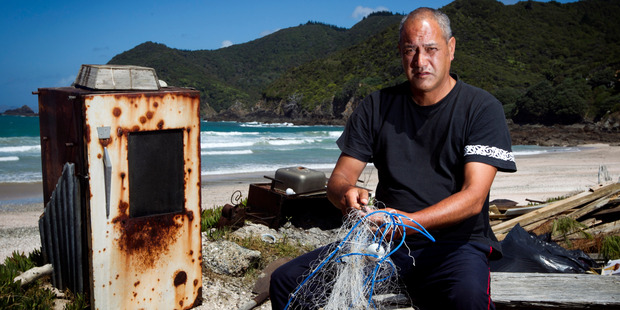 There is order to the seemingly ramshackle nature of the whanau campsite at Matauri Bay.
James Tito's place is an old bus - out the front he's got a space for doing the dishes, in his backyard the panorama includes the Cavalli Islands. Two little tarp-covered single mattresses function as sleep-outs. They're good for kids, he reckons, or for mates to sleep it off when they can't drive home.
There's running water and toilets, which may look like longdrops but they flush, Mr Tito says.
He lives here as a protest, has done so for the last 13 years. The Far North District Council, he says, shouldn't be able to say how people can live on their own land.
It's a stunning place, rich in history. The waka Mataatua Puhi was built to pay tribute to the original voyaging canoe that came to rest here. Missionary Samuel Marsden's visit to the bay in 1814, before he sailed on to Rangihoua in the Bay of Islands, is commemorated by a whitewashed Anglican church, named for him.
The Rainbow Warrior was sunken here after its bombing and is a popular dive attraction.
On a clear day the blue-green water can be as calm as a baby's bath - but it can get nasty, the former builder says. When a storm is in full swing and the rain is pouring, the bus can feel like it's an island in the middle of a vast, angry ocean. Get through that and you're fine.
The wind was blowing a week ago: an easterly gusted to 35 knots in the early hours of Saturday morning when a sales office for a Maori land subdivision was burned to the ground.
The 50-year-old was up watching movies and woke his partner, who watched from a distance as it collapsed, orange and red, to the ground. He points to Maori-owned pines which stand like a living palisade high above mown grassy slopes intended for 139 homes.
"We were just lucky the wind was blowing the other way, that nothing jumped. A lot of forestry could have burned down. I think it's terrible."
Later that same morning ex-Labour MP Dover Samuels pointed the finger at locals opposed to the subdivision.
Kerikeri police are investigating the suspected arson. The officer in charge was not available to discuss the matter.
Time will tell whether Mr Samuels turns out to be correct, but what is not at issue is that since 2001, Maori land owners - the bay is one of the longest stretches of privately-owned land open to the public in the north - here have been mired in financial woes.
More than a decade ago Matauri X, a land incorporation that represents more than 400 shareholders in the bay, invested in a failed water company. That was under the watch of former management committee chairman Hemirua Rapata, who did it without the consent of the wider shareholders.
The debt then was $2.5 million.
Two mortgages over 545.7ha of land to two different finance companies totalled $11.1 million before the Maori Land Court appointed an Auckland-based accountant, Kevin Gillespie, as the interim administrator.
A loan was taken out to do a 139-section two stage subdivision. Mr Gillespie told the Herald in 2009, when the development had been on the market for 18 months, that debt levels were at $16 million. At that time only eight of 25 sales had settled, with others trying to pull out of deals which were done on a 52-year-lease term. No homes have been built yet.
Strategic Finance, which went bust itself, took the debts on its books. Receivers PricewaterhouseCoopers and Mr Gillespie negotiated a settlement where the debts would be capped at $15 million, but the debt had to be paid back in four years. The receivers would then release the securities it holds over the land.
Mr Gillespie did not return calls but court papers outline that he will retire from his position to take up a directorship on Matauri Bay Properties, which is responsible for managing the subdivision sale and repaying the loan.
An independent investor who has a 50 per cent stake in the company, Pat Durham, said his single goal was to ensure all the sections were sold so that the land would be mortgage free.
"The Matauri X committee and the shareholders, that's what they live for every day. That's what they pray for every day. And they don't want to see hurdles. They would like a break and they absolutely deserve a break."
He would not confirm how much he invested. Asked if he would profit out of the development, he said there were unlikely to be any "residuals".
His wife had connections to Ngati Kura, which is why he felt strongly about the development and community.
"The Matauri Bay people are brilliant, they're lovely people. I just think this behaviour is not reflective of this community. I've had over 50 phone calls since this office was burned down and they're from all walks of life, they're sickened by it.
"You know it's actually like someone poking them in the eye with a stick and that's not right."
He still believes the subdivision can be a success and says a renewed marketing campaign is likely to get underway this year. There had been a high level of positive inquiry lately, he claimed.
"I don't believe it's going to materially affect Matauri X's ability to have a successful project."
Advertising signs now claim the land is freehold and a website says lots are going for $270,000.
Kawe Rapata, the older brother of Hemirua - who did not return calls - says shareholders know the time is ticking for paying back the $15 million.
The 70-year-old returned home 13 years ago hoping to retire quietly but instead arrived almost right smack into the troubles. Like many of his relations he lives on a little rise and has gorgeous east coast views.
Many older people are saddened by the arson whatever their view may be on the actual merits of the subdivision, he says.
Anxiety levels have also risen about whether the land may be sold out of Maori ownership forever in a fire sale, if the deadline is not met.
"Just because the finance company has come-a-guts doesn't mean we're off the hook. We know we have to pay that debt and we'll use the land that's been developed."
He accepts the nature of the place may change. A Statistics New Zealand estimate of the coastline from Takou Bay, around to Matauri and then up to Taupo Bay says 2740 people are resident in the region. Matauri's population will only be a portion of this.
"We're not interested in flash houses and flash lawns. We just want to live at home. We take the boat out and go fishing, come home, life is simple. Living in luxury is out of reach for [most] people."
There have been unsuccessful moves to remove Mr Gillespie over the years by Ngati Kura whanau members as questions were asked about his powers.
The Maori Land Court too has been criticised locally as paternalistic.
Asked if he thinks those responsible for the arson are from Matauri, Kawe answers indirectly. Many have worked a lifetime and then returned home, a number have never worked, he says.
The Northern Advocate reported last year that Hemirua was among a small group of Ngati Kura opposed to the land sales who have put up signs at the beach warning of wheel clamping if people infringe hapu parking rules and a $200 fee for removal of the clamps.
Kawe is honest about his brother's role in Matauri X's current predicament. It's a subject every Sunday at kaumatua/kuia hui.
"We discuss it all the time ... it's always part of our topic. It's not a subject we really like to talk about but we have to, you've got to, there's no use sweeping it under the carpet. The blame was on him ... [but] the people relented a lot.
"But we [his wider family] don't mind, it's no good dwelling on the past, life moves on."
Back at the beach, Mr Tito says he would love to have built a proper home where the subdivision is. That won't happen but he doesn't begrudge those who might buy at the subdivision.
Mr Tito says while it was a good idea to pay off the debt, the scale of it doesn't make sense to him. He wondered if nine or 10 homes might have paid off the original $2.5 million debt if a subdivision had been put together earlier.
In front of the blackened remains of the sales office stands a symbol of competing ideas of paradise here. A real estate sign shows a man pulling a kayak into a glassy morning sea as the sun rises.
In the top right corner in blue and white lettering it says: "coastal sections for sale NOW."
Black paint obscures some of the rest, making it read: "from $0,000."