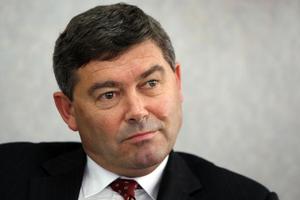 A woman who blew a raspberry at North Shore Mayor Andrew Williams has been issued a trespass notice, banning her from the shopping centre where the incident occurred.
Shirley Squire described the mayor as a "cowardly careerist" before blowing him a raspberry after he finished singing with a troupe during Chinese New Year celebrations at the Northcote Shopping Centre.
Days later, Sunnynook community constable Penny Rusbatch presented Miss Squire with a trespass notice, prohibiting the 74-year-old from "Northcote Shopping Centre and surrounds".
"This is beyond persecution," she told The Aucklander. "It's positively sadistic."
Constable Rusbatch said the notice was issued at Mainstreet Northcote chairman Martin Lawes' request.
Mr Lawes did not return calls.
Miss Squire wants the trespass notice lifted. "I blew a raspberry, twice," she says. "I waited until he was off the stage because I didn't want to insult the Korean singers."
Mr Williams said Miss Squire's misdemeanours in Northcote Shopping Centre went beyond what was acceptable.
"She was being offensive to many people who were there for the Chinese New Year," he said. "There were consul-generals from various nations there. She was a real embarrassment."
Mr Williams said he had nothing to do with the police complaint or trespass notice. "That was the Northcote Shopping Centre who took that action and I was only told about it afterwards."
The mayor doesn't believe trespass orders are too extreme for the circumstances. "The council has been trying to work with Shirley for years now. She rang my home and abused my kids and my wife."
Miss Squire refused to say whether she would temper her behaviour if the trespass orders were removed.