Claims about the sex secrets of the young Barack Obama have been outlined in an authoritative new biography of the ex-president.
Obama slept with his girlfriend Genevieve Cook on their first date, before she wrote him a poem about their "f***ing" and called their sex "passionate", the book about the former president reveals.
They also took cocaine together - and after they split she slept with his best friend, the Daily Mail reported.
Obama also considered a gay relationship while at college, twice proposed to a white girlfriend, and cheated on Michelle with his ex during the first year of their relationship.
His past is revealed in the 1078-page biography Rising Star: The Making of Barack Obama, to be published on May 9.
Obama, a new Columbia graduate who was working for a firm that prepared financial reports at the time, made dinner for Cook at his apartment in Manhattan two weeks after meeting her at a New Year's Eve party and handing her his phone number.
It was the start of a relationship, which is one of a series revealed in Rising Star.
The biography is the most comprehensive work on Obama and the first to be published since he left office.
It was written after exhaustive research by Pulitzer-prize winning biographer David Garrow, and also reveals how he asked another woman to marry him - and continued a relationship with her while dating Michelle, before she became his wife.
Cook was 25 when she met 22-year-old Obama on New Year's Eve in 1983.
Australian-born Cook was living in her mother and stepfather's Park Ave apartment at the time, but had been brought up around the world, including - like Obama, Indonesia - as her father was an Australian spy and diplomat.
She wrote about it in a private memoir and said that at the party "I remember being very engaged and just talking nonstop" with Obama.
"The thing that connected us is that we both came from nowhere - we really didn't belong."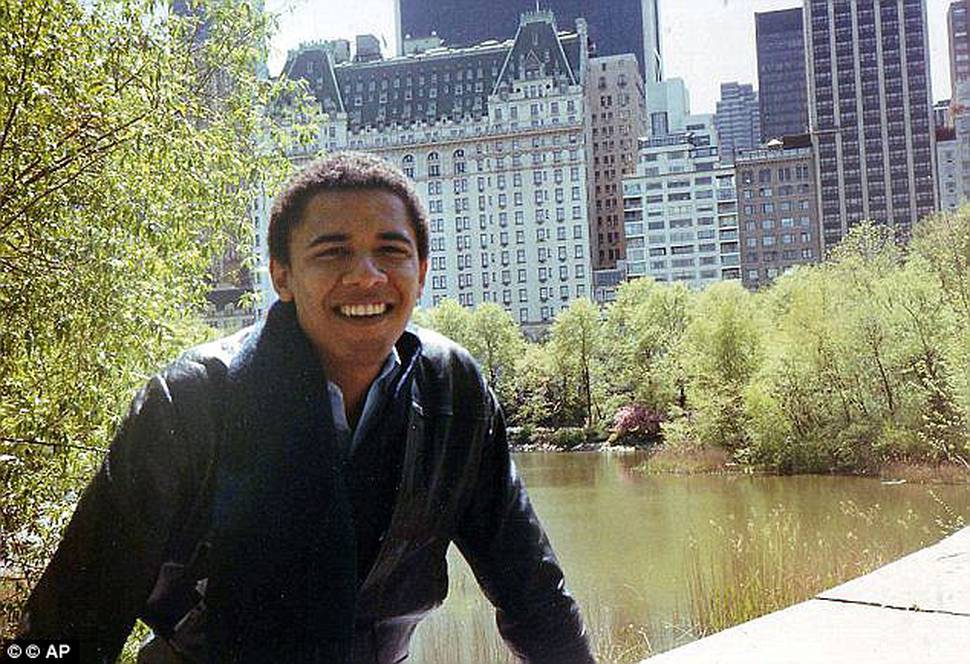 Their first date involved more than talk however, and Obama cooked for her at the West 114th St apartment he shared with two roommates.
"Then we went and talked in his bedroom. And then I spent the night. It all felt very inevitable," she wrote in a private memoir, revealed by Garrow.
She spent the night again with him a few days later and rated him highly in bed - even writing a poem to him saying: "B. That's for you. F's for all the f***ing that we do."
Garrow reveals that she said: "Sexually he really wasn't very imaginative but he was comfortable. He was no kind of shrinking 'can't handle it. This is invasive' or 'I'm timid' in any way; he was quite earthy."
Their relationship appears to have been deeply sexual, with her writing that "all this f***ing" was "so much more than lust" and also saying in her diary: "Making love with Barack, so warm and flowing and soft but deep - relaxed and loving - opening up more."
She also wrote in her diary about "passionate sex", the book says.
But the couple also used drugs and Cook reveals that Obama was still a cocaine user when they were together.
He would spend time with other friends - Hasan Chandoo, Imad Hussain and Sohale Siddiqi, who he had been friends with at Occidental College, in Los Angeles - and Cook said the trio were taking "lots of cocaine".
They were far more prolific users than Obama, who she said probably preferred staying home to read than taking the drug. Chandoo - who was later to become a fundraiser for Obama - was the leader, the book claims.
"For every five lines that somebody did, he would have done half," Cook said.
The book also notes that Cook and Obama would smoke pot but only at parties and records when, during tension in their relationship, she wrote in her diary that they went to a party and got "high" on cocaine.
That Obama was still using cocaine in his early 20s is a significant revelation.
He had previously only disclosed that he used it as a teenage student.
The couple split in June 1985, after a year and a half together, the book says.
But she was hardly out of his life - because she became involved with his friend Siddiqi in September of that year.
She and Siddiqi did Ecstasy together, and then had sex. When she wrote to Obama and told him he replied: "The news of Sohale and you did hurt."
He also used - possibly inadvertently - a racial slur to refer to Siddiqi and the other two Pakistani-born friends, calling them "the Pakis" in the same letter.
When Obama came to write Dreams From My Father, he created a composite girlfriend from the early 1980s.
Another member of the cast of girlfriends - all white - who became the composite was Alex McNear, who is described as a "beautiful blond" who was the focus of a crushes for many students at Occidental College.
One male student even fantasised that she was "the most beautiful lesbian".
However the book is far sketchier on their time together, noting that she knew him in Manhattan as both moved there when he transferred from Occidental to Columbia.
The book discloses that he twice proposed to Sheila Miyoshi Jager, who felt particularity upset by his treatment of his white girlfriends in Dreams From My Father.
Not only did she become part of "a woman in New York who I loved", their time living together in Chicago for two years was dropped and, she said, love letters he sent her were the basis for much of the narrative.
"I never understood why he wrote it this way," she said.
"I wonder if the unedited Dreams is as inaccurate as the published version."
Rising Star: The Making of Barack Obama is published May 9 and is available for order now.