A UK mother has been blasted on television after ordering a friend to pay for her daughter's expensive shoes which were scuffed and marked with a pen while she was at a play date.
Beautician and fashion designer Sarah Bryan was appalled when her three-year-old daughter Isabella came home from a friend's house sporting damaged boots. She immediately sent an angry email to her friend, Nicola Gibbs, telling her to pay for a new pair of the expensive Italian shoes or face further action.
According to Bryan, her daughter is an aspiring child model and only wears designer labels, but she carries changes with her everywhere she goes.
She even ships clothes in from a specialist Spanish boutique so that Isabella - known as Bella - always "looks perfect", Bryan said.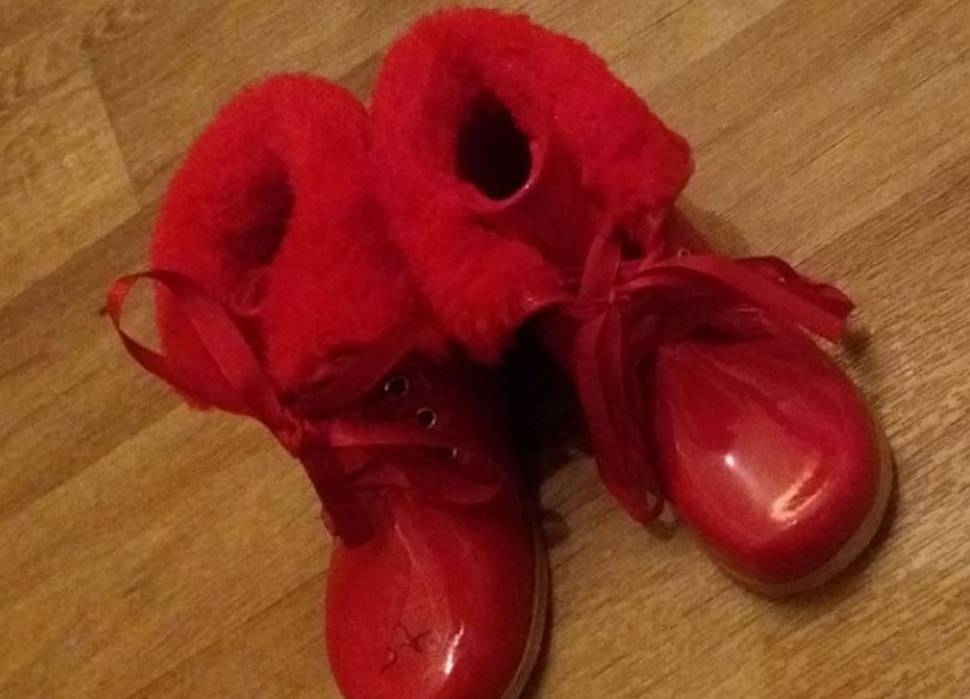 The fur booties, which she claims cost £325 (NZD $565), are particularly important because her daughter uses them for fashion shoots and they match all of her other outfits.
And as a designer, Bryan, who hit headlines for making a dress out of pubic hair last year, said it is vital that her daughter always looks "pristine" because it reflects on her professionally.
Bryan said: "Bella is just starting out in modelling and I make sure she is always dressed head to toe in designer gear.
"I have a pair of black £700 Christian Louboutin shoes which I struggle to walk in, but I'm into fashion and I want Bella to be into fashion as well.
"Bella is already so image-conscious that she knows how to accessorise and is very colour co-ordinated.
"It's fine for other parents to dress their kids in cheap Primark gear, but I want Bella to be more than that and I'm happy to spend money to make her look good and feel special."
Although she concedes that not all children can afford the clothes she dresses Bella in, she thinks that her daughter's friend's mother was responsible for their children when they were damaged and should pay to replace them.
In the email she wrote:
Below is the bill for these replacing because they can not be fixed these are fine Italian leather! As a designer I do not want my child to look anything less than pristine. Bill for a replacement pair of Italian fur booties £325 to be paid by 01/02/2017 before I take this higher. Thank you. Sarah.

SHARE THIS QUOTE:
But after appearing on ITV's Good Morning Britain, Bryan was reduced to tears as Piers Morgan roasted her for being "the worst kind of parent".
He blasted her for having the "audacity" to send the bill and said she was "not a responsible parent" as the pair got into a slanging match on the show.
Bryan, 28, defended her actions and claimed to have packed an alternative pair of shoes that her daughter could have changed into, before fighting back tears as she screamed "she had spares!"
She asked Piers what he would do if faced with a similar situation but the presenter hit back angrily, telling her: "What would I do? Well I wouldn't be buying my daughter £325 shoes to start with!"
The presenter was also aghast when Bryan, from Wakefield, West Yorkshire, told him Isabella had 60 pairs of shoes.
"You sent her in a £325 pair of booties to your mate's house and she gets a few pen marks on them - which by the way happens with three-year-old girls," Piers went on.
"I have a five-year-old girl - they get pen marks on them, they draw.
"And then when she comes back with these pen marks you have the audacity to send her an invoice."
The back and forth continued, with Bryan becoming emotional about the social media backlash she has received since the story broke last week.
Plenty of viewers once again took to Twitter to criticise her for sending the invoice, many congratulating Piers for his handling of the interview.
After the show an angry Miss Bryan, who calls herself an "actress in training" on her Twitter profile, said she had a panic attack in the dressing room. She then took to the social media platform to further add fuel to the fire.