Address:
503B New North Rd, Kingsland
Phone:
(09) 849 7693
Open:
Mon-Fri, 8am-3pm (kitchen closes 2.30pm); Sat and Sun, 8am-3.30pm (kitchen closes 3pm)
Cost:
$57 for 2 people.
Online:
mondayswholefoods.com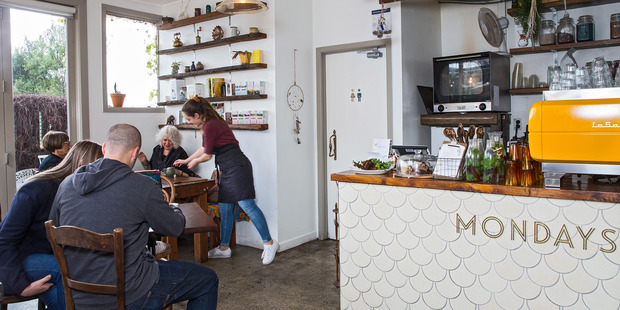 SET UP & SITE
Yoga-centre-with-attached-cafe is a weirdly hot category in the Auckland brunch scene right now, and there's possibly nowhere hotter than Mondays Wholefoods for this almost completely inexplicable concept. Yoga and brunch, to my mind, are not complementary activities. During the long period in which my wife was nagging me to go with her to this place, she referred to it as "Mondays Kitchen", which was crucial in securing my attendance, because the name "Mondays Wholefoods" is as bad a name as any in Auckland's dining history, reeking of 80s' health food shops and tastelessness.


SUSTENANCE & SWILL
The best way to explain what "wholefoods" means in a brunch context is that they've got proper milk and eggs, but no bacon. I had the buckwheat and cardamom waffles ($19), which came with a slop of sweet, tart berries, balsamic, chia, a scatter of crunchy macadamias, some coconut yoghurt and maple syrup. Zanna told me of her theory that wholefood-type places frequently overdo flavours to make up for their lack of regard for sugar.
I have no real opinion on that, but if she's right, Mondays is an outlier. The buckwheat gave the waffle itself a gritty honesty, and the polyphonic dance of sweet, tart, spice and coconut was concordant and even thrilling. Zanna ordered the poached eggs on seeded sourdough ($14) with the optional pea guacamole ($4) and optional salmon ($6).
The pungent guacamole was more like a philosophical position than an added extra. Having had it, on a loaded fork, with the grandly globular eggs, salmon and thick toast, it was almost an insult to imagine the dish without it.
We made a fantastic error in our additional order of a winter spice smoothie ($10), featuring banana, vanilla bean, ginger, allspice, cardamom, cinnamon, cloves, dates, maca, house-made nut milk and sea salt. It was a meal in a tall glass, a dish too far, but it was thick, cold, festive and vibrant on the palate.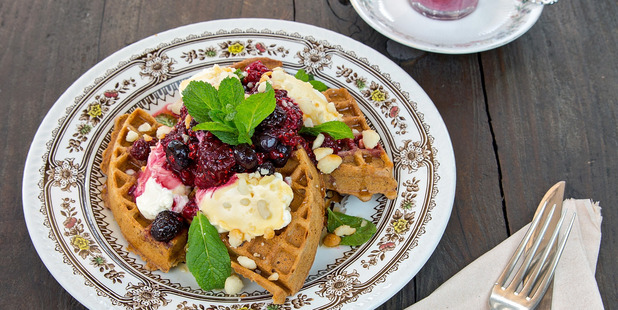 SERVICE & OTHER STUFF
Mondays has already outgrown itself and its size is a problem on winter weekend mornings. There are plenty of seats outside but they are not viable in the cold. If you can get a seat inside, it's a treasure, especially in the vine-framed long window, looking out on the quiet of the courtyard, with the hubbub of the tight-squeezed tables behind you. If it wasn't for the fact it's no longer a secret, it would be a secret delight.
- Canvas