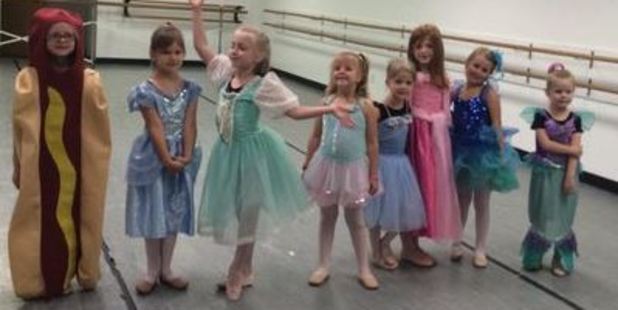 One little girl has taken the internet by storm after ditching princess day and dressing up as a hot dog instead.
Five-year-old Ainsley from North Carolina in the US was invited to attend princess week at her dance school. But instead of the traditional fairy skirt and crown, Ainsley turned up dressed as a sausage in a bun.
It was princess day at dance and one little girl came as a hot dog I have never admired someone more pic.twitter.com/iro5mL2Bvc

— Grayson Lamontagne (@graysonl3) May 9, 2016
According to BuzzFeed News, Holly Springs School of Dance teacher Sarah Nativi and her friend Grayson Lamontagne shared the shot of Ainsley and her princess pals in May, applauding the little girl for her bold costume choice.
Nativi shared the photo to Twitter because "it was so innocent and cute, and also because I was so impressed with how confident a little girl could be with herself to just wear whatever she liked the best," she told BuzzFeed.
And it seems the internet agrees. The photo of Ainsley in her hot dog costume has been shared across social media hundreds of thousands of times and her image re-imagined in various scenarios.
9 Disney scenes inexorably improved by Hot Dog Princess https://t.co/t8o5p5KVzs @turnerbrandon pic.twitter.com/56x6AAcG72

— Comedy Central UK (@ComedyCentralUK) June 6, 2016
@CCCrossley My favourite princess pic.twitter.com/GLlFTv3ki4

— Emma Lawson (@emmalawson) May 26, 2016
READ MORE: • Chewbacca mum's hilarious video
Others applauded Ainsley for daring to be different.
I will never be as cool as this kid. #hotdogprincess pic.twitter.com/DKPZjSF3vD

— Paige McKenzie (@hauntedsunshine) June 4, 2016
In a world full of princesses, dare to be a hot dog ???? #hotdogprincess pic.twitter.com/6AHywcjopL

— Jillian Ackerman (@JillianAckerman) June 3, 2016
Ainsley's dad, Brandon, announced he was surprised by the buzz over his daughter's outfit and confirmed it was completely her idea.
No parent is ready to learn that their daughter is trending... #hotdogprincess Best part is it was all her idea! pic.twitter.com/YBmUkRoj4y

— Brandon E Turner (@turnerbrandon) June 2, 2016