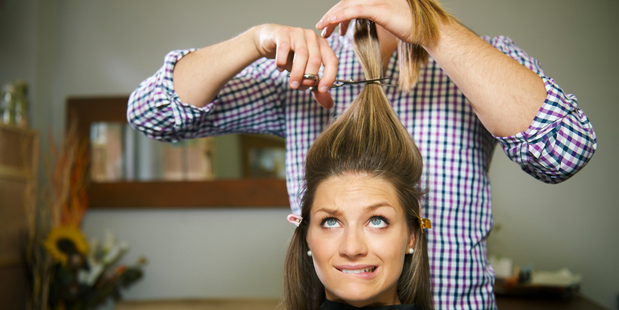 I was enjoying an early dinner one Saturday evening at Cassia in Fort Lane. I was minding my business and making a point of not looking at diners around me. When you're in booth seating and in close proximity to others, it's only polite, I always feel, to give people privacy rather than eyeball them as they sit down.
So I was oblivious to who was beside me until someone called my name from the next table. I looked across. OMG. I hadn't seen him for ages. Wow. My enthusiasm rapidly waned when I remembered the circumstances under which our relationship had ended. I'd simply stopped calling him. I hadn't even had the decency to explain. It's not you. It's me. I just cut him off cold turkey, heartlessly. In short, I dumped him.
Still, we got through the awkwardness and had a friendly chat. I was silently rueing the fact I was having a bad-hair night and I think he joked at one stage about knowing someone who could have given me a good blow-wave.
That, of course, would be him. He'd been my hairdresser for maybe about seven years. I loved the way he did my hair; he never dished up the same style twice. I loved his easy chitchat.
I'd followed him all over town - from the Viaduct to Newmarket to three separate establishments in Ponsonby. (The only place I didn't venture to was on the North Shore; it was a bridge too far. We reconnected once he relocated to the mainland.) But then, finally - and, as it turned out, fatally - he moved further from the city. Once the motorway entered the equation, the level of convenience dived and my devotion was over.
Ultimately, it was pure geography that made me change hairdressers.
Since then I've discovered that there is etiquette involved in ditching your long-time hairdresser. Some people reckon you should send flowers. (Yes, flowers!) Evidently, at the very least, I should have sent a Dear John note explaining the situation. Oh, well, at least I'll know for next time.
Except, guess what? There won't be a next time - because I no longer have a regular stylist. I've gone to the same local salon religiously for the last six or seven years but, when I book, I simply give a date and time I'd like the appointment. I leave it to the receptionist to match me with a stylist who's available. It's a system that works well.
The only trouble is that having a series of people attend to my hair makes me seem dangerously like what someone in the article Cutting loose: How to divorce your hairdresser called a "hairdresser slut". Still, since it was exclusivity and loyalty that ultimately created the awkwardness with my old hairdresser, promiscuity in this regard is not necessarily a bad thing,
Of course, it's not just ditching hairdressers that can cause us guilt and moments of high anxiety. Switching manicurist, beautician and personal trainer is similarly fraught with potential angst. Since they see us in intimate and vulnerable moments, we clearly feel some attachment to those professionals whose job it is to make us look and feel better.
There's a book on Amazon called Dump 'Em : How to Break Up with Anyone from Your Best Friend to Your Hairdresser. With a blurb that says: "Whether it's a housekeeper, a therapist, or a personal trainer, the time comes when you have to pull the plug on the relationship", it promises to "teach you to conquer your fear of confrontation and master the art of the peaceful and permanent breakup". Where was that book when I needed it? It could have saved me from taking the cowardly option when I decided the services of my old hairdresser were no longer required. I guess I'm lucky he's still talking to me.
How have you dealt with dumping hairdressers and other personal service providers?