The relationship we build with our hairdresser can become very close. So what do you do when it's time for a change? Shelley Bridgeman offers some advice on how to divorce your hairdresser.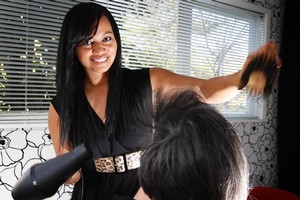 You thought you were settled and happy in a long-term relationship when you start to wonder what it might be like with someone new. You try to suppress these ideas but they inevitably bubble to the surface. Before you know it, you've found a reason to justify straying. You tell yourself it's just a one-off event, that you'll come to your senses and be able to continue as before. Only that's not true. A brief dalliance turns into something more, much more. The new relationship is now a fully fledged affair. You've moved on and there's no going back.
It's a familiar story, one that's repeated nearly every time a woman contemplates changing hairdressers. For some reason, it's a time fraught with emotion - primarily anxiety and guilt. We become so comfortable with our existing hairdresser that to even think of going elsewhere can feel like a virtual betrayal, an infidelity. But why is the prospect of cheating on our hairdresser so daunting?
Perhaps it's because the relationship between a woman and her long-term hairdresser can often transform from that of service provider/client to that of bona fide friend and confidante.
"We have an unusual relationship with people in that we're providing a professional service but we also become people's friends," says Lauren Gunn of Stephen Marr's Ponsonby salon. "It is quite a unique relationship. It's really intimate. I see a lot of my clients more than I see most of my friends. And probably [it's] the same for clients - they probably see their hairdresser more than they see their friends."
Amelia Motuliki, a freelance hairdresser who visits clients at home, also understands how they feel. "You have that relationship and you create that bond over a certain time so it's kind of hard because you feel like you're breaking up with someone," she says.
The language of failed romantic relationships such as "breaking up" and "divorcing" is often used when talking about ending a liaison with a hairdresser. One woman who tried out another hairdresser before returning to her original salon was welcomed back by her old stylist with the words: "Oh, it's like having an affair. You go and you stray and you wander but you always come back to the person you love."
By its very nature, a client/stylist relationship is an intimate one. Because of the regularity of appointments, clients become so comfortable chatting with their hairdresser they feel they can confide personal details. (The belief that all the best gossip in town can be overheard at hair salons is well founded.)
The sense of intimacy is enhanced through the inevitable physical proximity of the hairdresser and by the fact that clients are almost constantly touched. Our hair is gently washed, dried and combed. Our scalp is massaged. We close our eyes and relax. Our shoulder is softly touched to gain our attention. Overall, it's a degree of contact that promotes the illusion of a level of intimacy usually reserved for family members and lovers. There's little wonder we come to view our relationship with our hairdresser as a quasi-romantic one.
Women experience a sense of vulnerability in the hairdresser's chair, too. We're usually wearing a salon robe, with wet hair and possibly even a series of extraterrestrial-style tinfoil wraps on our head as well. The bright lights reflected in the mirrors highlight our every flaw. Sexy, we are not. And if we want to emerge looking presentable we need to be nice to our stylist and colourist.
Some women tell outright lies as to why they're leaving their hairdresser. The pretence of budget constraints and a freshly discovered cost-consciousness often comes in handy. "Oh, a friend's going to do my hair for free from now on" or "I can't afford to pay such expensive rates any more" are often excuses clients give just prior to shifting to their new hair salon.
Conversely, it was having access to regular free haircuts that eventually made Aucklander Keziah Warner feel trapped by her hairdresser. A trainee stylist from a salon approached her in the street and offered her complimentary haircuts while he completed his qualifications.
"I thought: 'A free haircut, where's the harm?' The first time was amazing. He took his time. He really cared about what he was doing," says Warner. "I guess he made me feel special. It was a perfect relationship. I never had to worry about what he thought of me or whether he was going to call. He called without fail every six weeks."
Their relationship was strictly professional, yet the story Warner, 22, tells of its deterioration is like the way someone might speak about an ex-boyfriend and the moment she realised they were nearly through. "But after almost a year things started to change. He stopped listening to what I wanted and just did whatever cut he already had in his head. The care he took over my hair just became tedious ... It had been good, great even, but I had to face it: I was bored."
Although Warner felt something of an obligation to her stylist for all the free work he'd done, she experienced only mild guilt about giving him the flick. "I stopped making appointments and returning phone calls. It was the cowardly way to do it."
Boredom is frequently cited as a reason why women decide to leave their hairdresser. "The most common thing is that they feel like they're in a rut - that the person they're working with isn't really seeing them anymore," says Stephen Marr's Gunn.
"It's probably because they haven't had any change from their hairdresser for a while. A really good hairdresser will keep their client evolving and changing constantly."
Gunn believes the propensity to shift hairdressers often comes down to personality type. "There are people who find a hairdresser ... and stay with them as long as they possibly can," she says. "And then there are other people who are tempted by new things - they like shiny new things and excitement."
One woman told Canvas that some people are simply "hairdresser sluts" identified by the fact they "just go to different people and never ever feel guilty."
Interestingly, the tension and angst in separating from a hairdresser seems to rest largely with the client. The hair professionals themselves generally don't interpret the move as a betrayal or rejection. Gunn is philosophical about clients leaving. "It's not awkward. I don't feel ownership of people. I absolutely love them and I love looking after them and I love influencing their style, but I'm not territorial."
Mobile stylist Motuliki has a similar outlook. "It's the client's choice and sometimes you just need a change. It's natural. They're not going to be with you for 40 years," she says. "You've got to think about what's best for them and give them the freedom as well. So, wish them well and say, 'If you're not happy, I'm always here'."