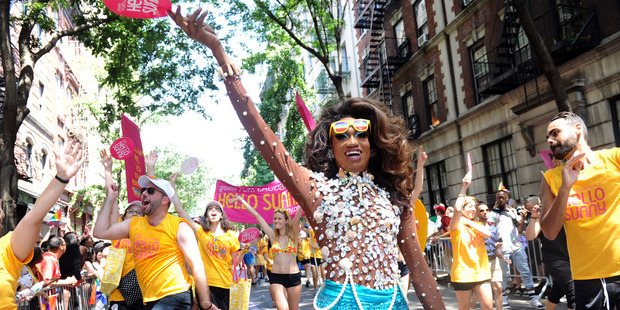 Is oppression at the heart of humour?
That is the message portrayed in When Jews Were Funny, a new documentary (streaming now on Netflix) that uncovers the history of Jewish humour. At its core, Jewish comedians say, is - or was - oppression. Being funny, according to comedian David Steinberg, is the survival mechanism of persecuted minorities, for all they have is "humour and each other".
In my personal experience, Jews and gays get along very well. Both of our groups have fought for freedom and equality, and both understand the positives and negatives of being in a permanent minority. I'm actually particularly drawn to Jewish friends: in the dating game, we all understand how difficult it is to find a) someone decent, within an already-limited societal pool, who isn't taken, and b) someone your other friends haven't all slept with yet. Through common hardships we bond, you see.
An important question is posited in When Jews Were Funny: without oppression or persecution, what happens to humour? Many of the comics lament their children's lack of oppression in one respect - they fear they won't grow up to be as funny as their forefathers.
They'll have less to complain about (such "kvetching" is a key part of Jewish humour), and will be less observant of the differences within the world around them.
That means fewer jokes about Jewish guilt, and fewer obscure similes for the goyim to laugh at (my personal favourite: "Oy! I'm schvitzing like a pudding at a picnic!").
Many comparisons can be drawn here to gay humour, and indeed, the humorous nature of any formerly-oppressed societal group. Historically, a big part of gay humour has drawn from the construct of "camp"; a visual and audible aesthetic that uses exaggeration for effect. Camp was popularised in the 1960s as gay liberation began, and it not only promoted acceptance of effeminacy, but used it to distinctively make homosexuality visible amongst more mainstream, heterosexual culture. Camp heroes such as drag queen Divine and comedienne Bette Midler used camp as a mechanism for joke delivery, too; giving hilarity to ostentatious and theatrical mannerisms, and resulting in further closeness within a community that was only beginning to publicly stop hiding.

Twenty-first Century camp is still alive, but it's less prominent (or less needed?) as gays have assimilated and our civil rights have expanded to almost tow the hetero line. So if, like Jews, we're no longer fighting against widespread oppression, have our senses of humour been dimmed? Our communal funnies become less impactful? Older queens might likely say yes: seldom is the "she" pronoun used for comedic effect amongst gay male friends these days.
Other minority groups face similar dilemmas. The 2009 documentary Why We Laugh looked at how African American comedy has changed over the last 100 years, beginning with its use as a tool "to cut a path through the wilderness of despair", through to poking fun at white culture on stage, and even suggesting that some black comedians are now "too white" in their comedy. Unlike gay or Jewish humour, however, African American comedy has evolved with changing societal positioning: less popular today are jokes about police bias and crime, as Barack Obama's two-term presidency has provided enough material for tall poppy comedians to dine on for years to come.
So, where to from here? We're at a somewhat egalitarian age (in the West, at least) where once-oppressed groups no longer need comedy to strengthen their communities. Will this mean we'll lose the ability to laugh at ourselves, unless we follow a comedic model that favours cutting one another down and reminding others "where they came from"?
I'd like to think not. All we need to do, as members of minority groups, is continue to recognise our difference from the mainstream, and remain proud of it. In comparisons, we will find humour; it needn't come from a place of darkness. Both Jewish and gay humour should remain a device for social catharsis within respective communities (it only takes repetition of a few Fran Fine or RuPaul's Drag Race gags to make us realise we're not, and will never be, the same as everybody else). Just because we've said goodbye to institutionalised persecution, doesn't mean we should sashay away our formerly-subjugated roots.