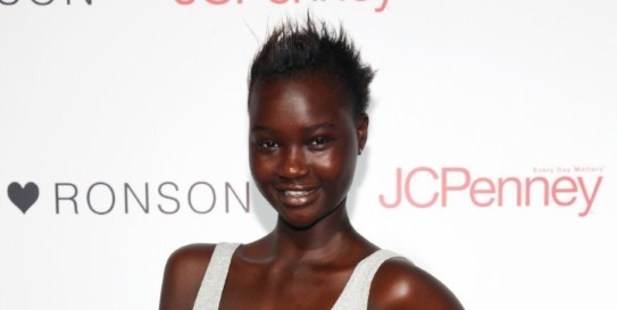 Sudanese model Ataui Deng, 22, has been found alive in a New York City hospital two weeks after going missing.
Friends first publicly raised concern on Monday, when a fellow model tweeted that Ataui hadn't been seen in two weeks. Celebrities including Rihanna rallied to raise awareness and find Ataui, who modeled for her River Island collection.
"If any one has any information on this young lady's whereabouts, please call the NYPD or email findataui@gmail.com," Rihanna tweeted.
If any one has any information on this young lady's whereabouts, please call the NYPD or email findataui@gmail.com pic.twitter.com/YR1bZgI2tG

— Rihanna (@rihanna) August 18, 2014
No details on Ataui's condition at the hospital have been released yet.
Ataui, who came to the United States as a refugee from Sudan, was last seen near The Attic Lounge, a rooftop hotspot on West 48th Street near Times Square around 11 pm on August 6, police say.
But her model agency says she was with her boyfriend, Grant Monohon, 30, two days later than that.
Ataui split with her husband, fellow Trump model Kortney Hopkin, known as Kortney William, 18 months ago. They are in the process of divorcing.
She has appeared on the pages of Marie Claire France, Vogue Germany and Rihanna's Spring 2013 River Island collection.
Ataui has also strutted on the catwalk for designers including Zac Posen and Proenza Schouler.
As an 18-year-old pictures of her stumbling and falling to her knees during a New York Fashion Week runway show for Z by Zac Posen went viral.
Ajak said Ataui and Monohon had lived together for two or three years. "He was always very sweet to her. I have never seen him even raise his voice."
The couple live on the Lower East Side of Manhattan. Ataui is the niece of British supermodel Alek Wek. She fled the warfare in her homeland and moved to San Antonio, Texas as a teen.
Monohon, who describes himself as "infrastructure puncture artist actor" on his Instagram page, told MailOnline he could not comment on his girlfriend's disappearance.
Sandra Garcia, office manager at The Attic, which was formerly known as XVI Lounge, told MailOnline that she did not believe Ataui had been in the lounge on the night she went missing.
"As far as we are all aware she was not there. We have not had the police here asking questions," said Garcia.
Ataui has been on the books of Trump Model Management since she was 16, company president Corinne Nicolas told MailOnline.
"It is a very nerve-wracking and scary situation," Nicolas said. "Hopefully someone has some information that can help find her.
"We found out at the end of last week that her boyfriend said he hadn't seen her for a week."
"He put in a police report and we have been in touch with the detective in charge of the case. We are putting the word out with everyone in the industry and we are hopeful that someone will come forward."
- Daily Mail