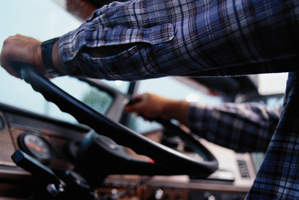 Pick a fight with truck-drivers and you pick a fight with me. Having held a class 2 licence since 2012, I understand why David Cuncliffe's announcement that Labour wants trucks out of the "fast lane" has riled many people working within the transport industry. Why he would choose to alienate a group of the population that might well be viewed as potential Labour supporters is a mystery to many.
Predictably, Cunliffe's Facebook page was lit up with angry truck-drivers affronted that this "pencil pusher" has them in his sights.
"Truckies are victimised each and every day," wrote one. "Tool", "clown" and "muppet" were three of the more polite words bandied about that day.
The truck-drivers were quick to point out that the reason most of them are on the road is because they're in the business of distributing essential goods to cities and towns around the country. Were it not for trucks and the services of their drivers our supermarket shelves would be empty and there would be no fuel at petrol pumps. The Facebook comments included: "Trucks are the backbone of this country" and "The only thing not delivered by trucks is babies!!!"
According to Labour's website, this proposal would require "trucks to not drive in the fast lane on three and four lane motorways." As others have mentioned, such multi-lane roadways are not exactly standard in New Zealand.
Labour's site explained further: "Heavy trucks have a speed limit of 90km/h. If they drive in the fast lane on multi-lane roads, they either slow down light vehicle traffic or, frequently, exceed their speed limit. This is both inconvenient for other road users and dangerous."
It's difficult to know where to start in addressing this flawed logic. Firstly, let's take the example of a three-lane motorway. A truck-driver is likely to eschew the first lane because of the merging traffic which is not always easy to accommodate in a heavy vehicle. Therefore trucks are likely to sit in the middle lane. But if there is a slow car in this lane, Cunliffe wants the truck to be trapped behind it. Presumably when they reach a two-lane motorway it would then be lawful to pass. No one who has ever driven a truck could think this was sensible or practical.
Then we come to the allegation that trucks "frequently" exceed the speed limit in the fast-lane. Whether or not this accusation is broadly true, we already have a law to deal with this. In fact, the purpose of the speed limit is to control motorists' speed. D'oh! There's no need to layer on an arbitrary rule simply to reinforce an existing one.
I drive a truck for recreational purposes in order to transport our horses to events. But sometimes I fancy the idea of maybe being a professional truckie one day. There's a certain freedom associated with being on the open road in sole charge of a heavy vehicle and precious cargo. There are far worse ways to earn a living. I reckon I could set up a boutique equine transport business specialising in shuttling horses around the North Island. And if I think that roaring temporarily into the "fast lane" is the safest and most efficient way of overtaking some Nana (or Poppa) in a car crawling along at 70km/h, then why on earth should Cunliffe be worried?
If he's intent on targeting a particular subset of New Zealand drivers then surely he could identify more worthy victims. Schoolboys driving their mother's hatchback while shouting obscenities at female pedestrians could do with a wake-up call. So could yummy mummies who impede the visibility of other motorists with their oversized statement 4WDs. Both of these types of pesky road-users are far more deserving of attention than hardworking truck-drivers. As is the driver of the slow little car that sat in the north-bound "fast lane" on Auckland's southern motorway on Easter Sunday morning while traffic piled up behind it. I undertook it in a horse-truck travelling at 88km/h hoping that Labour might launch an assault on small red cars next.
What is your view on Labour's suggestion that trucks be banned from the "fast lane"?