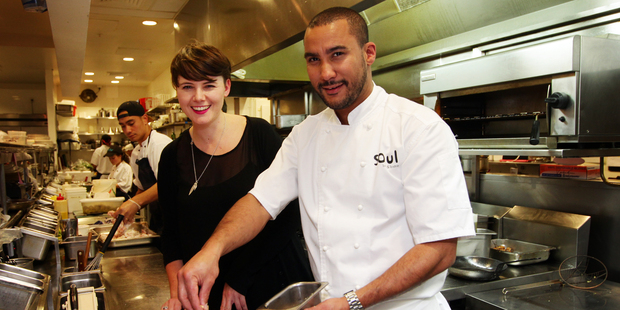 The first mouthful of Gareth Stewart's chocolate pudding had me close to tears. I've been lucky enough to eat a lot of delicious meals this year, but this was one of the most wonderful desserts I'd had in a long time. I love dessert but am often too full to even think about it (although I do have a friend who maintains we all have a separate stomach for dessert). Chocolate is not always my first choice. I tend to head first towards anything with fruit, anything with the word "cheesecake" and anything involving banana and caramel.
But here I was at Soul Bar and Bistro after learning a few tips in the kitchen from executive chef and new My Kitchen Rules NZ judge Gareth Stewart, sitting at a beautifully white-tableclothed table overlooking Auckland's Viaduct, with a chocolate fondant pudding before me.
First spoon-to-pudding contact led to a slow ooze of chocolate falling into the impressive array of accompaniments, something I learned the hard way was a little beyond me to recreate at home. There's a milk mousse, brown milk solids (like a milky crumb), Oreo crumble, malt icecream, Valrhona Caramelia crunchy, and dulce de leche curd.
It was too good to be polite. As Stewart told me about his experience thus far as a judge on the upcoming series of MKR NZ, I stuffed my face with pudding.
MKR Australia has been wildly successful and everyone involved in the local version filming now is hoping it will be equally as popular. Stewart is judging alongside Ben Bayly, executive chef at The Grove and Baduzzi. He says they're good friends and have had a lot of fun on the set. Stewart has been at the helm of the somewhat iconic Soul Bar and Bistro for around seven years, and has been a chef for about 17. Dishes don't tend to leave the menu at Soul, he explains. They just adapt, evolve and change. The latest incarnation of the chocolate fondant pudding is inspired by the flavours of cookies and cream, and is big on texture - at least six different things are going on, including mousse, crumble, and homemade icecream.
Stewart says he pretty quickly got used to cameras in his face and appears to have mastered his poker face. He says the hardest part has been juggling the filming schedule, the restaurant and his wife and two boys.
He's relishing it though, and excitement around the show is building. Two contestants were even sneakily eating at Soul the day we visited, although there were no friendly
catch-ups. He and Bayly take their role as judges very seriously and have to keep that distance all the time.
He prepared and plated each dish effortlessly when we were in the kitchen - the enormous amount of prep time that goes into running a restaurant kitchen was probably a factor.
A very hot pan is the starting point for the crispy-skinned snapper and, rather than flipping the whole fish over, it's important to carefully spoon the hot oil in the pan over the top of the fish. They serve it opaque, with a salad that's full of flavour and texture.
As Soul is near the water, the menu is heavy on seafood. It's also Asian-inspired and the flavours are some of the best.
There's something satisfying in taking a chef's recipe and tackling it exactly. It's a great opportunity to try some new ingredients, and to get some practise at plating-up beautifully, something I'm constantly trying to improve.
So give these dishes a go then sit smugly in front of the TV, judging the contestants from the safety of your couch when MKR NZ begins - it's going to be good.
Recipes
Try out Delaney Mes' delicious recipes at bite.co.nz - links below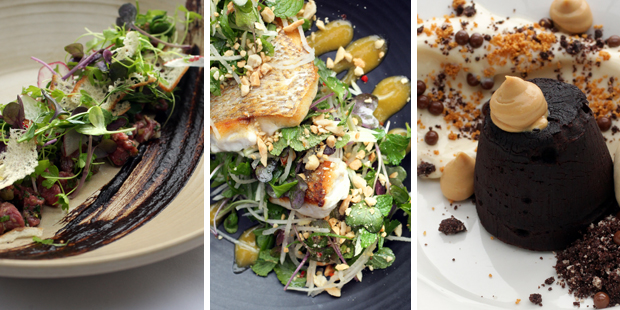 Photo / Doug Sherring
• Beef Tartare, Black Garlic, Radish and Caper Berries
• Pan-fried Snapper with Green Papaya, Green Chilli and Coriander and Mango Puree
• Gareth's Chocolate Pudding