Auckland is home to many gourmets who celebrate the art of French cuisine. Claire McCall meets a few.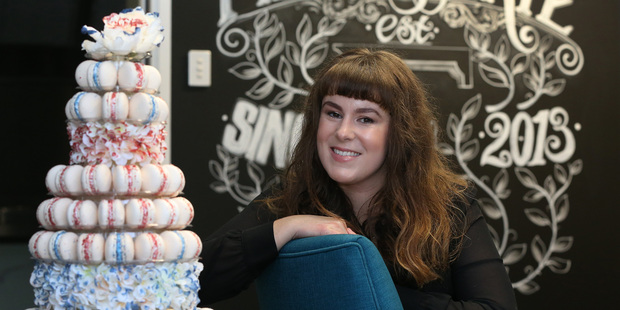 Mistress of the macaron
Her mum's "killer" cookies and slices were Julia Exton's introduction to baking - and in this vein, Exton makes a version of macarons that are equally gutsy and memorable.
"They're not very traditional - they're modern and have layers of flavour," she says.
So, at the business she runs from a commercial kitchen in her North Shore home, Exton delivers a Kiwi take on a French treat that dates back to the Renaissance. She named the venture Mactisserie.
Although she always loved baking, and was known at high school for creating decadent birthday cakes for her mates, it's only recently that she has forged a career from crafting these meringue-based mega-morsels.
With a degree in design from AUT majoring in fashion, she started a Beresford Square clothing boutique with a couple of fellow graduates, before the recession hit and taught her a real-life lesson. So she headed off on the typical OE - a whirlwind 45-day trip around the cities of Europe, including Paris.
"It was exquisite; I wish I had stayed longer."
What did linger was a love of the fine art of patisserie she encountered there. "I've always had a passion for decorative baking, but I had never considered it as a career. I have no formal training, and being self-taught, I was a bit frightened."
The idea to quit her day job in fashion production and pick up her spatula was spurred by her sweet tooth and an intolerance to gluten.
"At the time, all I could ever have at cafes was almond orange cake. I chose macarons because they satisfied my desire for something that tasted great and were beautifully decorated."
Exton watched every video blog she could, researched macarons at the library and online, and her first batch was a surprising success. "I fluked it; they were perfect." With batch two and three she was not so lucky.
So many things can go wrong, she explains. Under-mix the ingredients and the result will be ugly shapes that are not circular and tend to burst in the oven; over-mixing creates tops that are not smooth.
Under-baking means the shells will have a hollow beneath them and are prone to collapse.
Once she had steered clear of these technical pitfalls, the creative fun began. Instead of the classic options, Exton, taking inspiration from the inventive combinations of Paris-based macaron master Pierre Herme, often combines three or four flavours sandwiched between those meringue shells.
It's a strategy that has earned her a loyal clientele both online and at the Silo and Coatesville markets where she sells. Her top seller, the "mac daddy" of her range, is based on a Snickers bar. "It's the ultimate combination of a caramel centre teamed with ganache and a peanut crust."
She chooses carefully the ingredients for the 16 flavours she offers. Free-range eggs and Equagold vanilla form part of her tool kit - as does a television set up in her kitchen.
With so many parts to the assembly, making a batch of 100 sandwiched together can take about six hours. "It's a patient process and you can't rush it. Plus you have to be in the right frame of mind, so I like to watch comedies that put me in a good mood."
For Bastille Day, Exton will make a special selection of macarons in pretty red, white and blue shades, "no garish colours". Just one is guaranteed to enhance your own sense of wellbeing.
• Visit mactisserie.co.nz for more information.
Croissant king and queen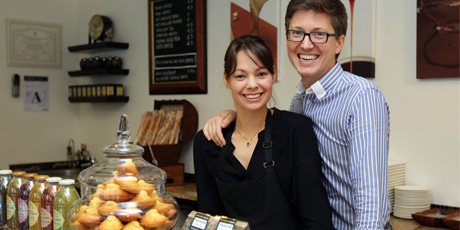 Sonia and Laurent Haumonte are renowned for their perfect pastries. Photo / Doug Sherring
When Laurent Haumonte set out to impress his girlfriend with his newly acquired patisserie skills, the idea turned to disaster. He adventurously chose an Opera Gateau, with layers of almond sponge, ganache and buttercream beneath a chocolate glaze. To make an even fancier version, he melted chocolate on top of the cake and the result was stunning - until the buttercream beneath got too warm and oozed out of the sides. "I lacked some understanding of the science," he admits. "I was really mad at myself."
To be fair, only a brave and romantic man would attempt to equal the proficiency of the woman who is now his wife. New Zealand-born Sonia Haumonte studied at Le Cordon Bleu in Paris and served her apprenticeship in high-end kitchens of that city of love making luxury desserts.
The couple came to Auckland in 2009 and, recognising a gap in the market, opened Patisserie Vaniye in Parnell, where they create French desserts with a contemporary aesthetic.
Elegant and detailed, the array of tarts, cakes and individual-portion treats are set out like bejewelled artworks, but many locals come not for these sweet indulgences, but for the baguettes and croissants.
It's almost impossible to believe as you pull open the crust to reveal a melt-in-the-mouth texture that each croissant contains only one teaspoon of butter. Sonia Haumonte swears it's the quality of that butter that makes this feat of flavour possible.
"In New Zealand most butter is sold ready salted, whereas in France it's the opposite," she explains. When salt is added to butter, it can turn rancid faster plus it's more likely to absorb all the odours from the fridge. "We never use salted butter for baking."
Sonia works her magic using a pared-back palette of ingredients - white flour, butter, salt and a little sugar and water. Butter with a flexible consistency is also important since she rolls this between the layers of dough. Leaving it to rest and breathe between rolling is a key part that takes a practised eye.
"A croissant must be flaky and messy to eat on the outside, with a just enough air and texture inside. It's a delicate balance," she says.
Baked in batches of just 30 per day, they are modest in size - not the giant, puffed-up versions often seen. The history of the croissant is debated, but Sonia believes the idea came from Turkey, and the French "perfected and complicated it". She enjoys the fruits of this complication every morning with coffee, served with nothing else to distract from that buttery taste.
Although he has a full-time job in telecommun­ications, Laurent is up at 5.15am to craft his small, slender but perfectly formed baguettes. The process begins the day before to allow the gluten in the dough to develop during the night. "And a longer ferment means more flavour," he says.
He uses a combination of white and rye flour for a taste that has some edge to it but is not as sharp as sourdough. Then he folds and forms the dough into a rustic, cylindrical shape for baking. Inside he aims for a texture that is not too dense but has random air bubbles through it.
"One challenge every baker faces in Auckland is the humidity in the air," he explains. "While you may have a lovely crust in the morning, it will lose some of its crunch during the day."
Which is why he suggests eating the baguette as soon as possible: "A sign of a good baguette is always if you have torn off the ends to eat before you've even got the bread home."
For Bastille Day, the couple will enjoy a "nice meal" as usual with fine wine, finished off, perhaps with a baguette.
"It's traditional in France to eat bread after a meal - to wipe the plate clean," says Sonia.
Treating yourself to a crusty loaf is the perfect way to celebrate because, as Laurent reminds us, the revolution began because there was not enough bread for the citizens.
"So they went to Versailles to ask for bread, which is when they discovered the gap between how they were living and how indulgent the French royalty were."
• Visit Vaniye Patisserie at vaniye.com
Sausage sorcerer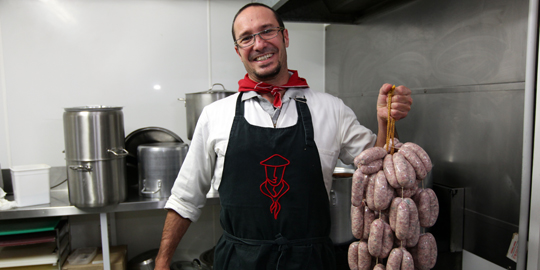 Philippe Arregui. Photo / Doug Sherring
The black-and-white photograph Philippe Arregui keeps carefully tucked into a folder in his office shows a familiar scene of rural life in postwar France. This is no bucolic tableau. The focal point of the bare-sod backyard is a drinking trough for the family's in-residence pig. In the photograph, taken in the 1950s, said occupant has just been slaughtered and Arregui's father is helping to collect the blood in a bucket in order to make black pudding.
"I can understand how some people may be sensitive about that, but back then there were no abattoirs," explains Arregui. "My father was a butcher's apprentice and, during the winter, they'd travel to their clients' homes to kill the pigs. The animals were slaughtered for food, not just for pleasure."
Like his father and grandfather before him, Arregui trained in charcuterie - a traditional art of butchering, with a focus on making preserved, raw and cooked products from pork.
Born in the Northern Basque Country, an agricultural region, he spent school holidays in his father's small-goods factory. "I learned how to make sausages, how to manage production, organise delivery, and how to deal with customers." He also spent many hours washing dishes. "I received no special treatment. It's how you learn your life skills - nothing comes without effort."
When Arregui immigrated to New Zealand with his wife and two young children in 2010, he was drawn to "the temple of rugby" and a landscape that, he says, is similar to that of his birthplace. "When I arrived I felt like I was born here."
Charcuterie is his calling and meeting Guillaume Desmurs, founder of L'Authentique, meant he quickly had a job. Four years later Arregui is one of the owners of this boutique business where a team of five recreates the taste of French tradition using local ingredients. L'Authentique's range of sausages is made the classic way, with coarse meat from free-range animals, natural casings and no preservatives. With no fillers, they are also gluten free. "I always say we like to put sausages in bread, not bread into sausages."
One star performer is the Toulouse sausage made from pork shoulder and spiced with a secret mix of seasonings. "We grind the spices just before adding them so they're really fresh and flavoursome," says Arregui. To get the best from your sausage, he advises pan-frying as cooking in the oven will make them as dry as shoe leather. Like a good piece of steak, first sear the sausages on all sides in a little oil over a high heat. "That will keep the juices in." Team with a crusty baguette or creamy mash and you'll be in French heaven.
A special Bastille Day treat could be one of L'Authentique's parfaits, either chicken and duck liver or one that is created from truffles and fresh New Zealand portobello mushrooms. A parfait differs from pate in that it is like a mousse, whipped so it is delicate, light and very spreadable.
Arregui hopes for some time today to surf at a "crazy beautiful" West Coast beach. Then he'll join friends at Frenchies on Ponsonby Rd for a cassoulet and a nice bottle of wine. "When my father stopped school at the age of 14 to start as an apprentice butcher, he called it 'the best day of his life'," says Arregui.
The family passion continues albeit in a different corner of the globe.
• L'Authentique charcuterie products are available from Farro Fresh, Nosh and Pyrenees, Mt Albert.