Singing skeleton puppets, free family workshops and historic swimming baths... Danielle Wright finds plenty to do on a city day out with her family
Before the Auckland Harbour Bridge opened, a whole day would be needed for the ferry excursion from the Shore into the city. These days, a quick drive-by to run into a shop is all my family normally have time for in town. So, we decided to take our time and spend the day.
We started with a swim at the charming old Tepid Baths. Built in 1914 with separate pools for men and women, back then the hot water was heated from the nearby tramway power plant.
Today, there's history at every turn from the oversized black-and-white photographs outside the changing rooms, of women swimmers wearing bathing caps, to the old-style changing cubicles around the edges of the learners' pool.
Since reopening after its major refurbishment in 2012, the Teps are also modern with Scandinavian-inspired sauna and steam rooms, a large spa and a freezing cold shower nearby. There's a Kiwi boatshed feel to the main swimming pool room with new steel replicating the original design.
Even the bathrooms have everything you need, from an ironing centre to large, Art Deco-inspired mirrors and modern black tiling.
It's far nicer than the usual leisure centre swimming pool with lots of posters outlining its history to read while you're bobbing along with toddlers.
We swim in lanes where sporting teams such as the All Blacks have swum and where free divers train during the week. Today, the New Zealand Fire Service has just finished training.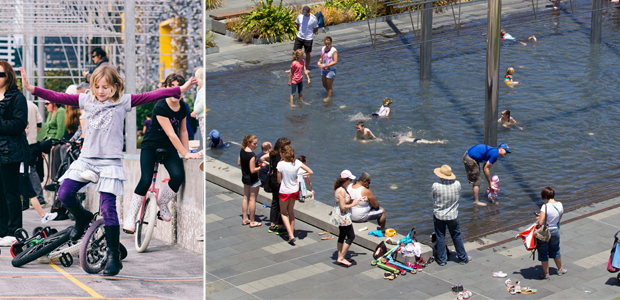 Workshops on the Wharf offer fun for kids as does a sunny afternoon in Wynyard Quarter. Photos / NZ Herald
Afterwards, we head across the road to Sushi Train to get onboard for lunch. The kids grab plates from the conveyor belt moving around the sushi chefs, who are throwing whole crabs into sushi rolls to chop up with big knives.
There's a blackboard wall on which some toddlers scribble "I love you mummy" in chalk, and lots of children (with hair still wet) are stuffing their faces with sushi and, later, jelly and cheesecake.
We walk down to Wynyard Quarter just in time to do a "workshop on the wharf" with a Matariki theme. The kids have to trace around their hands and write a letter about their favourite things. A sticker says to "Open 21 June 2015" - next year, we can open the time capsule and see how much their hands, and their interests, have changed.
A walk to the end of Hamer St takes us to fishermen and a line of campervans, one with its own herb garden strapped to the back. The sleeping city and the lights on the Harbour Bridge must be a nice view to wake up to.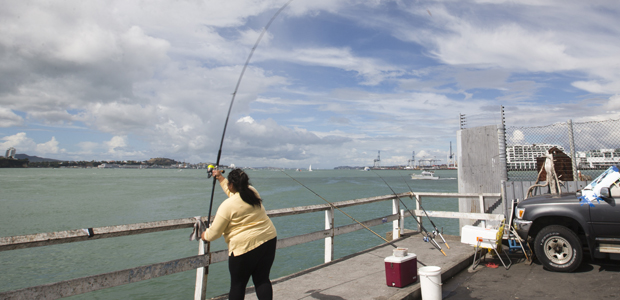 Fishing on Brigham St. Photo / NZ Herald
After an expensive yet delicious icecream stop at Gelatiamo (about $10 for two kiddie cones), we have a rest on the giant loungers near Te Wero Bridge, which opens to let an America's Cup yacht through.
Our youngsters race down the steps to the right of the bridge and find hundreds of fish feeding off the bottom of the pylons before we cross to the container lending library, filled with games of Twister and titles such as Confessions of an Ugly Stepsister and Janet the Gannet.
Tourists take selfies with their iPhones attached to long poles for height. A man rides past on a skateboard holding coffee in one hand and a snare drum in the other, and back towards Wynyard Quarter we stop to watch a skeleton puppet belting out That's Amore - to the delight of half-a-dozen mesmerised young kids.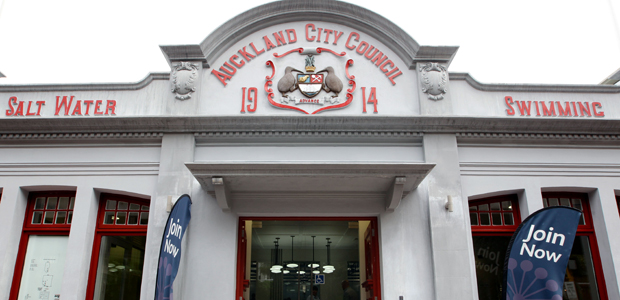 There's history at every turn in the refurbished Tepid Baths. Photo / APN
We make it back to the playground where remote-control jetboats are racing around the water below the stainless steel Wind Tree sculpture. Nearby, basketballs are bouncing and the toddlers are still running in and out of giant metal shells.
A day trip to the city is still an exciting thing to do, just as it would have been all those years ago before the bridge linked city to Shore.
Family day in the city
• Hot swim at the Teps.
• Lunch at Sushi Train.
• Workshop on the Wharf, exploring and gelato at Wynyard Quarter.
Head into town
• Workshops on the Wharf are on every Sunday, 11am to 2pm, next to the Jellicoe St play park. This area is perfect for families with teenagers and toddlers - there are things to keep both amused. To see what's on next, visit facebook.com
• The Tepid Baths are free for children under 16, and $6.70 for adults, tepidbaths.co.nz