Address:
263 Ponsonby Rd, Ponsonby
Phone:
(09) 361 1556
Rating out of 10:
Food: 8, Service: 9, Value: 8, Ambience: 7
Book online with Restaurant Hub

Gusto Italiano is one of those restaurants that makes you feel great the moment you walk through the door. It's light, warm, reasonably spacious; the background chatter is infectious rather than overpowering, and the Italian waiters are typically enthusiastic.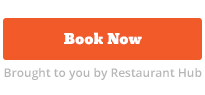 "Come in! Welcome!" they beamed, greeting us like long-lost friends (which only one of us was, after a rather good night there a few weeks before).
Surprisingly, given that that they opened within weeks of each other, locals don't get this Gusto confused with Gusto at the Grand (as in the SkyCity Grand). This one is far less fancy, but jolly good in its own way. Our table was waiting, tap water asked for and provided, a wine sample happily poured as we studied the longer and more complex menu than we expected (there's a specials board as well).
We started with the carpaccio di tonno (thin-sliced raw tuna), which was excellent; the carpaccio al funghetto (sliced raw beef with mushrooms), which was also delectable; and the calamari in pardella - that is, coated in polenta. It arrived looking like a pile of rubber bands, so thinly sliced was it, but every piece was tender and delicious. What's more, the polenta didn't get in the way.
Brian's prawns, from the specials board, were served on Italian flat bread, rather like an Italian wrap, topped with salad and Italian mayonnaise. He gave me one and it was great.
But it was Andrea's scamorza al forno, a melted cheese concoction liberally sprinkled with black truffles, that won the day. It really was brilliant.
Our wines were excellent too. Those by the glass were generous (as was everything about this meal), while the bottle of Ferauds chardonnay shared by the men was good value at $45.
By now a second wave of diners was moving into the quickly cleared tables. One foursome arrived with a new baby in tow. It lay there in its stroller alongside the table, as its parents enjoyed a night on the town. And not a squeak.
Meanwhile I deliberated long and hard before passing on the special slow-cooked beef in favour of the scallopini al profumo di bosco, which translated to white veal with mushrooms. It's rare to find white veal in New Zealand. Mine arrived smothered in a mushroom sauce which sadly masked the flavour of the meat, but it was fork-tender and I enjoyed it anyway. Brian's agnello (lamb), which also came recommended, worked better.
The herbs lavishly sprinkled over the sauce were zingy and piquant, and together they jazzed up the meat. I realised only after I tried a mouthful that it was also served sizzling hot, while the veal could have had a little longer in the oven.
The pappardelle al ragu (pasta with beef ragu), which was good value at only $21, was huge and delicious. It, too, came sprinkled with truffles. Only the arrosto di maiale (pork belly) was a disappointment, which was a surprise for our guest who had eaten it twice before. This time it wasn't cooked to a point where the fat had melted right through the belly meat, and was a little tough and dry. Our one black mark for the evening.
As for the desserts, the tiramisu della casa was first class and the tartufo, which arrived as a large chocolate icecream ball, liberally dusted on the outside with powdered chocolate and with a heart of zabaglione, was terrific. We would return for that alone.
Our Meal: $378 for one bottle and five glasses of wine to go with five entrees and main courses, plus three desserts.
Wine list: An excellent list with plenty of Italian varieties to try. They also pour a generous slug for those who prefer to buy by the glass.
Verdict: Gusto Italiano is a true slice of alluring, excitable, beguiling Italy, plonk in the heart of Ponsonby. Although it feels casual and local, it's sophisticated at the same time, and you get the feeling they're always on for a party. Along with Frenchie next door, Gusto gives the old Ponsonby Village a real European feel with good, authentic Italian and French restaurants side by side.