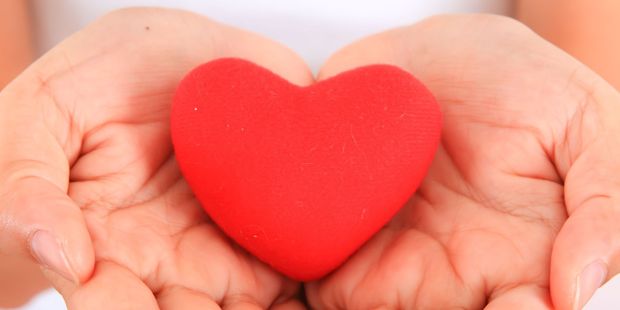 When Eileen Joy decided she'd like to replicate the Pay it Forward concept she'd heard of overseas, she thought her Facebook page might end up with 200 or 300 followers. Almost a year later there are just over 9000 followers and it's growing constantly.
"I'd heard of the idea and realised we really needed a place where people could gift on things they no longer needed, and ask when they were in need - or even wanted - something. With the changes to the inorganic collections we'd lost a bit of that gifting economy that was happening naturally out in West Auckland and the advent of social media meant there were now other ways to make it happen."
Joy asked a few like-minded friends to help out with administration of the Facebook group, Paying it Forward West Auckland. "These were all people I knew well and the reason I think it's been so successful is that we all had the same kind of life philosophy, and similar ideas about being non-judgemental.
Looking back, if even one of us hadn't been in tune with that, it wouldn't have worked."
The rules are pinned to the top of the page, and have evolved as the group has grown but the main thrust is that people have to Pay it Forward in thoughts as well as things. This means you gift something and as the gifter, choose who gets what you've posted - however you arrive at your decision. There is to be no judgement of who deserves what and that applies to people asking for things too.
"Sadly we get a lot of people asking for basic necessities. Maybe their car has broken down and that repair money has meant they don't have enough to feed their kids till they get paid. A lot of people are surviving week-to-week out there and things can get pretty dire when unexpected expenses arise. We are very strict about these people feeling comfortable to ask for help without being judged. We come down pretty hard on those who do."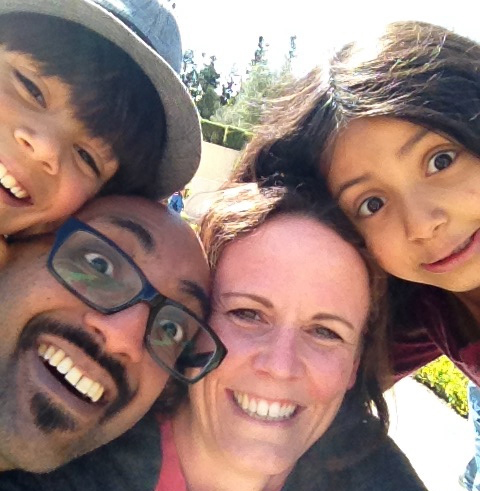 Pay it Forward West Auckland founder, Eileen Joy and family.
The responses to these kinds of requests are amazing. "People will take whatever they have spare to a family in need at the drop of a hat. And a lot of these families don't have a lot themselves! Then we get people who have nothing to spare but are happy to pick things up and drop them off to those who don't drive. It's incredible and very touching to watch."
People gift everything from home-made cakes, to supermarket swap cards to tablets and laptops. Once there was even a car. "We've had some very generous gifters" says Joy, "and even a whole wedding put together by members!" It's a bit of work from the admin end (constantly making sure someone is online to stamp out any inappropriate commenting) but Joy insists the good far outweighs the work required.
"It's not just about people giving and receiving now. The impact has been much further-reaching than that. We now get people posting looking for advice or even just support when they are lonely - sadly there's a lot of isolated people out there. There's also spinoff gifting that no one sees on the page. A member might go round to someone's house to gift clothes and then realise the family doesn't really have much in the pantry so does some grocery shopping for them too."
So what's in it for Joy herself? "Anyone who says they are helping others only for the sake of it, is kidding themselves. Despite the sobering sadness I encounter, I know there is always a kickback for me when gifting and administering. It feels great when you know you've made a difference to someone's life and I know a lot of our members - including me - have become quite addicted to gifting, looking really hard at our possessions and asking ourselves what we really need and what can be better used somewhere else. It certainly makes you address your own materialism."
Joy says it has changed the way she looks at the world too. As someone who runs parenting courses, works with the NZ College of Midwives, has studied psychology and is going on to do a Masters in Social Work next year she thought she had seen a lot.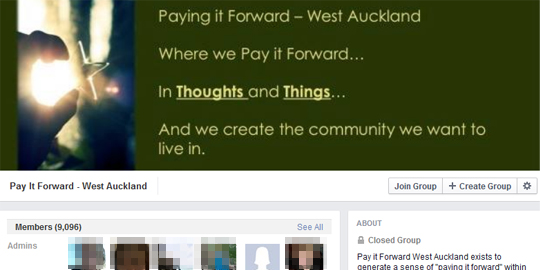 The Pay It Forward Facebook page has just over 9000 followers.
"You think you don't judge but then you realise we all stereotype people and I've really learned how important it is not to do that.
"Sure, there are a small minority who will take advantage of a system like this but it's not as high as I once thought. It's challenged everything I thought I knew about people and made me realise how many families are doing it really tough out there. Someone in the group turned up somewhere to drop off milk the other day and he nearly cried when one of the kids eyes lit up at the sight of a milk bottle, something they hadn't been able to afford for a long time.
"It's not possible to fix all these people's problems on a national scale but if we all try and support the communities we live in, it's a good start."
To get involved in Pay it Forward - West Auckland, visit the Facebook page here.
- www.nzherald.co.nz