Kasey and Karena Bird will share their recipes in a new, fortnightly column.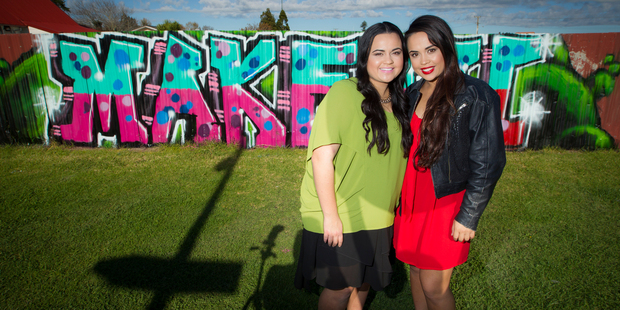 Only a month on from winning MasterChef New Zealand, it is great to take some time here in Maketu and reflect on all of the things we have done since the show finished.
A year ago, we would not have believed we would be driving back to Maketu in brand new cars, cooking in front of hundreds at the Wellington Foodshow, working on our own cookbook, being served by the man himself, Peter Gordon, at The Sugar Club and cooking with Josh Emett at his restaurant Ostro.
Now we are welcoming you all to our new column in Living. Here we will be sharing some of the recipes we love and will give you a little more insight into who we are as cooks and people. We want these recipes to inspire you to get into the kitchen and have fun with cooking by taking humble ingredients and making them that little bit more special. We will deliver classics with a twist where flavour is always king.
Our lives have been well and truly tipped upside down in the best way possible. We have been loving every minute of this food roller coaster ride but it has definitely come at the expense of our time.
With our schedules quickly filling, time is of the essence and we want to share with you some tasty and delicious recipes that won't have you spending hours in the kitchen. At our house, a quick go-to meal is always steak with potatoes and salad but with a few special touches these dishes go from ordinary to extraordinary thanks to a few sneaky anchovies and some dabs of butter here and there.
Anchovies don't have the best name among some people but if used correctly they bring a rich saltiness to a dish that is unrivalled. Paired with a delicious grilled scotch fillet, our anchovy and caper sauce with fresh herbs is just the ticket for a quick and easy Sunday dinner paired with some to-die-for fondant potatoes and, of course, an easy spinach salad. You will have the whole family or yourself calling you a kitchen hero.
Get to know us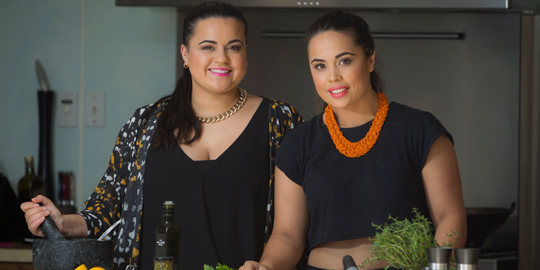 Masterchef Duo winners Kasey and Karena Bird. Photo / Michael Craig
Kasey's take on Karena
Karena is a work horse in the kitchen, never taking "it can't be done" as an answer. She is definitely the more adventurous of us and it reflects in her cooking style - she isn't afraid to try new foods and flavours. This is great but she is one of the most stubborn people you will ever meet so if she says she can make five different canapes for a dinner party in 30 minutes (true story) then be prepared to be feasting on the canapes by that time. But all joking aside, she is the best other half to have in the kitchen and
I wouldn't have it any other way.
Karena's take on Kasey
Kasey, Kasey, Kasey where do I start? She is the queen of making a dollar out of 15 cents. The food Kasey can produce from whatever is in the cupboard rivals none. She always cooks the food you want to eat and she has a natural knack for turning humble ingredients into mouth-watering dishes in almost a blink of an eye. Unfortunately this skill has backfired, as she is now the resident dessert maker. Due to the efficient and delicious way in which she cooks she is forever pestered by our entire family to whip up desserts at a moment's notice.
Recipes to try

A healthy steak with salad and potatoes is just the ticket for a quick and easy Sunday dinner. Photo / Michael Craig
Anchovy and Caper Sauce
• 5 anchovies
• 1 clove garlic
• 1 cup roughly chopped Italian flat leaf parsley
• ¼ cup capers
• Juice of 1 lemon
• Zest of ½ a lemon
• ¼ cup olive oil
• Freshly ground pepper to taste
1. Pound the anchovies and garlic using a mortar and pestle, until smooth.
2. Add the capers and lightly pound into the sauce, leaving some whole.
3. Add the parsley and stir together.
4. Stir in the lemon juice and zest, oil and freshly ground pepper and serve.
Fondant Potatoes
• 4 large potatoes
• 30g butter
• 2 tbsp vegetable oil
• 2 cloves garlic (skin on)
• 3 sprigs fresh thyme
• 1 cup chicken stock
• Salt and pepper
1. Preheat oven to 200C. Cut potatoes lengthwise so they are 5cm-thick. Cut with a 5cm ring cutter.
2. Place potatoes into a bowl of cold water for about 5 minutes to remove starch from outsides. Pat dry with paper towels.
3. Place a heavy oven-proof skillet (such as a cast iron skillet) over high heat. Pour in vegetable oil and once oil starts to shimmer add potatoes, garlic cloves and thyme.
4. Cook potatoes on each side for 5 minutes or until golden brown. Season.
5. Add butter to pan and cook until butter foams and foam turns from white to a pale tan colour. Season with more salt and pepper. Pour chicken stock into skillet, until it comes halfway up the potatoes.
6. Place skillet in oven for about 30 minutes or until a knife slides easily into the potatoes, add more stock and cook for a further 10 minutes if they are not completely tender. Remove from oven and serve with steak.

Photo / Michael Craig
Scotch Fillet
• 4 pieces Scotch fillet
• Salt and pepper
• 2 tbsp vegetable oil
1. Heat a heavy-based skillet until it is smoking hot.
2. Season the steak generously with salt and pepper.
3. Place oil in pan until it starts to shimmer then carefully place two steaks at a time in the pan.
4. Cook for two and a half minutes on each side (this depends on the size of the steaks). Remove from the pan and leave to rest for 5 minutes.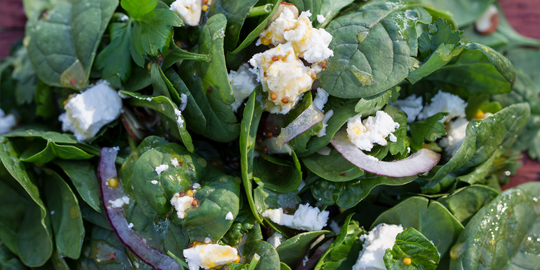 Photo / Michael Craig
Spinach and Parsley Salad
• 1 bag of spinach leaves
• 1 cup Italian flat-leaf parsley (leaves only)
• ¼ cup crumbled feta
• ¼ cup shaved almonds
• ¼ small red onion, finely sliced
Salad Dressing
• 2 tsp whole grain mustard
• 3 tsp brown sugar
• 3 tbsp red wine vinegar
• ¼ cup olive oil
1. Toast the shaved almonds in a fry pan until just golden.
2. Toss all of the salad ingredients in a bowl.
3. To make the dressing, whisk together the mustard, brown sugar and red wine vinegar then slowly drizzle the oil in and whisk to combine.
4. Dress the salad with the dressing just before serving.