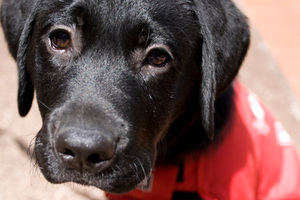 1. Fully mobile
Mobility assistance dogs work as skilled companions, helping their masters and mistresses with day-to-day tasks. These super-clever canines can do more than fetching and carrying: they are trained to understand more than 60 commands, often tailored specifically to their "client human", who is often in a wheelchair, has limited mobility or needs help with specific tasks. Some facility dogs work with therapists to help with client rehabilitation. Spot the ambassadogs out and about in their official black service jackets. Volunteers help with puppy raising, fundraising and more. See mobilitydogs.co.nz
2. No barking
Bark (Building Awareness Around K9s) promotes safe and happy dog experiences for children to reduce the national dog bite injuries. The delightful, personalised classes are now extended to Tales with Tails, where children read to dogs to improve confidence and literacy skills (the children's, not the dog's), Tag the Tails exercise programmes and Time with Tails, a reward programme for kids having difficulties at school, plus customised classes for kids with self esteem, anxiety and anger issues.
Volunteer in administration or dog handling. bark.org.nz
3. Reach out and Touch
Auckland SPCA and St John Outreach bring therapy pets into rest homes and hospitals to lift the days of ill, handicapped or withdrawn patients, and also work with ill children for activities and therapy. More than 300 people and animals -- cats, dogs, rabbits, guinea pigs, hens and donkeys - bring furry and feathery joy in Auckland, Kerikeri, Waihi and Thames, helped by the SPCA's training. Call 0800 000 606 or stjohn.org.nz
4. Good guides
Guide dogs for blind or vision-impaired people are a common sight on the streets, shops and public transport - about 240 working dogs are specially trained. Volunteer puppy walkers raise and socialise selected pups for 12 months before they head to training school for two years, passing 55 different tests. You can bake cookies to sell on Red Puppy Bikkie Day on Monday June9. redpuppybikkiedayorg.nz blindfoundation.org.nz
5. SPCA
Volunteer at the SPCA Animal Village weekends and weekdays. It's not all cuddles: work includes bathing animals, cleaning kennels, keeping the store-room donations, driving, as well as admin or working in the SPCA op shops around town.
You need to be at least 18, but young kids can become Rag Fairies - recycling bedding for the animals and making rope toys. spca.org.nz