Address:
265 Ponsonby Rd, Ponsonby
Phone:
(09) 376 2516
Rating out of 10:
Food: 8, Service: 8, Value: 7, Ambience: 7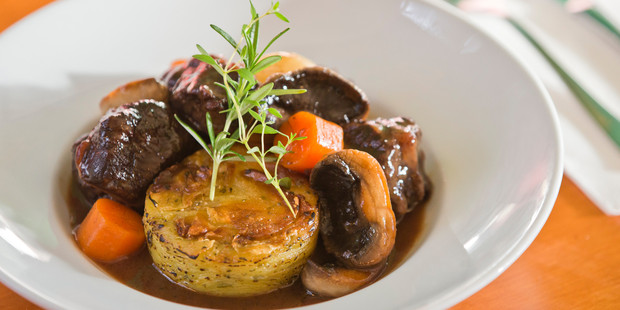 At last, the original Ponsonby village, at the Herne Bay end of the road, is making a comeback. Over the past few months several new bars and restaurants have appeared in the strip opposite the old Gluepot and just past Three Lamps Plaza. And, joy of joys, they are small, funky and, judging by Frenchie, seriously good. So far there's not a chain eatery or over-posh place to be seen.
Frenchie, formerly called La Cantine, is definitely understated. There's just one painting on the wall, les journaux de Paris, seating for around 30 immediately inside, plus a couple of gas-warmed tables on the footpath for hardened types.
The blackboard menu is short and sweet, the wine list much larger and equally good.
The owner is Alex Roux, who Brian recognised with joy from his time at Bouchon in Kingsland and the marvellous Pastis in Nelson St in the city. Even though we arrived just after a large table of about 12 others, with typical French insouciance and tons of practice, he gave us a great evening.
We started, after a generous sample, with an astonishingly good French pinot gris that was rich and fruity without being over-sweet, with none of that acidic finishing kickback that can ruin the varietal.
Brian's chardonnay, chosen from Frenchie's 50-strong wine list of mainly French varieties, was also beautifully matured.
Our entrees were similarly outstanding: the calamari special sported a crisp, flash-fried, well-seasoned coating, and arrived tender, tasty, fresh from the pan and piled high on the plate. Full marks.
My onion soup was thick with onions and topped with croutons that stayed crisp to the last mouthful of soup and Brian's duck liver pate was smooth, obviously homemade, served in a pottery bowl, and just ducky enough to be different.
Meanwhile, we could see the kitchenhand stirring and whipping, while no doubt the chef was furiously creating, and Alex sped around, taking orders here, delivering wine there, getting the big table with several youngish kids fed in record time. We're talking minimal staff, but it works.
We ordered two of the three main courses on offer, the boeuf bourguignon, a dish we'd eaten the week before at another French restaurant, thinking it would be interesting to compare the two. And Frenchie's version came out on top. The beef had been slow-cooked for just the right number of hours to make it tender and still tasty, and the mushrooms, potatoes and carrots had been added recently enough to hold their shape and taste. The wedge of potato gratin served with it made a meal sustaining enough for hours of wine tasting.
The special dish of the day, duck confit, was a first for me, and it was thrilling. I've chewed through dozens of wild ducks when we lived on farms and, although I love the taste, this was an entirely different experience. This duck's skin was crisp and delectable, the thigh meat pull-apart tender. It was served with a delicious, dark brown sauce, garlicky mash and plenty of spinach: a beautifully balanced meal from all angles - and it looked lovely on the plate.
And yes, we were up for another glass of wine all round, plus each of the three desserts on offer.
The creme brulee was perfect, the chocolate mousse was "superb", said Brian, and my apple tarte tatin was the best I've ever eaten. It starred the thinnest, tastiest, mouth-melting pastry and apple cooked to a delectable, caramelised wonder. Truly fantastic.
How, we wondered, did they manage to produce all this out of such a small kitchen, with such minimal staff? Although many dishes - the pate, soup and boeuf bourguignon, at least, could have been prepared ahead, this was still a beautifully timed and concocted exhibition of classic French bistro cooking.
As I found later on a trip to the clean and tidy loo, there's another garden-style room out the back and another, equally interesting dining room upstairs, which they plan to fill as well.
By now Brian was beginning to be convinced that his hero, Alex, had fallen on his feet with this space. But be prepared to be confused. Frenchie is so new the name on our account was that of its predecessor, La Cantine. The street numbers at that end of Ponsonby are also complicated. Just remember Frenchie is almost next to Milly's at the Herne Bay end of Ponsonby Rd, right next to the Italian Gusto (no, not the SkyCity one) and along from award-winning Sidart, which is in Three Lamps Plaza. Together, the three of them make an interesting line-up of cuisines at the funkiest end of our favourite road.
Our meal: $238 for three entrees, main courses, desserts and seven glasses of wine.
Wine list: French, wide-ranging and brilliant. Every wine has been painstakingly selected and prices are reasonable.
Verdict: Frenchie brings great flair and wonderful food to Ponsonby Rd. Recommended.
Follow Life & Style on Twitter and Facebook.