Lee Suckling explores the things we eat, wear and do when we've got no one around to judge us. Share your secrets in the comment section below.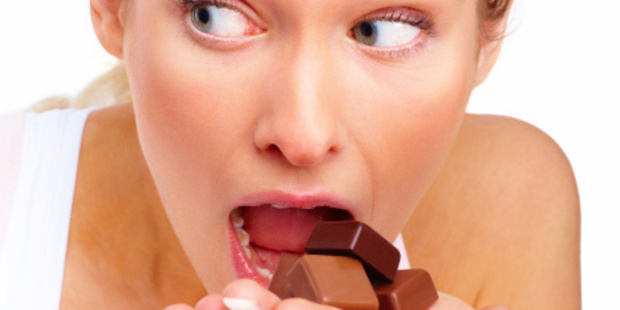 We all do things nobody else knows about when we're alone.
Being solitary, even for just a few hours, is a beautiful state of being; for we spend almost every waking minute around other people (most of them, not by choice).
Philosopher Jean-Paul Sartre wasn't unfounded when he proclaimed, "Hell is other people" - a sentiment many of us can relate to when waiting on buses, trains, and planes; when attempting to navigate Newmarket at the weekend; or, indeed, just sitting in an office full of undesirable co-workers.
So when the modern generation gets a few moments alone, we do things. Things no one else will ever understand.
Things we wear when we're alone
A friend, egged on by a good Pinot, recently trumpeted the strengths of "fat pants": a pair of tapered, grey marl sweats he puts on when his flatmates leave the house.
Fat pants may be "old, a size too large, or stretched from excessive use", according to Urban Dictionary.
The purpose of fat pants is to make you feel as unashamedly unattractive as possible - a mentality that brings great relief when you spend your days trying to impress with your outfit choices.
I don't own fat pants per se. My guilty home-alone wear consists of a Christmas-style woolly cardigan: brown and orange, with a hybrid Aztec-reindeer motif throughout. It's winter, and it's cold. I care not that I look fresh from a Bridget Jones Ugly Jumper Party.
After all, "fat pants" is a state of mind, not a single garment. Pleasurable alone-wear for others includes yellow-pit stained T-shirts, socks and jandals, holey boxer shorts, sweatshirts that say "Surfer's Paradise", and of course, the dressing gown - the only garment that makes men look feminine, and women look masculine.
Things we eat when we're alone
Sucking on a spoonful of Nutella straight from the jar. It's so hard to stop at one. Sugar packed cereal for dinner - we've all done that. Or how about munching an entire packet of biscuits when nobody's watching? It's ridiculously easy to do, especially when they've covered in low-quality chocolate that gives you a cocoa-crave so addictive, you'd think it was crack.
Family-sized anything goes down a treat when home alone. Family-sized bag of salt and vinegar chips? Gone. Family-sized ciabatta loaf? Dusted. Family-sized pizza? Come on, it's only six pieces.
Our lone eating habits are nothing to be proud of. Personally, I am physically unable to cook for myself when faced with a night alone. The absolute best I'll do is eggs on toast, because 40 minutes' cooking and sauce spatters all over the kitchen are not worth the four minutes it takes to down an entire bowl. After all, I have a packet of chocolate Krispies to get to.
Things we Google when we're alone
Once gorged on delicious foods, modern-generation alone time eventually morphs into cabin fever. Which is when we all turn to the internet.
Cat videos, Real Housewife gifs, Buzzfeed lists - when consumed alone, these all prove satisfying. And who knew Facebook stalking for two hours could be so much fun? While the obvious alone-time laptop session would be a porn binge, in reality, there are far more exciting things on the interwebs.
I love getting emotional over YouTube clips - soldiers returning home, marriage proposals, celebrity cancer survivors on talk shows... all result in enjoyable sobbing and subsequent warm fuzzies.
Googling yourself is always tempting when alone, as is taking a thousand selfies nobody will ever see. Other ways we occupy our alone-internet time are "Where are they now?" Wikipedia searches of once-famous people from the nineties (Neve Campbell, Jonathan Taylor Thomas, Alicia Silverstone, anyone?), or trying to break back into your first-ever Hotmail account.
Eventually, though, we all tire of the internet... as show business awaits.
Things we pretend to be when we're alone
Everybody's a performer when home alone. I have a very well-rehearsed Oscar acceptance speech if anyone ever wants to hear it. Others enjoy lip syncing to Lorde, shaking like Beyonce, or re-enacting Game of Thrones-style swordplay with the broom.
Some even take on full movie personas when nobody's watching - often brought on when listening to a memorable film song. I'm particularly vulnerable to Girls Aloud's Jump, which transports me 10 Downing Street; eliciting a hip shaking, hair flopping, arm raising performance only Hugh Grant fans will understand.
Tom Cruise in Top Gun (Take My Breath Away), Whitney Houston in The Bodyguard (I Will Always Love You) and Eminem in 8 Mile (Loose Yourself) all inspire lone three-minute sets. Then of course, is Celine Dion's My Heart Will Go On. We all know where that leads.
There's a therapeutic nature of being alone and entirely in private. It reminds that we're not the uptight hard-workers we pretend to be 9-to-5, but rather, fattie-food-eating, jandal-and-sock-wearing slobs. Slobs that belt out Spice Girls' Viva Forever in front of the mirror when given total privacy.
In reality, this is no bad thing. After all, your cat doesn't know you're a high-powered lawyer with a sweatpant fetish.