Restaurateurs have been quietly watching what you eat, collating a new report on the hottest trends in dining out. Here's a sneak preview, courtesy of Joanna Mathers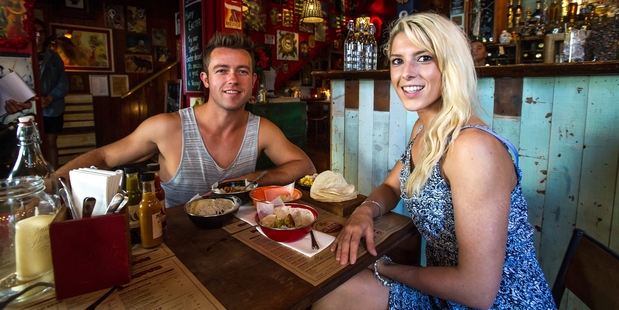 The queue is snaking out the door on to Summer St. The line is comprised of bright young things wearing hipster threads, oversized glasses, designer tattoos. They look at their iPhones, chat about last night's party, and peer at the specials of the day on the wall.
They are waiting to eat uncooked food. Raw cheesecakes, raw bagels, raw brownies; at Little Bird in Ponsonby there's not an oven in sight.
Behind the counter are more bright young things: perfect skin, perfect teeth, the very picture of good health. If this is what uncooked food does for you then it's no wonder cold food is hot right now.
Raw food and paleo food (you eat like a caveman or woman) are among the trends highlighted in the upcoming Restaurant Association hospitality report.
The Herald on Sunday has been given a sneak peek at the biggest new dining-out trends — information on our eating habits quietly collected and collated by restaurateurs around the country.
It's not just raw food that's getting us excited at the moment. Casual eateries and restaurants that provide shared or small dishes are also whetting our foodie appetites. We go behind the trends to find out how we are eating in 2014.

Amy Gibson prefers not to label her food store-slash-cafe Wilder and Hunt as a paleo eatery. Instead she prefers to call what she offers "real food". But however it's defined, the unprocessed, eat-what-your-grandparents-ate ethos of the eatery fits perfectly into the raw/paleo food trend.
The former farm girl turned Aucklander opened the eatery — which eschews sugars, bulking grains, and anything artificial — for "selfish" reasons after becoming sick of the processed food she encountered when shopping.
"I was used to food from the farm — unprocessed meat, fruit and vegetables," Gibson says.
"When I moved to Auckland I started eating junk food, which made me quite sick. I had to strip everything back and start eating healthily again."
She wanted to offer other people the opportunity to eat the "real food" she created, so last August she opened her eatery in the salubrious suburb of St Heliers.
"It's been crazily popular. People come from all over Auckland and New Zealand to try our food."
Her success isn't an isolated occurrence. Vegan raw food cafe Little Bird (in Kingsland and Ponsonby) has also been a hit with health-conscious foodies.
Their creations, which include raw vegan cheesecake and pad thai, have earned owners Megan May and Jeremy Bennett accolades in Viva and Metro.
May says that although the food is raw, flavour is still the priority. "When you talk about raw food, what springs to most people's minds is cold, uncooked food but that's not it at all," May says. "I'm a chef, so I'm chasing flavour and texture all the time.

We have all experienced the frustration of popping into restaurants devoid of customers and being met with table after table of "reserved" signs. Restaurateurs have taken note and there's been a huge increase in the popularity of casual, pop-in style eateries.
Marisa Bidois, from the Restaurant Association, says the trend towards casual dining began to emerge over the recession.
"During the recession diners were ingenious about managing their eating-out budget and we saw a lot of diners opting for more casual establishments."
Jason van Dorstyn, part-owner of the popular Cafe Hanoi in Auckland's Britomart, says they take lunch bookings (the area has a large number of business people who like to eat out at lunchtime and are often on tight schedules) but dinner is dedicated to walk-in customers.
The casual, walk-in nature of the restaurant helps create an atmosphere that's not found in reservation-based restaurants.
"We always had a no reservation policy. We wanted to create a buzz, and didn't really want everyone seated, seriously concentrating on their food."
Cafe Hanoi is based on van Dorstyn's experience of Vietnamese eateries, where people walk in off the street to enjoy their favourite meals.
"The eateries I modelled Cafe Hanoi off were really vibrant and exciting. There was a dynamic relationship between the diners and the staff."
Food trucks are another example of the casual eating experience.
Silo Park is part of Auckland's bustling waterfront precinct.
With a laid-back atmosphere and plenty of green space, "casual dining" is facilitated through food trucks that park over the summer.
Simon Van Praag, of Fresh Concept (who facilitates events at Silo Park), explains: "Each week we work to curate a vibrant, ever-changing food menu as part of the Silo Markets, which are catered to each event specifically."
"The flavour is all about what's fresh and enjoyable to suit the palate of anyone and everyone.
"This summer we've had great food truck vendors like Little & Friday, Bird on a Wire, The Roaming Dive and Lucky Taco."
The White Lady is an Auckland institution that has been feeding late-night diners for decades. Max Washer from White Lady has recently launched a new food truck that will service events around Auckland.
He says he's seen a huge number of truck-based eateries entering the mobile-hospo market.
"We have done events for years, and used to be one of the only food trucks at these," he says. "But at the recent Red Bull Trolley Derby there were about 20 food trucks, all with different amazing offerings."
Gone are the days of hogging all the food ourselves — when it comes to eating out in 2014, we love to share. Shared platters and small plates have emerged as a key food trend for the past year, following global eating trends.
At Mexico in Auckland's Britomart, dating couple Gus McLeary, 29, and Lisa Goodrick, 23, are lunching on shared small portions of tacos and esquites.
"Big plates filled with mountains of food are too intimidating," McLeary says. "Half the time you eat all the stuff just because you have paid for it rather than you actually wanting all of it."
Across town at Masu, Nic Watt is the executive chef and owner. He says sharing food can change the dynamics around the table.
"Dining is shifting to allow consumers to engage in a community manner across the table," says Watt.
"We're seeing diners become more involved and more inquisitive about what they're eating.
"Shared plates makes it easy to experiment and try new flavours and new cuisines in a low-risk way."
Casual, shared and raw food have been making waves recently, but it seems that fine dining still has a place in our new, relaxed eating style.
Marisa Bidois, from the Restaurant Association, says fine dining is still valued as "occasion" dining. "But it's fine dining with a difference. It's not about starched linen and silver service, it's more about having a unique experience."
Michael Dearth, owner of the silver-service The Grove and the new, informal Baduzzi, agrees.
"The fine-dining experience is about more than just quick food. It's a fully immersive experience."
Little Bird may not be fine dining, but the punters are certainly immersed in the food. At a large table, a small girl tucks into a raw cheesecake — her face is covered with pink and white goo.
It's hard to predict what foods will be trending when this child grows up. But for now she seems happy with the 21st century version of raw.
Fine dining chef and greasy spoon van cook trade places
The Restaurant Association says that dining out is becoming more casual — no reservations, walk right up, shared plates, even food trucks. The Grove in central Auckland is unashamedly silver service, fine dining; the White Lady caravan down the hill could not be further removed. So what happens when the two chefs trade places?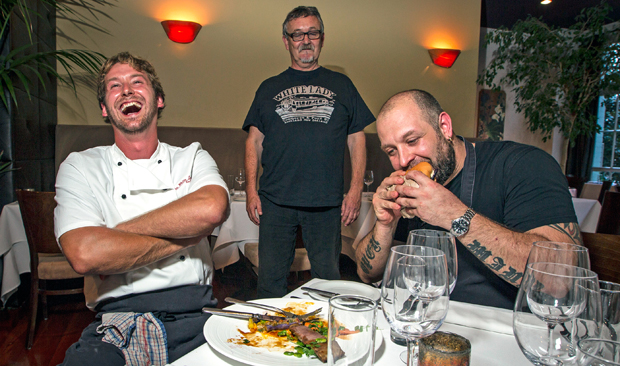 From left: White Lady burger maker, Max Washer, White Lady owner Peter Washer, and The Grove head chef, Mike Shatura. Photo / Michael Craig
5pm, The Grove
You'd never tell who the fine-dining chef was from appearances. You'd assume it was the one in the pristine whites — stark linen perfection, all ironed and sharp-seamed and glowing under the kitchen lights. Not the one in the T-shirt.
But you'd be wrong. Look closely at the insignia — it's an image familiar to many Aucklanders.
The White Lady — Auckland's late-night drunken food haven — appliquéd on to the front of Max Washer's slightly incongruous whites.
Washer is the third generation of White Lady owner-operators. He's in the kitchen of The Grove, one of Auckland's pre-eminent fine-dining establishments, trading places with Mike Shatura (aka Mike the Russian) to craft a fine-dining meal for the cameras.
Later on tonight, Shatura will attempt his version of the White Lady's famous steak burger (but with a fine-dining twist), but right now it's Washer's time in the spotlight.
He has come prepared — he's got a burger flipper and buns at the ready. He plans to fast-food the fine-dining experience; but in the meantime he will get expert tutelage on how to cook a breast of rose veal with sautéed scampi and stuffed morels, rosa bianca aubergine and young carrots.
"It's one of our more simple dishes," says Shatura.
Washer looks unconvinced.
There's a fair few elements to this "simple dish"; they are all laid out on the "pass" (the plating area of the kitchen).
There's scampi and broad beans, veal and eggplant, herbs and some kind of delicious-looking puree. "There's quite a lot to do here," laughs Washer.
The veal sizzles as Washer places it on the fry pan. He warms up the puree, prepares the scampi and wild mushrooms. He stacks and garnishes the eggplants, and bastes the meat. "Oh so that's how you baste," Washer laughs, as Shatura explains the process.
Washer's evenings spent quelling alcoholic appetites have come in handy in this kitchen.
He has kept a cool head, followed instructions to a tee. When it comes to plating, he peers eagerly at the image on Shatura's smartphone. He builds the dish carefully; it's not perfect but it will do. His dad Peter Washer, also of the White Lady, takes pictures of his son's careful creation.
"Not bad for a first attempt," Shatura shares.
Then it's time to eat. "I think it tastes great," says Shatura.
But Washer has an idea. He walks to the kitchen, grabs a burger bun, returns to the table. "Let's turn it into a burger," he laughs, carefully layering the elements of the elegant dish into their white, doughy casing.
Shatura has the first taste. "It tastes great as a burger," he says.
"Everything tastes great as a burger," says Washer.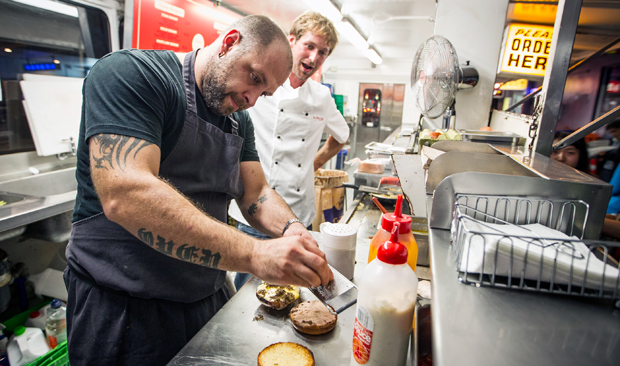 Mike Shatura grates truffles on to his version of a burger, to the surprise of the White Lady's Max Washer. Photo / Michael Craig
10pm, The White Lady
Things are starting to heat up down on Commerce St. Hungry backpackers are starting to queue for burgers and toasted sandwiches, imbibers searching to take the edge off their alcohol-induced hunger peer thoughtfully at the menu.
Shatura and Max Washer stand prepared and ready for action.
First order is a White Lady Burger, a packed-with-everything hunger buster. Shatura works the burger flipper like a pro, ducking and diving for cheese and sauces and other fixings. It's not long before the burger is done and the next order is on the way.
Shatura has a trick up his sleeve for this one. "You brought burger buns, so I brought some as well."
They are brioche; fluffy and slightly golden and handmade at The Grove. He's got a couple of other goodies — foie gras and truffle oil. "This should make a great burger."
Onlookers are intrigued as Shatura explains what he's doing to the White Lady's legendary steak burger. Jenny King offers to be the guinea pig for his creation — and watches excitedly as he prepares the boutique burger.
He finishes it quickly, expertly and passes it to King's waiting hands. She opens her mouth wide and takes a bite.
The verdict? "This is the best burger I've ever tasted."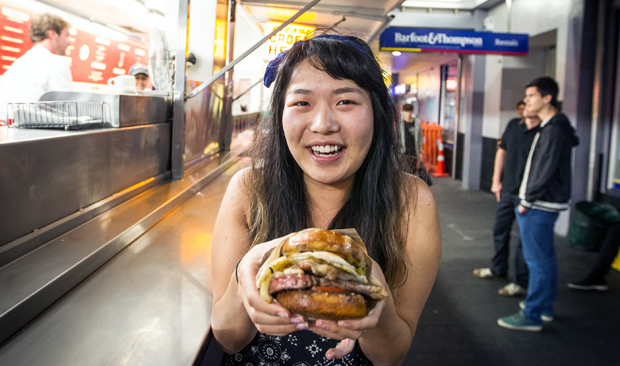 Jenny King enjoys Mike Shatura's foie gras version of the White Lady Burger. Photo / Michael Craig