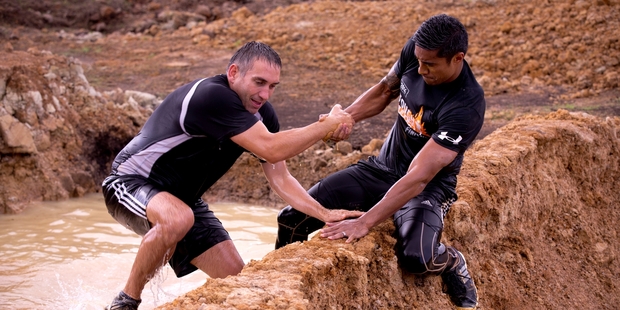 I'd be buggered without Pua, that much is obvious.
A row of eight water-filled trenches interspersed with clay mounds, Mud Mile didn't appear all that challenging.
That was before taking the plunge. From the bottom of the first trench it's clear there's no way I'll be hauling my sodden frame up the near vertical clay bank. Luckily Pua Magasiva, actor, personal trainer and Tough Mudder ambassador, knows this.
He gives me a shove up the bank that propels my floundering frame to the top. I reach down and pull him up. We repeat the process until we get to the end of what will be one of 18 obstacles the 5000 to 10,000 "mudders" will face over the brutal 20km course at the Hampton Downs raceway this weekend.
"They love to be beaten up, they love to be tortured," says course builder Paul Mudge of your typical mudder. With obstacles such as Arctic Enema (an ice-filled trench impossible to pass through without diving right under) and Electric Eel (a mud crawl through dangling, live electric wires), the masochists have plenty to look forward to.
"All your senses are tested - fear of heights, drowning, claustrophobia," says Mr Mudge.
It may sound a little crazy, but for the fitness enthusiast seeking something more exciting than marathon running and less humiliating than Zumba, commando-style "fun" runs have struck a chord.
"Tough Mudder is the leader in the class, but the obstacle fun runs are just a phenomenon," says Tough Mudder general manager Asia Pacific Jeremy Kann.
The biggest player in a global obstacle race industry said to be worth US$250 million ($290 million), Tough Mudder has spread throughout the US, Europe, Australia and now into New Zealand in just four years, with more than 1.3 million participants.
A combination of 20-30 Australian experts and local labourers have spent four weeks creating the Hampton Downs course.
A typical mudder tends to be a 40ish mid-life crisis type, says Mr Kann. Pretty much me, then. Having conquered Mud Mile, Pua and I jog about a kilometre to Trench Warfare, where we crawl through a tight, zigzagging pitch-black cave. Claustrophobia test passed, we jog another kilometre up a hill to the Glory Blades - nasty, sloping walls I'm not getting over without Pua's leg up. The odd super athlete might conquer the Tough Mudder alone, but for the average mortal this is a team sport.
"It's about teamwork and camaraderie," says Mr Kann. "It is not about 'what's my time', it's about trying to help each other and get through. It has just been a fantastic concept that has grown legs around the world."
Speaking of legs, mine are just starting to feel it by the time Pua and I reach Everest. Having got a little lost, we've jogged maybe 4km by the time we reach the quarter-pipe skateboard ramp. This weekend's mudders will have covered more than four times that distance by the time they get here. They'll be soaked through, filthy and mentally and physically shattered.
Chances are they won't match Pua's effort of flying up the ramp and hauling himself up single-handed. Pua wants to help me up but I'm keen to have a go on my own. I make it, but not without depositing a good chunk of skin from my right elbow on the ramp. The course has extracted its pound of flesh, and I've just been playing around.
Despite an entry fee of up to $209, interest has been strong enough that Tough Mudder has committed to returning next year. So have I.