In the magical and esoteric world of beauty pageants, Collette Lochore is the fairy tale queen. She has translated her catwalk triumph to a 20/20 and MasterChef NZ TV profile and management of the country's only teenage beauty pageant. But, as Joanna Mathers reveals, the infighting and recriminations behind the scenes of Miss Junior NZ are stranger than any fiction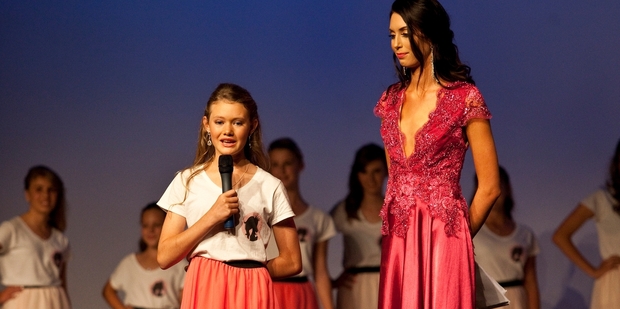 The little girl is never far from the surface. You can see her hiding behind the long lashes and the makeup. You can see her delighting in sparkles and sequins and tiaras. You can see her in the tears, which come all too quickly; in the beguiling smiles and the flashes of delight.
It's not surprising, really. Former Miss World NZ and founder of Miss Junior NZ Collette Lochore is only 19, after all. And there she was, on the stage working her beguiling, girly magic on a crowd of parents and friends at last weekend's final of Miss Junior New Zealand 2014.
She's crammed a lot into those 19 years — international beauty competitions, reality TV appearances, charity work. It's her most recent venture, the pre-teen and teen beauty pageant Miss Junior NZ, that's been taking up much of her time of late.
The Herald on Sunday had been invited by Miss Junior NZ's public relations representative Casey Radley (Miss International NZ 2013) to "send a representative who is willing to listen to the future ladies of society and be blown away with words".
But they aren't going to be Lochore's words. Awaiting the start of the pageant, she is dressed in a mid-thigh length, leopard print fleece dressing gown, with rollers in her hair. She studiously avoids our reporter's attempts to engage in conversation. This pattern is set to repeat itself over the rest of the week.
The girls, however, were happy to enthuse. There's talk of increased self-esteem and improved family relations, self-love and motivation; learning to love what is inside rather than obsess about appearances.
"Here we are so accepting of everyone, of who they really are. Everyone has so much to give, we all need to be considerate," says brown-haired Natalie Payne, 13.
Elfin-faced Emily Hawkinson, 15, is also enthusiastic: "It has been so good for my general confidence, and my grades. Earlier in the year, my English results were really low, now they are lifting and I can stand on stage and speak to all these people."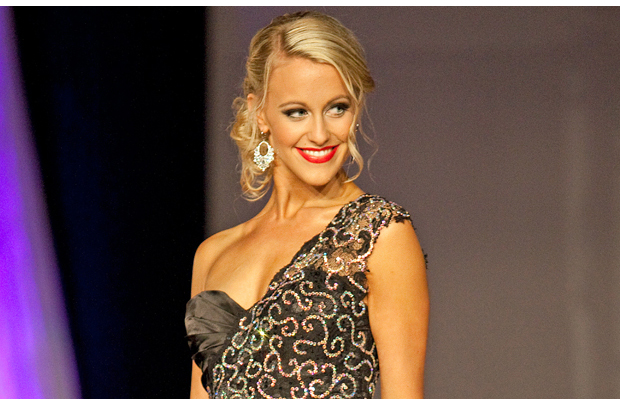 Casey Radley, Miss International NZ 2013. Photo / Neville Marriner
Lochore has previously told the Herald on Sunday that this teen pageant is not about looks, and not about being skinny and perfect. It's about nurturing "inner beauty", about raising self-esteem and developing leadership.
The girls involved, aged 10 to 19, are all shapes and sizes, colours and backgrounds. It's about the girls.
And for all appearances, it was all about the girls. When the Herald on Sunday met contestants and families last year there was universal praise for the event. No, it wasn't about tiaras and tantrums. It was all happy tears and big smiles in the world of Miss Junior NZ.
But then the cracks started to appear. This year, the Herald on Sunday received an email from a mother who said her daughter had been in the pageant. She raised sufficient concerns to prompt further investigation.
The paper contacted other parents, who spoke of big disappointments, and of a harsh and demanding environment behind closed doors. For all her good intentions, Lochore's dream of a perfect teen pageant may have derailed. Last weekend, Miss Junior NZ reserved a whole row of seats for the 2013 candidates. "The fact that only four turned up," says a parent, "shows that many probably wanted to put the pageant behind them and move on from it."

Susan Mtegha shoves Collette Lochore during Miss World 2012.
Lochore is no stranger to conflict. Her 2012 Miss World appearance in the Chinese city of Ordos became YouTube fodder, attracting 115,000 hits when the 18-year-old was shoved on stage by Miss Malawi, Susan Mtegha.
"It's crazy. It was streaming live," she said. "And there I am, getting pushed off my mark on stage."
But Mtegha claimed in her local paper, the Nyasa Times, that it was Lochore who got it wrong. "She was in the wrong spot and when I asked her to move she did not and I had to slightly push her over or else I would have missed my close-up when Malawi was called."
The following year, Lochore tried her hand at "investigative journalism" with an undercover 20/20 sting that was meant to uncover the dark side of modelling. Her reporting was labelled "blindingly poor journalism" by media commentator Nigel Godfrey on his Throng blog — though he did acknowledge that he was somewhat conflicted as executive producer of the opposition pageant Miss Universe NZ.
When the Herald on Sunday first revealed her plans for a pre-teen beauty pageant, Auckland Psychology counsellor Victoria Marsden warned that 11 was "very, very young" for girls to be involved.
"By that age, body image tends to already be an issue with young girls. This is a very risky idea."
Lochore posted a tearful rebuttal on YouTube that same day, her mascara running as she disputed the article and explained what a good role model she was for teenage girls.
This year, Lochore and fiance Sam Dolbel stepped up to the cameras again as competitors on MasterChef NZ. But in their first challenge in a commercial kitchen, cooking for 185 people in Russell's historic Duke of Marlborough Hotel, Lochore seemed as brittle as her lemon and passionfruit mascarpone cheesecake filling.
When judge Josh Emett gave her a rark-up, Dolbel angrily accused Emett of behaving badly towards a woman. At the judging table, Ray McVinnie noticed the colour of the lemon curd was off. "The filling is eye-watering acidic, like 'take the roof of the top of your mouth' lemon." They were evicted. The Auckland couple were angry.
"We like to win and it hasn't worked out this time," Dolbel told the cameras.
Lochore went further in an exit interview with the Stuff website, accusing the show's producers of sabotaging the couple, accidentally or deliberately, by giving them the wrong sugar.
"That was pretty frustrating but you know, it's a reality show at the end of the day so they got to do what they got to do."
She kicked up again in New Idea: "My hair and makeup were shocking," she complained. "They got the worst angles of me and I look hideous on TV." Conflict, it seems, follows Lochore around.

Sam Dolbel and Collette Lochore in MasterChef.
"There were a lot of promises and expectations but slowly these were eroded." This is from a parent so concerned about potential backlash that they have asked to remain anonymous, typifying the experience of at least four Miss Junior NZ families.
Big promises lie at the heart of this story — of treadmills (that never arrived); 60 tiaras lost in the mail from China; that TV host Gracie Taylor would host last year's final; that boy band Titanium would play — and the last-minute cancellations.
There is an allegation made by two parents and one contestant that Lochore told the girls: "Nothing tastes better than skinny."
The parents said they were appalled that Lochore would roll out the tired motto made famous by waif-like English model Kate Moss ("nothing tastes as good as skinny feels"), especially to an audience of vulnerable teenage girls.
Casey Radley, Lochore's public relations spokeswoman, denies Lochore used the line.
Then there was the advertisement Miss Junior NZ organisers posted on the pageant's Facebook page under the caveat, "unrelated to Miss Junior NZ". The ad said: "Looking for female models 175cm minimum, size 8 or under wanting to go to model competition in China. Email admin@missjunior.co.nz with measurements and photos."
The complaints from parents have prompted the organisers of Miss World NZ — the international pageant that first propelled Lochore and Radley to fame — to sever ties with Miss Junior NZ.
Posts last year on the Miss Junior NZ Facebook and Eventfinder pages claimed: "Miss Junior NZ is the junior version of Miss World NZ and is the most prestigious and of the highest quality pageant training in NZ."
But this is not now the case, according to Miss World NZ organiser Desmond Foulger, who said in an emailed statement: "We were only ever observers and because of the things you allude to, we are distancing ourselves," he said.
"Let me clarify this once and for all. Miss World NZ or any of its affiliates is not associated with, has no ties to or has any involvement in any shape or form in the organising, running, administrating or any other other links with Miss Junior NZ.
"They are a totally separate organisation. The fact that one of the co-owners is a former Miss World NZ is coincidental."
While the big promises have been hard, the harsh environment has been even harder for the parents and girls.
Lochore has told contestants that she will not tolerate bullying — but some girls feel that is exactly what they experienced.
The Miss Teen NZ Facebook page is very active; the girls and Collette use it a lot to keep in touch.
Last year it seems Lochore became aware of some talk among the girls that she didn't like, so she used the Facebook Messenger chat service to voice her concerns to all the girls.
"After EVERYTHING I did, you have the nerve to go around saying that? I am deeply offended and upset by the things I have heard.
I would be more careful about what you say. Think about it, because gossip and rumours will always make its way back to me."
And then: "I would hate to start naming names."
There's also the question of cost. This year's entry fee was $900 for each girl, and included three months of training on weekends. Entry to watch the final was $35 a ticket. The day after last weekend's final, one parent said the girls were given "shower gel, a bracelet and a support band, plus a tiara from the $2 Shop".
They expected more.
One parent questioned whether the families had received value for money.

We wanted to speak to the woman behind Miss Junior NZ.
An interview was arranged for Wednesday at 5pm, only to be cancelled.
Radley, her PR person, proposed another interview on the morning of Good Friday, before settling on Thursday morning at 8.30am. A photographer was booked.
But at 9pm on Wednesday, Lochore emailed to cancel the meeting. "I am unavailable to meet on Thursday as has apparently been arranged by my colleague Miss Radley. Apologies for any inconvenience. Regards, C. Lochore."
And then everything went quiet. Emails went unanswered, phone calls and text messages were ignored. The interview never happened.