Transgender model Amy Brosnahan was on the verge of suicide five weeks ago, despairing at the taunts and discrimination. Now, she has found hope in a pub beauty pageant — and she's not alone in being embraced by a more tolerant NZ.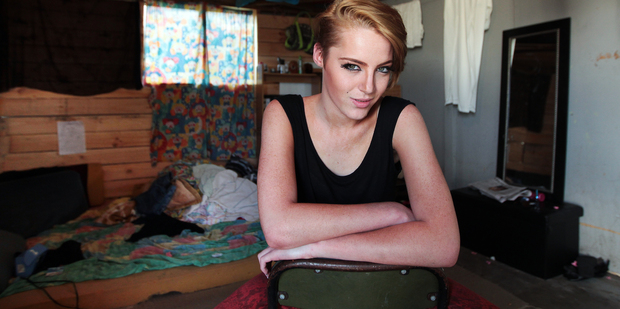 Amy Brosnahan owns four dresses. They hang on a tin wall in the derelict West Auckland garage she calls home. Her favourite is the leather tutu with blue tulle. But she wore the one with a diamante collar when she planted her long legs on a catwalk for the first time.
In that dress she felt proud. She was brave. She didn't feel like an alien anymore. Five weeks earlier, she had tried to end her life.
The 18-year-old is not the only teenager in New Zealand to feel that way. Last year, 8000 students were surveyed in a world-first study by the University of Auckland. At least 1.2 per cent identified as transgender. Another 2.5 per cent were unsure whether they were male or female. Of those, one in five had attempted suicide in the past year.
Society has always found gender dysphoria uncomfortable. If people don't neatly fit into a gender category, intolerance is their biggest obstacle.

Former Labour MP Georgina Beyer, the world's first openly transgender Mayor, knows what it's like to come from a life of hard knocks. But being transgender is not a reason to become depressed, she says. Rather, the intolerance of others contributes to that unhappiness.
"For me, it was being out on the streets at 16 having to sell my arse in order to survive because I couldn't get on the goddamned dole. I drew a line in the sand with society and said, 'Stuff you, I'm going to be who I am'."
Beyer knows about doing it tough. She's been on the streets, been a sex worker, been the victim of pack-rape, tried to kill herself. Even after serving as an MP, she has found herself unemployed for most of the past six years. She is suffering renal failure, is on dialysis and is on the long waiting list for a kidney transplant.
It is insulting, she says, that the younger generation is complaining about the treatment of transgender people, given that she and her contemporaries did the heavy lifting 30 years ago.
"We can't live in a victim mentality all our lives. It takes a certain self-discipline, an acknowledgement that we can do it for ourselves now. We don't need to rely so much on the state or anyone else to let us live fairly normal lives."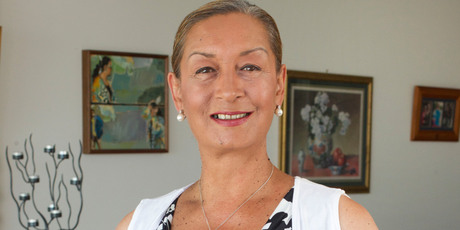 That hard-nut approach doesn't sit well with transgender lawyer Kelly Ellis. She says it is unrealistic and harsh because some people are more durable than others.
Being durable in the limelight has helped Beyer and Ellis fend off taunts and barbs, which they dismiss as "flesh wounds".
Similarly, Auckland rapper Mainard Larkin, who performs as Randa, has called insults by online commentators "buzzy". Nobody has been rude to Larkin's face, Larkin told The Wireless website, and Larkin has plenty of support from friends and family.
"I'm a rapper slash producer who grew up on the North Shore. I identify as trans," the 19-year-old told Curious, a Rainbow Youth website. "I feel like I'm in a relatively early stage of exploring gender and what it means to transition."
Larkin is changing gender from a woman to a man.
"Just drawing from my own experiences I would say to give yourself time. Realising who you are can quite often be a long and interesting process filled with pressures.
"I would really urge anyone to surround themselves with people who are loving and understanding. Having support and feeling accepted by other humans is such a big deal."
Everyone's experience is different. Larkin had support of family and friends. Growing up, Brosnahan did not.
The youngest of six children, she was called Bronson after being born, she says, in a boy's body.
At age 5, her best friends were girls. But she wasn't allowed to wear the same clothes. And one day, a teacher stopped her from using the same bathroom as her friends. "I've been so feminine all my life," she says. "It really hit me that day. From then on I felt like an alien."
A decade later, Brosnahan started to transition to living as a girl. It was also the first time she tried to end her life. Her mother had seen her looking at a picture of two guys kissing. Privately, her siblings loudly affirmed, "We always knew Bronson was going to be gay".
She said she was forced to confront her confused feelings the afternoon her mother marched her into the living room where her father was sitting — and outed her. "My dad wouldn't have a bar of it. I was sitting there crying and then I stood up and told them, I'm not gay, I'm a girl. They just went quiet."
Brosnahan was forced to have her hair cut off. A tent on the front lawn became her new home. She felt comfortable there because she could "cry my life away and sneak out".
Life wasn't any better at Kelston Boys' High. She often was pulled out of class for wearing makeup or not wearing her hair the right way.
When a teacher berated her for sullying her brother's rugby star reputation, she stood up and left. She never went back.
"I felt lost. I thought, 'Why is this happening to me?' All the other transgender students would get told off, but I felt like I got it hard because I was the only white fa'afafine there and all the boys would mock me all the time." she says.
Secondary school is hard for transgender teens. Transgender students at another prominent Auckland school have told the Herald on Sunday of concerns about discrimination. They claim they were barred from performing dances, were forced to remove their bras despite growing breasts as a result of hormone treatment, and were beaten up.
At least one counsellor helping students obtain hormone treatment has gone on stress leave.
That school would not comment on the claims. And Kelston Boys' High did not return calls about Brosnahan's claims.
Brosnahan started living like "those bums that hang out at malls" and walked the streets at night because she wasn't feeling loved at home. After constant arguments with her parents she moved out — first to a relative's house then she bounced from place to place.
A year ago, she mended bridges with her mother and moved home. Despite slowly rebuilding relationships with her family, some relatives still call her "homo".
The turning point came last year when she found out she had a vascular tumour growing inside her abdomen. It was then she decided to become a youth worker and do something meaningful with her life. Although the tumour was benign, Brosnahan still needs four invasive surgeries to clear the mass.
Brosnahan moved out of home again, a month ago, boarded with a couple in West Auckland for a week, then moved to a garage where her bed is a thin mattress. Her dresses have pride of place next to a Herald on Sunday poster of Lorde, her idol. She never expected to feature in the paper in her own right.
While boarding with the couple in Henderson things improved in the most unexpected yet oh-so-traditional way.
She became friends with the woman and they decided to enter the Battle of the Babes beauty pageant in a downtown Auckland pub.
Love them or loathe them, there is a long tradition of aspirational young women pinning their hopes on beauty pageants as a way to a better life. But now, it's not just those who are born in women's bodies.
Canadian beauty queen Jenna Talackova won the right to compete in Miss Universe Canada, despite being banned for allegedly lying on her application form, after more than 20,000 people signed a petition to keep her in the competition. Talackova had gender reassignment surgery at 19.
As for Brosnahan, when she told the Battle of the Babes organiser she was transgender, eyebrows were raised. They asked the Human Rights Commission whether she should be allowed to compete — but the decision was taken out of their hands when sponsors and venues, including the Hard Rock Cafe, threatened to pull their support. Eventually, the organisers let her step up to the catwalk — and she was successful. She is one of eight finalists in the nationwide finals next month.
Organiser Andrew Featherston told the Herald on Sunday Brosnahan earned her place on merit. "We didn't refer to the transgender thing at all," he said.
Brosnahan says: "I'm very proud of myself. Initially, I went there to make a stand. I didn't think I would make it through. I felt like walking on that catwalk came naturally. I felt very accepted. They made me feel like I'm a normal girl, which I am. I'm just a girl with a little bit extra."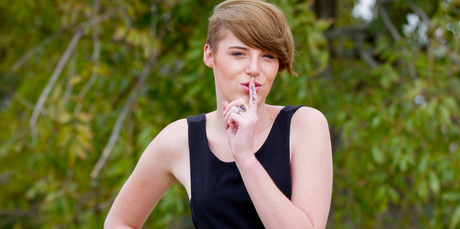 Kelly Ellis — who took on Brosnahan's cause to enter Battle of the Babes — views beauty pageants as meat markets. They are not necessarily good for the transgender community. But, she adds, winning the right to enter was a triumph for Brosnahan, whose confidence was buoyed by the experience and who showed not all transgender people were down and out.
"I used to think being transgender was a disadvantage and that people wouldn't like me or take me seriously," Ellis says.
"But for every person who didn't take me seriously there were three or four who said 'give her a chance'. Kiwis are more interested in giving people a fair go than they are judging people."
Stories like those of Ellis and Brosnahan are becoming more common because New Zealanders are leaning towards acceptance.
In 2008, the Human Rights Commission completed its Transgender Inquiry and recommended several changes to eliminate discrimination. As a result, the NZ Transport Agency and Internal Affairs now let people change their gender identity on their passports and driving licences, without amending their birth certificates.
The commission also produced online resources for schools, including workshop guidelines and links to community groups. It reviewed problem areas, including increasing participation of transgender people in decisions that affect them, strengthening laws making discrimination against them illegal and improving access to health care.
Now, the Ministry of Health is to review guidelines on gender reassignment services. Organisations such as Trans Advocates, run by Ellis, also support transgender people who need legal advice.
Brosnahan aims to become a community youth worker. She has spoken out on transgender issues at Health West, where she met Social Development Minister Paula Bennett. "She said she sees ambition in me."
So, Parliament next? After all, Georgina Beyer and Kelly Ellis have led the way. No, says Brosnahan. "I'm very proud of myself and I haven't said that. I wanted to do modelling to be an inspiration to other young people. My goal is to become a youth worker and support transgender kids."
Where to get help
• Rainbow Youth: (09) 376 4155
• Gender Bridge: 0800 OUTLINE
• HealthWEST: (09) 839 7480
• Youth services: (06) 3555 906
• Youthline: 0800 376 633