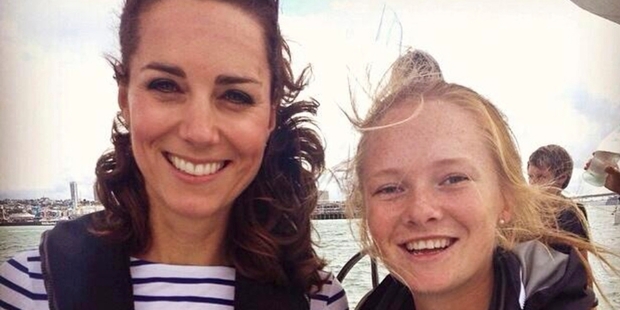 If the Duchess of Cambridge could compete in an Olympic sport it would be sailing, she revealed to three young sailing stars.
Three boys and three girls had the opportunity to take to the sea with Prince William and Catherine at the helm of two former Team New Zealand yachts yesterday.

The girls went with Team NZ skipper Dean Barker and the Duchess and the boys with Team NZ manager Grant Dalton and the Duke.
The young sailors are all sporting stars in their own right, but yesterday they had the chance to feel like royalty.
Xanthe Copeland, who sails for Wakatere Boating Club in Devonport, said the experience felt like a dream.
"Going out on the boat with everyone cheering and chanting 'Kate! Kate!' was crazy - we're just normal people.
"She asked us how we got in to sailing and whether we were going to do it in the future," Xanthe said.
Fellow Wakatere Boating Club representative Kate Stewart said her conversations with Catherine felt personal.
"She was so genuine.
"She said if she could go to the Olympics in any sport it'd be sailing.
"I talked to her about Prince George's outfits and told her I really liked his overalls."
Eliza Wilkinson from Kohimarama Yacht Club was just as excited about the experience and couldn't wait to share a photo of her and Catherine on the boat on Facebook.
The three boys didn't get as much personal time with Prince William, who Nick Egnot-Johnson from Murrays Bay Sailing Club described as very focused at the helm. "He really wanted to win," he said. "We talked a little but I can't even remember what we said now. He was just like a normal guy."
Fellow Murrays Bay Sailing Club yachties Oscar Gunn and Leonard Fry said they were disappointed to be on board the losing boat.
Nick said he'd had a taste of being part of Team NZ and hoped it was a sample of what his future would hold.
The girls with Catherine won both races.
- APNZ