Ultra suede, check. Faux fur, check. The 'Me' decade leaves a lasting impression.
Oscar-nominated Michael Wilkinson, costume designer for American Hustle, had his work cut out for him in creating looks to evoke the evolution from the rebellious 60s to the newfound individualism of America in the 1970s, specifically the latter part of that decade.
"It was apparent that they were really using clothes to affect the way people thought about themselves in the world," Wilkinson explained in a recent interview. "They were reinventing themselves all the time and dressing up to be the people they were aspiring to be."
Pieces featured in the film include vintage Gucci, Halston, Bob Mackie and Diane von Furstenberg, the latter celebrating 40 years of her own iconic wrap jersey dresses in the "Journey of a Dress" exhibition currently at the May Co department store building in Los Angeles.
That spirit of being relaxed in your own skin was an undercurrent that was reflected in the clothes of this period, from tactile fabrics such as denim, suede and jersey to a preference for more earthy colours and prints taking inspiration from sub-trends such as the peasant look popularised by Yves Saint Laurent and Biba.
Relaxed dress shapes of the 1920s and 1930s became a source of inspiration during the "Me Decade", showcased through costumes in the numerous avant garde films of the time such as The Damned (1969) by Luchino Vischonti and The Bitter Tears of Petra von Kant (1972) by Rainer Werner Fassbinder. Fassbinder's film ignored historical authenticity, highlighting a 70s take on the 20s (drop-waist dresses in rich autumnal colours worn with full-length fur coats), providing the perfect mish-mash inspiration for Prada's recent autumn 2014 collection.
An earthy colour palette combined with 70s abstract prints can be seen locally, from Helen Cherry's Emma blouse (#4) to Anne Mardell's Justine shirt (#5), both options working well with denim jeans or a classic A-line skirt.
You can't look past that 70s vintage look without ultra suede, a fabric popularised in that era and slowly making a welcome return here. Jane Daniel's trench coat and matching skirt (#5) exemplify the retro mood well, along with Miss Crabb's A-line wrap skirt in a supple chamois knit that works well in any situation.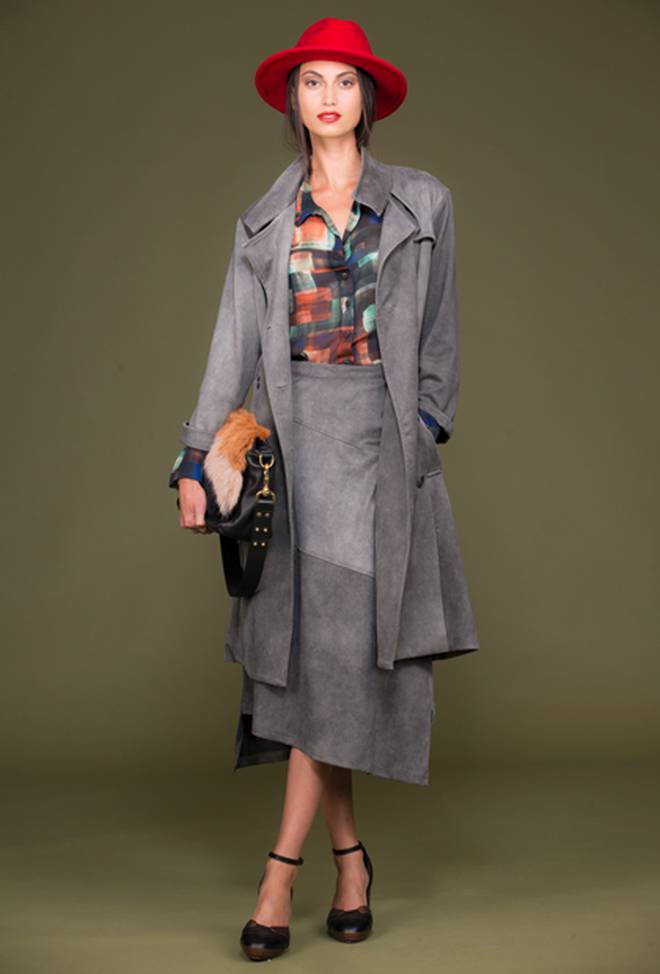 Stockists
• Anne Mardell
• Bing Harris & Co.
• Brixton (09) 360 1877
• Deadly Ponies (09) 551 1151
• Helen Cherry (09) 303 3735
• Jane Daniels (09) 379 4577
• Kate Sylvester
• Le Specs
• Liam
• Miss Crabb (09) 361 3322
• Sol Sana (09) 378 0072
• Stewart Dawsons
• Unreal Fur (09) 378 0072
• Vanishing Elephant (09) 378 0072
• Workshop (09) 303 3735
Stylist: Dan Ahwa
Photographer: Greg Bowker
Hair and makeup: Katie Melody Rogers using M.A.C
Model: Tia Woods from Clyne
Stylist's assistant: Danielle Clausen