BBC journalist Kirsty Wark tells Stephen Jewell about her debut novel, and how it feels being the subject of the critics for a change.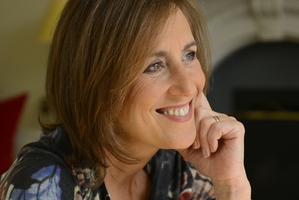 As a long-time host of the BBC's Newsnight Review, Kirsty Wark has cast her critical gaze on the work of many authors, film-makers and other artists. Now, after the release of her debut novel, The Legacy Of Elizabeth Pringle, the 59-year-old has had to field other journalists' questions instead of asking them herself.
"I've found that very tricky," she laughs. "But the book will not be reviewed on the show, as that would be ridiculous and narcissistic. But it's strange because I've spent the last 20 years reviewing books, so it will be very interesting to have the tables turned."
Joining the BBC as a researcher for Radio Scotland in 1976, the Glaswegian made the leap to television in 1982. One of the first reporters on the scene of the Lockerbie air disaster in 1988, she has since become one of the Beeb's most recognisable presenters. Since cameoing as a newsreader in an episode of Doctor Who in 2008, she has played herself in numerous television dramas, including Absolutely Fabulous and Spooks.
Having balanced art stories with current affairs, she has aspired to pen a novel for several years.
"I've wanted to write for the last decade or so. I had the idea originally and then I did a synopsis and got myself a literary agent. But I didn't do anything with it for a long time.
Finally, about two and a half years ago, I realised I really wanted to do it so I went really hard at it. I worked on it every moment I could, so I was delighted when I was offered a book deal."
Based in Glasgow, Wark often travels to London, using the commute to work on her manuscript.
"I made sure I took the train so I would have a clear four to five hours where I could write without interruption," she says. "I also wrote when I flew to New York; I wrote everywhere, really."
Despite her forthright interviewing style, which has seen her take on such formidable figures as Margaret Thatcher and Scottish First Minister Alex Salmond, Wark was determined to write an accessible page-turner.
"Someone said to me, 'I thought you would have done a political novel' but why would I want to do that? That's not my life; I want to write about the things I care about."
Initially alternating between 2006 and the early part of the 20th century, the novel revolves around 95-year-old Elizabeth Pringle, who mysteriously bequeaths her house to a stranger who had expressed interest in her quaint cottage more than three decades before. "There isn't any truth in that but it's something I've done myself in other situations," says Wark. "Put a note through the door of someone's home, saying, 'I'd love to live there and if you ever think of selling, let me know.' So it's not that uncommon or outlandish, but what was strange was that it took them so long."
However, with the now-ageing recipient gravely ill, it is up to her daughter Martha Morrison to uncover the truth behind Elizabeth's generous but perplexing gift.
"There are no parallels to my life at all," says Wark, who depicts Martha as a disaffected newspaper journalist. "I basically wanted someone who had a relationship with her mother that through her dementia has become very, very difficult. From my experiences with my friends and their families, I know that every dementia sufferer is different. So I took a few things that happened to them with their parents and changed them for my story."
Mostly set on the Isle of Arran, the novel comes with a map to help readers find their way around. "If anything, the book is a love letter to the island, which is very much like a character in itself. I wanted the novel to feel very much rooted in a particular place, so you would understand Elizabeth's rootedness. It's such a particular place and so small I wanted readers to have a definite sense of the smallness of it, and also the smallness of Elizabeth's world."
Raised in nearby Dumfries, Wark boasts a family connection with the picturesque location. "I've visited it since I was a child as both my parents went there as teenagers.
The islanders are very particular kinds of people and many of them move away, only to end up settling back there. They never thought they would do so but they feel the pull of the island so strongly. I wanted a place that was really like Elizabeth's anchor in a way and I wanted to explore why that was so."
Partly inspired by Wark's great-aunt, who couldn't bring herself to join her fiancee in emigrating to Australia around the turn of the century, the novel explores the impact that making such a drastic move had back then on existing communities. "She couldn't bear to leave her family and her home," she says. "Emigration is very much a part of my family as I also have a great-aunt on my father's side who went from Glasgow to work as a housekeeper in Australia, and another became a nurse and a matron in South Africa. I grew up with that, especially living near the river Clyde and seeing all the ships leaving from Greenock, so this idea of 'what is a home?' is such a complex thing."
Despite Elizabeth's advanced years, Wark also wanted her to seem as vibrant and well-rounded as the book's younger characters.
"I wanted to reclaim that kind of life for an older woman because when you see a woman in her 80s or 90s walking down the street, you can compartmentalise them as 'here's an old woman'," she says.
"I wanted to give her a back-story so it was very important for me to flesh out her life. I was also interested in the idea of inter-generational friendships. As I get older, it seems that most of the best parties are where there are people aged from 8 to 80. I wanted to say, 'why shouldn't someone like Elizabeth have a friendship with two young men?' She could be looser and more open with them because she's been closed off all her life, and there's a reason for that."
The Legacy of Elizabeth Pringle (Two Roads $37.99) is out now.
Follow Life & Style on Twitter and Facebook.