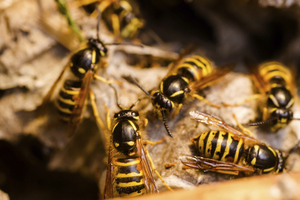 I want to believe in the inter-connectedness of things, I really do. I want to believe that all life on Earth depends on all the other life on Earth and that, as the creatures with the really big brains, we must love, protect and defend our delicate ecosystem.
And, for the most part, my desire to believe is rewarded. I can see, for example, that without trees life would be pretty darn grim on this rock. Trees are quite important to the continued survival of everything. Even I can see the trees for the wood on that one.
But what, please tell me, is the ecological necessity for wasps? Not to put too fine a point on it: why the #<\@>&% do wasps exist? If we were to get rid of all the wasps, this very day, how could that possibly make Earth a worse planet?
No one likes wasps. The proof of this is that there will never ever be a huge box-office hit animated film about a cute, adorable, misunderstood wasp and his/her wacky, eccentric wasp family. Ants, snails, bees, cars, monsters, ogres and even sharks have all had the Disney/Pixar/Dreamworks make-over to turn them into cute, lovable, box-office friendly critters, but this will never, ever happen to wasps.
Why is this so? Because wasps are evil is why. Everything about them shrieks of evil. Even the way wasps fly seems sinister and threatening. There is never a time you look at a wasp as it flies enigmatically around you and your picnic and think, "What an adorable little creature, I must clasp it to my bosom immediately." Even the word "wasp" sounds evil and has exactly the same number of letters as "evil".
Despite all this overwhelming evidence to the contrary, there are still wasp defenders out there. Wikipedia, for example, says: "Almost every pest insect species has at
least one wasp species that preys upon it or parasitises it, making wasps critically important in the natural control of their numbers ..." So, apparently, because the wasp picks on other annoying insects we are meant to praise them as defenders of the ecosystem, are we? Don't we have pesticides (organic and otherwise) that do that job for us these days?
Even if you do take the position that wasps are an integral part of some greater natural bio-control system, can we really trust them to do their job? Apparently, if I read further into Wikipedia (that unimpeachable source of all human knowledge) I find that wasps tend to kill these pests not by simply stinging them to death, but by paralysing them and laying their eggs in them so their larvae have something to eat. In other words the good they allegedly do us is actually part of a waspish master plan to propagate their own species.
Another reason sometimes given to tolerate the presence of wasps among us is that they are pollinators, though apparently not very good ones compared to the one yellow-and-black flying species we should be worried about defending: the humble bee. The lead example of a useful wasp in this department is something called a fig wasp, which pollinates, obviously, fig trees. I don't even like figs and I fail to see how the extinction of the fig tree would inevitably lead to ecological Armageddon. If someone can draw me a diagram explaining this, that would be very helpful, thank you.
Whether you believe in evolution or intelligent design or Creation or whatever, it is very difficult to understand the reason for wasps. So what that wasps can build kinda cool looking houses - we have architects that can do that and architects don't sting (except in a financial sense). And so, what wasps are, in many ways, are remarkably well-engineered creatures but all they do with that remarkable engineering is fly around acting like they own the place and generally being annoying, like they are the Audi drivers of the insect world.
Conservation is good. Conservation is better than good, it is an absolute necessity for our continued survival on Earth. But surely even with conservation there must be limits, and with conservation can't that limit fall somewhere with the wasp on the far side of it?
All I'm saying is there are heaps of species that are extinct - the dodo, the moa, the
Cebu warty pig, the Danish Clouded Apollo butterfly - and, while their extinction is a tragedy (especially for them), we seem to be doing sort of okay without them, as far as we can tell.
So what would be so wrong if one day a child says to a parent, "Daddy, were you alive when there were wasps?"
The parent might reply, "Yes, and they were evil."
Next week: Mosquitoes - what the hell have they ever done for us?