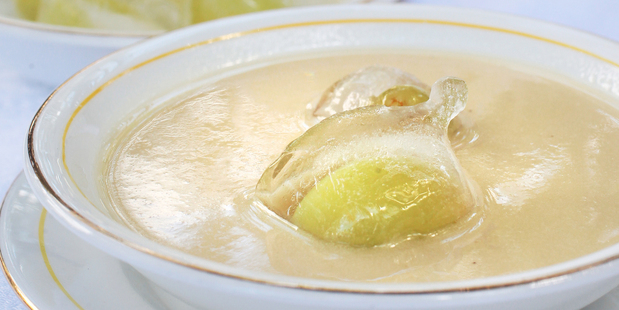 Making this is a labour of love. It has a sensual texture and can be supped with refinement.
It may seem odd to add garlic to this menu, but based on the adage "if you can't beat them, join them", it ensures your date will be kissing no one else. The soup would normally have the grapes fresh and the ice cubes added to chill down this unctuous mix. It makes sense to freeze the grapes into the ice cubes, place the ice cubes into a ziplock bag and use these as part of the chill factor.
Serves 2
• 100g unblanched almonds
• 1 clove garlic, peeled
• 2 tsp sherry vinegar
• 1 tsp salt
• Light Spanish olive oil
• 8 green grapes
• Cold water


1. Pour bowling water over the almonds and after a few minutes, drain and squeeze off the skins.
2. Place the almonds in a blender, just cover with the olive oil, add garlic, vinegar and the salt and liquidise until everything is completely smooth.
3. With the motor still running, slowly add about 100ml of cold water. Add a little more if the soup is not "spoonable". Place in a bowl, cling-film it and store in the fridge until ready to transport.
4. Peel and halve the grapes. Divide these between six divisions in an ice cube tray. Cover with water and freeze.
5. As the time draws near to leave, take the soup from the fridge and give it a good whisk to ensure it is still amalgamated. Tip into a screw-top jar and wrap this in cling-film. To avoid accidents, wrap the jar in white tissue and add to your picnic basket. Pop the ice cubes out of the tray, seal in a snap-lock bag and cling-film to keep waterproof.
6. To serve, set up your soup bowls and give the soup a shake in the jar. Gently pour it into the bowls and garnish with the grape ice blocks.