Dying mum, 20, marries her man and their little girl acts as ring-bearer.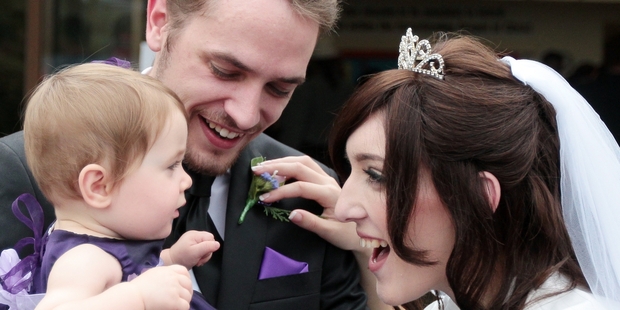 Vivian-Leigh Fittall and Jack Waller began their married lives with a wriggly, giggly baby in their arms.
The smiles of the couple's nine-month-old daughter, Sophie, were among precious memories made when terminally ill Fittall married Waller yesterday at Whangaparaoa Methodist Church on the Hibiscus Coast.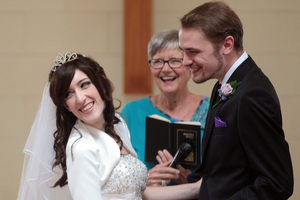 Fittall, 20, found out last month that a hereditary condition she carried had degenerated into aggressive liver, rectal and lung cancer and her time was likely short.
Waller proposed a few days ago, and their last-minute wedding made headlines around the country. Donations poured in, including of a wedding dress, suit for the groom, wedding and reception venues.
Yesterday afternoon, Fittall's dying wish came true. Dressed in a ruffled, short-sleeved white dress, with a veil and train, the frail bride was led down the petal-lined aisle by parents Yahn and Wendy.
Standing in front of her beaming husband-to-be, she exchanged traditional vows, her voice faltering as she promised they would remain together "until death do us part".
The couple then exchanged rings presented to them by ring-bearer Sophie, dressed in a purple dress matching those of Fittall's four bridesmaids. The brief ceremony ended when the couple kissed, a moment that was met with whoops of delight from the more than 100 guests.
After briefly posing for photos outside, the couple were whisked away in a black stretch limo. A reception followed at Whangaparaoa Golf Club.
Donations to a Give a Little donation page set up to help Fittall and Sophie have soared since their plight went public on Friday and yesterday evening stood at $41,700.