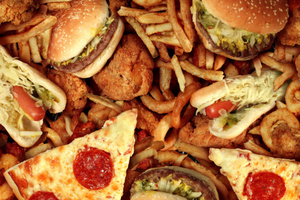 Junk food advertising targeted at children needs to be banned to help fight increasing rates of childhood obesity, however the Government has no plans to change the status quo, researchers say.
University of Otago researchers found premium offers, the use of promotional characters, misleading nutritional and health claims and themes of "taste" and "fun" were commonly used to promote unhealthy food to children.
Lead researcher Dr Gabrielle Jenkin, a research fellow in the Department of Public Health, said most children and parents would be familiar with the offer of free toys at McDonald's, slogans such as "open happiness" with Coke, and the use of licensed characters such as Spiderman or Spongebob Squarepants to promote junk food to children.
The form of marketing was persuasive and manipulative, especially for kids, she said.
"Such marketing has been proven to increase children's requests for the advertised foods, their food preferences and ultimately their diets.
"For example, free toys, discounts and competitions promote brand loyalty and repeat purchases."
Dr Jenkin and her fellow researchers based at the University of Otago in Wellington were calling for an outright ban on junk food advertising aimed at anyone aged under 16, as has been done in Norway.
In the absence of a ban, new rules would need to be added to the advertising codes around the use of persuasive techniques, as has been done in the UK, Australian and Ireland, they said.
However, Health Minister Tony Ryall said the Government saw its role as providing information and support for individuals and families regarding healthy eating, and had no intention of introducing more restrictive measures such as sugar or fat taxes, or stricter regulation of advertising.
"In 2011, New Zealand broadcasters voluntarily increased [the amount of] restricted advertising to children, including advertising for children's food," he said.
"The total restricted and advertising free zones per week across the three major free to air broadcasters doubled to 101 hours and 30 minutes a week since the classification system was introduced in 2008."
Despite that, Dr Jenkin said the advertising-free time slots were in place only from 7am-9am and 3pm-5pm, not later in the evening when many children were still watching TV.
Marketing of energy-dense, nutrient-poor food and beverages has come under increasing public health scrutiny by international health organisations who have called on governments to monitor and address the problem, she said.
The World Health Organisation recommended the reduction of "both the exposure of children to, and the power of, marketing of foods".
The researchers reviewed 38 international studies analysing television advertisements aimed at children, focusing on the persuasive techniques they used to market food.
A McDonald's spokeswoman said 50 per cent of Happy Meals were now sold with at least one "healthier choice" such as apple slices.
The company was working to reduce sugar, sodium and saturated fat levels in their food and were committed to their part in a collaborative approach between government, industry and non-government groups in reducing obesity levels, the spokeswoman said.
- APNZ