Meg Liptrot has some bright ideas for creating a backyard haven.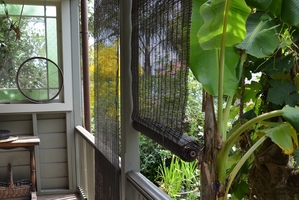 The holidays can feel like a distant memory after just a few days back into the daily grind. But all is not lost. There is time to have a fresh look at your outdoor spaces before summer's out.
You might be overlooking a zone with the potential to become a private sanctuary with simple props and a dash of effort. A mini makeover can provide an oasis of calm, helping reclaim some of that holiday energy. Decks, patios and sheltered spots in the garden are prime candidates for this treatment.
Water
The reflective qualities of water provide instant atmosphere in any garden, and the sound can help block city noise. The simplest way to create a water feature is to fill an ornamental pot with water. Evocative retreat-style pots might include blue-and-white porcelain Chinoiserie, rustic Balinese - or anything that complements the era or style of your home and garden.
After blocking drainage holes with a waterproof expanding foam filler, place smooth stones in the bottom of the pot, then fill with water. Floating candles and bougainvillea flowers provide a tranquil finishing touch. Easy-to-grow plants for ponds or an extra-large pot or half barrel include Japanese iris, water lilies or, one of my favourites, Oponogeton distachyos, which has oval ornamental leaves and small white flowers in winter.
I bought my parents a large earthenware pot the colour and texture of volcanic stone, plus a small 12-volt pond pump. Their patio border garden features bromeliads, hibiscus and kawakawa, and has a lush grapevine overhead. A set-up like this is a low-cost, effective way to create a water feature, no electrician required. The pump cable can be inserted through the drainage hole in the pot, then reconnected. The pot is ideally located in a gravel or shell area, so the cable can be hidden underneath and secured down with weedmat pegs. Plug an RCD device into your powerpoint for safety. My parents told me a relative who comes to stay enjoys sitting in the patio while meditating, listening to the water.
A place to plonk down
A comfy spot to sit is a must, whether it is a woven chair, an outdoor beanbag or a bench with cushions. Check out second-hand shops or TradeMe to snap up a bargain. To protect timber furniture, if it is not made from durable hardwood, apply a decking sealant or a lick of exterior paint. Bear in mind - furniture not designed for outdoors is unlikely to last if left outside over winter.
A small table for books and drinks is key to a successful relaxation zone. This could simply be a timber crate on end with a brightly painted circular, marine-ply top screwed down, or a short base of interlocked red bricks with a paving slab secured on top. If you are building a heavy, permanent table, dig down until you reach denser subsoil and compact basecourse first to ensure you have a stable surface.
Claim back your space
Sometimes small purchases are all you need to get motivated to transform a tired area into a whole new space. One morning we woke up to a scene of carnage on the veranda. The old door mat looked as though it had spontaneously combusted. The destructive efforts of both the dogs, the cat and the weather left it scattered in pieces overnight. Being made of natural coir, it went straight into the compost bin.
We hunted around for a large replacement to fit the double French doors, finally locating the perfect size at Auckland store Alfresco Living, which also stocks some lovely garden sanctuary pieces.
Taking advantage of the Boxing Day sales, we bought a couple of woven chairs and a round table to make use of our veranda, which has never been fully appreciated. The floor is built with eucalypt tongue and groove, and detritus accumulates over time between the boards. Although the veranda is covered, heavy rain does drive in and the edge blackens with mould. Oxygen bleach is an eco-friendly mould-remover for soft woods. I gave that a go on our hardwood and got reasonable results after a lot of elbow grease. I ended up going at it with an orbital sander with better success.
With a sore back and numb hands after a couple of days' hard graft, our new furniture was appreciated all the more. Painted matchstick blinds hang along the veranda to block the afternoon sun. This elevated spot captures borrowed views of our neighbour's palm trees. Combined with the tropical atmosphere of luminous banana leaves glowing in the afternoon light, the garden is transformed into a Pacific hideaway. A jug of iced water with orange slices and mint leaves, a good book at hand, and we're sorted. Needless to say, the dogs are officially banned from our small sanctuary, at least for summer anyway. They have the rest of the garden to wreak havoc in.