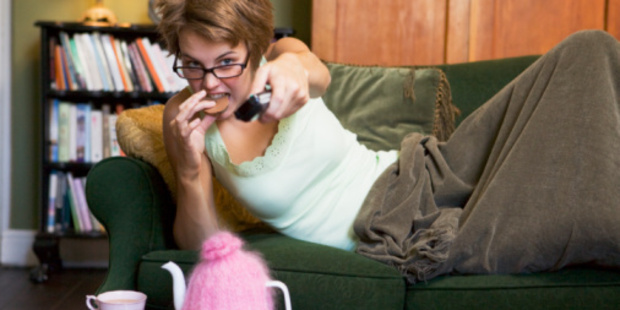 I have been unemployed twice in my life. People often think that unemployment is a wonderful staycation of sleep-ins and movies and afternoon whiskies. And yes, okay, sometimes it is like that. But other times, (spoiler alert) it sucks. Big time.
The first time I was fresh out of uni, had just broken up with my long-term boyfriend and lost most of my friends to the rat race. Leaving the house was expensive so I would spend whole days in bed, escaping via Entourage and toast. It was grim.

The second was when I hit London and this time I was better prepared, but after three months travelling I was feeling the financial pinch.

So, what lessons can I impart from my experience of having my confidence shot, my bank account filled with electronic tumbleweed and my friends busy all day with their real jobs?
Lesson 1: Get out of bed, get dressed.
The world is not going to give a job to someone in traditional Bolivian pants, no matter how comfortable or party-coloured they are. Besides, if you wear them every day they will get a split in the seam and then you will no longer have a South American Santa outfit, and is that what you want?

Lesson 2: Exercise

I'll admit that this seems like a Herculean task when you are feeling ratty, but it really is the only cure that gets you out of the house without spending any money and nearly instantly lifts your mood. Even when life seemingly hates you, exercising can make you illogically and unconditionally love the world and all its creatures.

Lesson 3: Stay away from social networking

I would really like some hard evidence that Facebook is a good thing. Mostly it is dominated by people appearing to have a better time than you whilst wearing sunglasses you can't afford. If you must use it, try 'liking' some helpful, beautiful or interesting sites like Levo League or Studio Home or Upworthy.

Lesson 4: Tee up informational interviews

Find someone who is in an industry/role/company you are interested in and spend your last $4 buying them a no-obligations coffee. It's worth it, even if it doesn't turn into a job, just to see what they do, what they like about it and if they know anyone who might help. There is a lot of guidance out there about what kinds of questions to ask and I've found that most people are happy to go out of their way to have a chat. What's the worst that can happen?

(Actually, the worst that can happen is that on your way to the interview you get mugged by two teenage hooligans who take your phone so you can't call the interviewee and cancel, and you turn up distraught and ugly-crying and thus magically turn a pleasant drink into a police incident. But hey, I survived it, so can you!)

Lesson 5: Avoid My Sky and other things that make you feel good temporarily then bad afterwards

Things that fall into this category (for me) include drinking more than four drinks in a night and chicken nuggets.
This is pretty hypocritical because I burned through all five seasons of Downton Abbey in a month, but I don't like what it did to me ie. adopt a (bad) posh English accent, haunt the house in my pyjamas and expect all English people to know a lot about silverware.

Lesson 6: Go to parties
Yes, even if you have worn that same dress to every social event for the last three months, put it on again and smile about it. It's surprising how often you will meet someone at a party who does something interesting or knows someone who knows someone. People will want to help. (However, keep in mind lesson 5 while you're mingling.)
Lesson 7: Tell your friends
Chances are your friends have had a hard time too and luckily society dictates that they have to be nice to you even if you are miserable company. Bank those hugs. But, at the same time, don't go on about it. No one wants to give a job to someone who is wearing the attitudinal equivalent of those Bolivian clown pants we spoke about in lesson 1.

Lesson 8: TED talks
Watch 'em. They are 10-minute inspiration injections. Find them all here.

Lesson 9: Be a cheap ass

No one will judge you for carrying around teabags in your purse. Screw paying $3 for a cup of tea in a café, amiright? They usually give you hot water for free, unless they are eggs. In which case, go to another café, you can do better. (Maybe don't try this one for the informational interview.)

Lesson 10: You're alright

You don't have to be 'on' all the time, just take it easy, you'll be back. Every so often look at yourself in the mirror and tell yourself - "you are a magnificent son of a gun", because it's true.
Have you been/are you unemployed? What lessons did you learn?