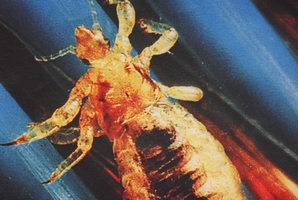 Desperate parents are using animal flea treatments to rid their kids of nits - at the risk of poisoning them.
As children return to school in coming weeks, and face exposure to other children with head lice, the Ministry of Health plans to raise awareness with public health units around the country.
The National Poisons Centre receives at least one call about poisoning from animal treatments each month. In the year to June 2013, the youngest with an acute reaction was 23 months, the oldest 54 years.
Spokeswoman Lucy Shieffelbien said the figures were likely to be only the most serious cases. Many more were probably dealt with by parents at home or GPs.
Typical reactions were skin rashes and burning sensations on the scalp, though the centre had also dealt with cases of product getting into eyes and mouths.
Shieffelbien said animal treatments were often tried after parents found traditional lice treatments ineffective. "I don't think that the general public are aware of how highly toxic these products are and probably think that because it is approved for use on your little kitty cat then it must be safe to use on your 10-year-old child.
"We suggest that people do not use these products."
A Tauranga mother of two told the Herald on Sunday that she had used Spot On with her children, aged 7 and 10 after she had tried standard treatments and tea tree oil.
Spot On contains fenthion which is about 140 times as toxic as head lice treatments designed for humans.
She said it worked for a couple of months. "I would like to see them develop something like this for humans, something that won't wash off."
A Bay of Plenty cat almost died earlier this month after it was given a flea treatment dose intended for a dog.
The National Poisons Centre advises all suspected poisoning be reported by phoning 0800 POISON (0800 764 766).