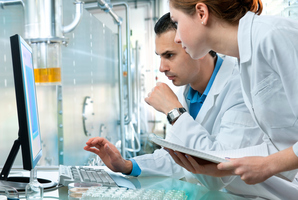 One new construction we can find more and more in online writing is because noun. For instance: "If due north was good enough for that chicken's parents and grandparents and great-great-great-great-grandparents, it's good enough for that chicken too, damn it. But Iowa still wants to sell eggs to California, because money" (Daily Kos, July 14, 2012). In because noun constructions, most of what might have been put into an embedded clause (sentence) or put after because of is dropped, reducing the word string to because plus a noun or group of words acting like a noun. Sometimes, this construction appears with an affect word ("because, hey, politics"; "because yay!"). The writer's attitude here is informal, based on spoken interaction ("Why?" "Because of politics."), sassy, and hip: Do I have to spell it out for you? You already know the meaning from the context, right?
I suspect the ironising, somewhat sarcastic tone of these constructions can be traced back to one of two sources. The first is Jack Handey's Deep Thoughts, from the sketch comedy show Saturday Night Live in the mid-1990s: "If you ever fall off the Sears Tower [in Chicago], just go real limp, because maybe you'll look like a dummy and people will try to catch you, because, hey, free dummy." Others have noted this joke for the because Noun construction, but no one remarks that Handey's line also includes a fully subordinating because.
Also, hey indicates both a spoken register and a switch in tone after because. The web is now full of ironising "free dummy" sites.
The second possible source is from the online comic strip Three Word Phrase (#139, "Reasons"). The last panel - "I want this because of reasons" - went viral and generated many imitations and riffs, including "Because Science" T-shirts. Again, though, people don't note that the speech bubble uses a because of construction. If the Three Word Phrase is the precursor, then because Noun constructions are just reduced forms of because of constructions.