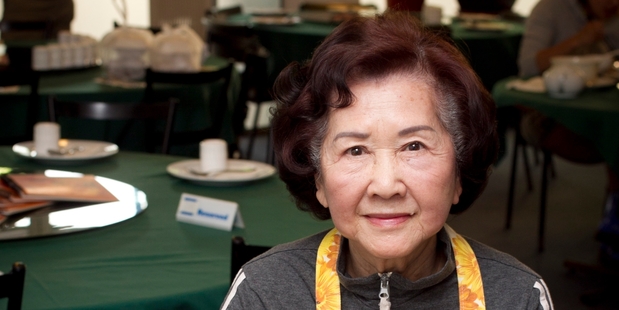 The story goes that a chef in Singapore wanted his South Indian-style food to cater to Chinese customers and started using fish head in curries because it was considered a delicacy by his target clientele.
It proved so popular that now the Malay, Chinese and Eurasians in Singapore and Malaysia have made variations of this dish their own.
Fish head curry is also an essential Bengali food item eaten at festive occasions.
Lim Yoke Ying, 70, a co-owner of Bunga Raya Malaysian Restaurant, says her version - a Peranakan or Nyonya-style - is also a top-seller at her New Lynn eatery.
"Kiwis like to eat fish fillet, but the sweetest part of the fish is the head and that is why we consider it the best part," said Ms Lim. "It's got many textures, and people who know how to eat it will suck and jelly part of the eye and also the fish lips."
Back in Malaysia, fish curry is traditionally served in a Kerala-style curry with vegetables such as okra and eggplant with either rice or bread.
However, Ms Lim says the popularity of the dish at Bunga Raya proves Kiwis like the Nyonya variation. "Tamarind and coconut milk give a sweet-sour taste to the curry that Kiwis are used to because of the popularity of Thai curries here," she said.
Ms Lim said it is important to clean the fish head with salt and water and deep fry it a little "to prevent it from breaking apart" before adding it to the curry.
Fish head curry, or Kari Kepala Ikan, is best accompanied with rice or ready-to-cook roti canai that can be found at the frozen section of most supermarkets. Snapper heads are available from most seafood markets including the Auckland Fish Market for about $3 a kg.
Kari Kepala Ikan (Bunga Raya Nyonya style)
Ingredients:
• Medium to large snapper head
• 3 tbsp Malaysian fish curry powder
• 5 pcs of garlic cloves
• 2 onions
• 1 tbsp coriander seeds
• 1 tbsp cumin seeds
• 1 eggplant
• 200g okra
• 200g round beans
• 100g fresh chilli
• 1 fresh tomato
• 2 pcs cinnamon sticks
• 2 pcs star anise
• curry leaves
• tamarind paste
• 1 can of coconut milk

Method:
• Blend curry powder, garlic, onions, coriander and cumin seeds for 3-4 minutes with 2 cups of water to form paste.
• Slice okra, beans and eggplant into bite-size pieces.
• Rub salt over fish head, leave for 10 mins and rinse salt off.
• Deep fry head for 2 mins.
• Heat separate wok with oil and add chopped garlic and chilli.
• Fry curry paste, add cinnamon stick, star anise and curry leaves.
• Add a cup of water and mix well into thick paste.
• Reduce heat and stir fry until slightly brown and oil starts to ooze from paste (do not burn).
• Mix tamarind paste with 4 cups of water, strain, bring to boil.
• Add coconut milk, fresh tomatoes, okra and eggplant and round beans and stir well.
• When it comes to a slow boil add the prepared fish head.
• Cover, simmer gently for 5 to 8 mins. Add sugar and salt to suit.
• When fish head is just cooked remove promptly from heat and let it stand for 5 mins before serving.
Where to try Kari Kepala Ikan:
Bunga Raya Restaurant, 3062 Great North Rd, New Lynn. Ph (09) 827 8666.