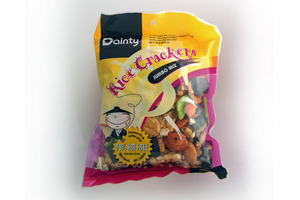 Dainty Rice Crackers Jumbo Mix - $1.99 for 250g

Rice crackers are great to keep in the cupboard on standby when friends pop in for a drink and you need a snack. Throw these in a bowl and they're happy - even your gluten-free friends.
These caught my eye because they are made in China - which makes them possibly more authentic than the ones which are made here.
But my eye was also caught by the bright colours in the pack and I had to find out which colours were used.

Ingredients
• Glutinous rice - You would expect rice crackers to be mostly made up of rice. Do not be misled by the term "glutinous" as these do not contain the gluten that people with coeliac disease and gluten-intolerant people react to. The term refers to the sticky consistency of the rice, which is glue-like.
• Soy sauce (soybeans, wheat, salt, water) - This will be in here mainly as flavouring.
• Sugar - A fifth of this packet, or 50g, will give you 2.6g of sugar which is just over half a teaspoon.
• Glucose - This is another form of sugar which might be used to give the crackers the sweet outer coating.
• Seaweed - There are visible pieces of seaweed in this mix. It is wrapped around some of the crackers and flecked on others. Seaweed is very nutritious with a variety of minerals such as calcium, magnesium and potassium.
• Malt dextrin - This is maltodextrin which is another form of sugar.
• Tapioca starch - This is like cornflour but made from tapioca which is made from cassava root.
• Colour (E150c, E110, E102, E133) - There's no missing the bright greens and pinks present in this mix, which means colouring. Unfortunately, there is no natural colouring used in these, which is a shame. The colours are caramel III (150c), which is made by heating sugar with ammonia. Sunset yellow (110) and tartrazine (102) were included in a voluntary phase-out called for by Britain's Food Standards Agency and a European Union-wide health warning must now be put on any food or drink that still contains these colours as they are thought to cause hyperactivity in some children. Brilliant blue (133) is an artificial flavour which has been the topic of many studies, most recently by the European Food Safety Authority, and is allowed in foods.
• Chilli - Only a tiny bit so far down on the list but in here for flavouring. Some of these are quite spicy.

My recommendations
Rice crackers are a great choice for a snack as they are fat free (these are only 98 per cent), taste great and have a great crunch. But shop around and look for rice cracker snacks which don't list any artificial colours on the ingredients label.

Highlights
• 98 per cent fat free
• Uses artificial colours
• Low in sugar

• Do you have a food product you would like Wendyl to feature? Email wendylwantstoknow@gmail.com with suggestions. Unfortunately Wendyl cannot correspond with readers. Read Wendyl's columns on other food products here.