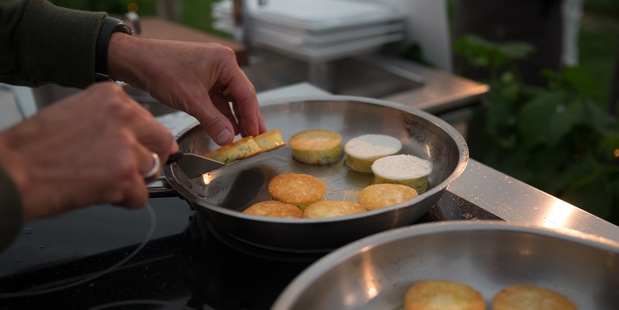 Serves 5 as an entree
• 1 loaf of white bread
• 4 eggs
• 100mls cream
• Zest 1 lemon
• 1 tbsp finely chopped chives
• 250g fresh whitebait
• Soft butter
• 3 tbsp olive oil


1. Wrap the bread in plastic wrap and place in the freezer overnight. Pre heat oven to 100 degrees.
2. Place the eggs, cream, lemon zest and chives in a bowl, season with sea salt and whisk together. Divide the whitebait between 5 silicon moulds or non-stick muffin moulds, pour in enough egg mixture to cover and mix well with an end of a spoon.
3. Place in the oven for about 35 minutes or until the whitebait custards are cooked but still have a very slight wobble in the middle. Allow the whitebait custards to cool in the moulds, carefully unmould and refrigerate until required.
4. Pre heat oven to 230 degrees. Remove the plastic wrap from the bread and slice the bread thinly to about 3mm thickness with an electric meat slicer. Alternatively, slice the bread thinly using a serrated knife. Using a 6 cm pastry cutter cut 10 circles from the sliced bread and discard the trimmings.
5. Butter the bread lightly with soft butter and stick the buttered side of the bread circles to the top and bottom of the whitebait custards to form a sandwich. Heat 3 tbsp olive oil in an oven-proof frying pan, add the whitebait sandwiches and place in the oven for 4 minutes turning them once half way through the cooking time. Remove the whitebait sandwiches from the frying pan and place on absorbent paper.
6. Place the whitebait and some lemon mayonnaise on a plate and serve with a watercress salad.