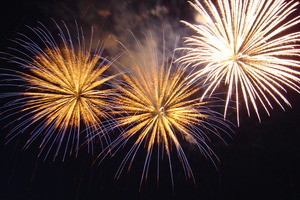 As revealed in More fireworks rules are overdue, I'm no fan of fireworks.
Reader responses to this piece represented a wide variety of views. There were people who thought we should ban the sale of fireworks, and others who lamented the fact that today's versions are less powerful than those of yesteryear and thought we should "bring back skyrockets". There were tales of distressed pets, disturbed sleep and students whose study for exams was interrupted. Some people called me a killjoy while others recommended I "build a bridge", "chill out", "stop whining" and "harden up".
I have hardened up. In fact, I've become even more resolute in my stance against fireworks. Last year I simply suggested that perhaps stricter rules should be applied to the private use of them. Specific days of use and curfews could have provided a compromise that was palatable to both the "fun police" among us and members of the bring-back-skyrockets brigade.
(How ludicrous it is that the days on which fireworks may be sold are tightly restricted but people have free rein as to when they may be let off.)
But I'm officially past the point at which simple curfews and restrictions seem reasonable. This year the rain in Auckland on 5th November clearly curtailed many people's plans. Inclement weather meant last Tuesday's "celebrations" weren't as excessive as other years. I almost admired the spirit of the few intrepid sorts who nonetheless let off their crackers in the downpour.
Of course, that meant that less hardy people still had a stockpile of crackers to get through - so the unwelcome sounds of fireworks could be heard throughout the rest of the week. The rain that had seemed so fortuitous at the time had simply prolonged the firecracker season.
There were fireworks in the suburbs on Friday night and I swear that the noise of a single firecracker woke me up at 6.30am on Saturday. Then after a day in the country at Clevedon's 100th annual A&P show, I went to bed early and slept in spite of the fireworks going off all around. More were set off on Sunday night.
It's not just an Auckland issue. My mother reported she was "beside herself" following "nine friggin' nights" of fireworks in her Hawkes Bay neighbourhood. On these nights she feels she must allow her outside dog into the house and sit with it until the noise stops.
Such measures can be viewed as mere annoyances, the price pet owners must pay so others can have their antisocial fun, but sometimes animals suffer serious injury and even death as a result of fireworks. According to Fireworks panic causes death of racing colt, it happened in 2006.
"He was a perfectly healthy foal which had to die because of a few stupid fireworks," said the attending veterinarian. And, as explained in Fireworks blamed for loss of rare foal, in 2011 "fireworks ... cost long-time Wairarapa horse breeder ... a $3000 foal".
Also in 2011 the NZ Herald reported that fireworks are being "blamed for the death of a dog which threw itself through a window after becoming terrified by fireworks noise". Of course, not all cases of animal death-by-fireworks are reported in the media. One reader told a sad story in a comment at the end of my 2012 piece: "I had a perfectly healthy 18-month old cat pass away during Guy Fawkes 2 years ago. She went missing the first night they were on sale and we found her 4 days later in the place she'd decided to hide. It was heartbreaking."
Last year 3news reported the loss of another foal: "Police say the ... foal was found dead with a broken neck suffered by running into a fence after being spooked by fireworks let off between midnight and 1am."
How many more animals have to suffer and die in the name of so-called entertainment?
The time has surely come to prevent such tragedies. An online petition, designed to "ban private use of fireworks and allow public display only in New Zealand by 2014", presents the perfect opportunity for the killjoys of our nation to show their support.
Do you think fireworks should be banned or should the "fun police" just stop complaining? Are you concerned about the welfare of animals at Guy Fawkes time? Have you lost a pet as a result of fireworks?
Debate on this article is now closed.