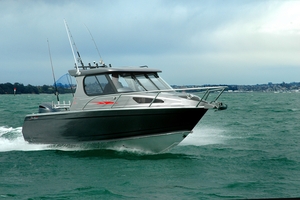 Those with longish memories will probably remember a brand of aluminium boats called Lazercraft. They might also wonder what happened to them.
Popular in the 1990s, Lazercraft models tended to be at the larger end of the spectrum and very well built.
They were also popular with those who were serious about their fishing.
At a time when the idea of hunting big game fish from trailer boats was just taking hold, Lazercraft boats were often seen trolling a considerable distance offshore, outriggers set.
And, if my memory serves me right, Lazercraft were also the first to marry an aluminium hull with a fibreglass superstructure.
That gave them a real advantage over many of the other big aluminium boats on the market. That trend towards bigger aluminium game boats (as opposed to smaller launches) was leading to another: the demand for better shelter and protection.
That meant there was an increasing demand for hardtop models but there was a problem: making an aluminium hardtop look attractive is not always easy. It was even harder two decades ago.
By making their hardtop out of fibreglass, Lazercraft had a real jump on the market; theirs were among the first really attractive hardtop aluminium boats.
Unfortunately, despite their long history of producing high-quality, attractive, seakindly vessels, Lazercraft was one of those to succumb to the global financial crisis.
In 2009, they were bought by another Dunedin company, Southern, and the two brands merged to become Southern Lazer.
Then, a few months ago, the new company's largest dealer, Family Boats' Peter Carlson and business partner Noel Davies, mimicked that famous shaver ad and bought them out.
"It really is like the old Remington advert," says Carlson. "I liked the brand so much I bought the company."
Carlson and Davies are now marketing the boats under the Southern brand.
They have increased the production range from four boats to eight and, by the end of the year, will have extended that to 10. Models will range from 6.45 metres, (the XP 646) through to the nine-metre XP 896. All are hardtop models.
Although the boats will still be built in the Mosgiel factory, the dealer network will be reduced to just four.
Carlson says production has been geared for about 30 boats a year, with four on the factory floor at any one time. Most are expected to be at the larger end of the range.
He has sensibly shied away from anything that might alter the renamed brand's reputation for rugged reliability and rough water handling.
Their latest release (a revamp of the popular XP 776) still boasts a 6mm hull, 4mm topsides and that trademark GRP hardtop.
The "new" model is called the Southern HTO XP 776 and, not surprisingly, its presentation is exceptional ( Southern was always admired for its glass-like finishes). In fact, one would be hard pressed to find an alloy boat with a better finish.
With an LOA of 7.8 metres, the 776 is obviously a very easy boat to drive in all but the roughest conditions. However, just as importantly, it is very stable at rest, too, thanks to wide outer chines.
There is also better lift than in previous models, a result of the outer strakes being changed from square and flat to a concave shape.
The inner strakes have also been shortened to reduce aft lift at speed and the fine bow entry and high sides tend to keep the spray off the deck.
The new Southern HTO XP 776 demonstrator has been powered by a Yamaha 250hp four-stroke outboard. This returns a top speed of about 41 knots at 5700rpm and an easy cruise at around 31 knots; not bad for a 2.2-tonne hardtop with a 2.5-metre beam. For those interested in game fishing, the 776/Yamaha 250 combination uses around 2.4 litres per hour at trolling revs of 600rpm. Other options are a 200hp outboard (although a 225 would probably be better) or a 300hp one.
The 776 has also been set up to take a diesel inboard for those who want to game-fish seriously and are prepared to swap the higher upfront price for lower running costs when trolling.
In many respects, the 776 is like a mini-launch with a lockable fabric-lined cabin, complete with head and full-length berths, a well-appointed hardtop with a pair of fully adjustable king/queen back-to-backs on GRP moulded bases (with huge storage under), a stylish GRP dash and a huge cockpit (with rod racks, live bait tank and a rocket launcher).
Those who want even more protection can upgrade from the open version (pictured here) to a fully closed-in wheelhouse with rear doors, a reconfigured seating arrangement and a small galley; in other words, everything one would need for overnighting.
Of course most of those considering a boat like this will mainly be interested in the cockpit and, I suspect, they will not be disappointed.
Both superbly finished and utterly practical, it is likely to impress the most demanding of fishers and water sports enthusiasts.
Rod holders are plentiful as are double-tier side shelves, specifically designed to handle long rods.
A massive underfloor wet locker forward of the fuel tank is large enough to handle four dive bottles and the accompanying dive gear (or, if one prefers, the catch of the day).
The side decks are wide and flat and thus great to sit on while fishing.
There's even a strengthening support bar under the lower shelves so they can be used as a step and high coamings make the cockpit safe for small children.
On the outboard version, the transom features a live bait tank to port with a Manta bait board (complete with half a dozen more rod holders) in the centre above split storage spaces; the lower for the batteries and upper for fishing tackle.
A walkthrough on the starboard side leads on to large boarding platforms (built into the portofino stern) an alloy drop-down ladder.
Both the undercover area and the cockpit are attractively carpeted. However, recognising that fishers do not always want carpet underfoot, Southern has sensibly split theirs into two removable sections.
Fishers can, therefore, remove the carpet from the cockpit (revealing chequerplate alloy beneath) while keeping its warmth and good looks in the hardtop.