Canadian writer Margaret Atwood tells Stephen Jewell how one novel became three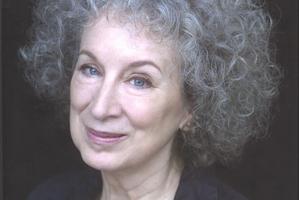 While most escapist science fiction fare takes place in faraway galaxies or alternate dimensions, Margaret Atwood's 1985 classic The Handmaid's Tale was a compelling cautionary tale set in a grim near-future that was all too true to life. So the Canadian writer must have been surprised after completing her 2003 novel Oryx And Crake when she inadvertently found herself embarking on a trilogy, a literary staple of many genre authors.
Set in a chaotic post-apocalyptic environment devastated by a genetically engineered plague, it has since been followed by 2009's Year Of The Flood and the just-published Maddaddam.
"I should lie and say I always intended to do it like that but it wouldn't be true," laughs the 73-year-old. "But I did know there were going to be more books shortly after the first one because it was obvious there were two corners of that world that had not been explored - the God's Gardeners and the Maddaddamites. I, for one, wanted to know more about them and I wanted to see exactly how those people were functioning."
Unlike the majority of multi-volume sci-fi epics, Atwood's opus can be read in any order.
However, with the events of Oryx And Crake occurring concurrently with those of Year Of The Flood, she suggests tackling either of the two previous instalments before attempting Maddaddam. "You'd probably be well advised to read one or the other before the third book, as it would mean you'd be well acquainted with the characters and their situation," she says. "But whether you read Oryx And Crake or Year Of The Flood first, you're pretty much going to come out in the same place."
Her first venture into dystopian fiction since The Handmaid's Tale three decades ago, the Maddaddam Trilogy shares themes of reproduction and fertility with its ominous predecessor.
"These things tend to go around in cycles," says Atwood. "A generation will take on an issue and think they've solved it but then along comes the next generation for people for whom it isn't solved.
"Kids reject the values of their parents because they want to do something different, and then their kids reject their values and go back to what their grandparents were doing."
As for whether this is the last we will see of drifter-turned-reluctant prophet Snowman-the-Jimmy, his enigmatic muse Oryx and his mad scientist best friend Crake, Maddaddam hopefully brings their various stories to a conclusion. "It's definitely supposed to be the end and I certainly think so," says Atwood, who is relieved that none of the advanced technologies depicted in the book have become discredited since Oryx And Crake first appeared. "You can't cheat and go back but the main outlines were theoretically present even back then. What has been developed since that time is the Cloud, which is basically a bunch of servers."
Social media has also become a significant part of everyday existence over the past decade, although Atwood maintains that the religious survivalist God's Gardeners would shun public networks such as Facebook and Twitter.
"They don't hold with computers and cellphones," says Atwood, who is a prolific tweeter herself. "I think social media has been pretty interesting and the one thing that has changed for a lot for authors is how publishers think about book tours. It took them a while to come to grips with it and when I promoted Year Of The Flood four years ago, I basically did all of that myself. But now they're really on to it so they're on Twitter and Facebook. There's also a downloadable poster of the Maddaddam cover and a book trailer. Who ever thought that a book would have a trailer?"
Despite the massive growth in e-book sales, Atwood believes that online platforms are not going to subsume their physical equivalents any time soon. "E-books have hit a plateau and that's probably where it's going to sit," she says. "Even though there's piracy, not everyone wants to do that as they don't necessarily want to read a book of any complexity in that form. You can buy the e-book, which is a lot more navigable, or you can buy the pirated version, which is a lot less so. Alternately, you can read a paperback, which is a much more immersive experience."
An honorary president of global conservation organisation Birdlife International's Rare Bird Club, Atwood also boasts some more down to earth interests. Indeed, Oryx and Crake are both named after endangered species, the former sharing her moniker with a beleaguered African antelope. Meanwhile, the red-necked crake is a seldom-seen Australian small bird that Atwood spotted in Queensland in 2001.
"I was attracted to its imminent extinction," she says. "It could have been something else that was even more imminently about to become extinct such as the cassowary but that doesn't sound as good as a one-syllable name."
A regular visitor to New Zealand over the past few decades, Atwood is also concerned with the plight of Aotearoa's iconic flightless inhabitant.
"The last time we were in the country, we went all the way down to the bottom and saw the kiwis at night," she recalls. "We were actually really lucky because sometimes you don't get to see them. We saw small and large kiwi, males and females and kiwis sticking their beaks under their gold plumage. It was quite a show and it was put on just for us."
Maddaddam (Bloomsbury $39.99) is out now.