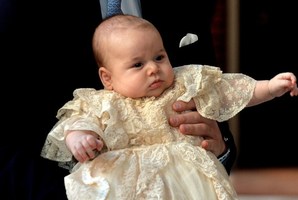 At least 28 babies have joined the "George" club since the Duke and Duchess of Cambridge's son was born in July.
Prince George was to be christened overnight at the Chapel Royal in St James's Palace, London.
In New Zealand, 98 Georges have been registered with the Department of Internal Affairs so far this year. Of those, 28 were registered after the Prince was born on July 22.
Last year, a total of 166 Georges were registered in New Zealand.
Registrar-General of Births, Deaths and Marriages Jeff Montgomery said the Prince's birth had yet to have a big impact in New Zealand.
Remember when the world got their first glimpse of Prince George?
"It might be too early, because often parents choose the baby's name well before it's born.
"So the births that we're registering now were possibly decisions on names made before Prince George was born. So we might see an increase, I suspect, early next year."
Prince George's mother's name - Kate - is becoming less popular here. Last year, it was the 90th most popular name. In 2011, it was 58th. The year before that it was number 53 and in 2009 it was 38th.
Mr Montgomery said that a person's fame sometimes had that effect on a name - either in a good way or bad.
"That does suggest that even though Kate is a high-profile person, that's not influencing the way that New Zealanders name their babies. If anything, it might be turning people off."
Meanwhile, the name of George's father - William - continues to be in the top five names here; 697 Williams have been registered since the royal wedding in April 2011.
Last night, Kensington Palace named Prince George's godparents as Zara Tindall, Princess Anne's daughter; Jamie Lowther-Pinkerton, the Duke and Duchess's principal private secretary; William van Cutsem, one of William's oldest friends; Oliver Baker, who was with the couple at St Andrews University in Scotland; Emilia Jardine-Paterson, who was at Marlborough College with Kate; Earl Grosvenor, son of the Duke of Westminster; and the Hon Julia Samuel, who was a close friend of William's late mother, Diana.
Check out pictures from the ceremony in the gallery below: