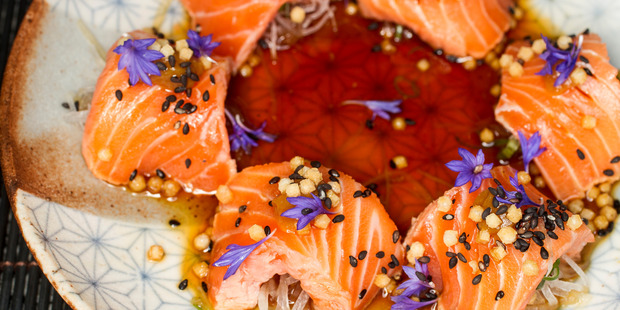 Cook time: 20 minutes
Serves 4 as a tasting plate
• 200g salmon fillet, skinned and boned
• 4 tbsp sweet white miso
• 1 tbsp white sugar
• 2 tbsp apple juice
• 1 tsp pickled ginger juice
• 1 tsp mustard powder
• 3 tbsp rice bran oil
• 2 tbsp lemon juice
• ½ cup daikon, finely sliced
• 1 tbsp rice crackers
• ¼ cup borage flowers


1. Heat a pan on high with a little vegetable oil and sear the salmon for about 30 seconds on each side.
The salmon should be nicely seared on the outside and still pink in the middle, in the traditional style of tataki.
2. Combine the white miso, sugar, apple juice and ginger juice with the mustard powder in a sauce pan. Whisk together and warm the mixture over a gentle heat to dissolve the sugar and form and smooth wet base. Set aside to cool.
3. Add the rice bran oil and lemon juice and stir gently to combine. Do not mix.
4. To serve, thinly slice the salmon and lay over the daikon. Spoon over the mustard miso, sprinkle with rice crackers and finish with a few borage flowers.