Like the grizzled boaties, dope-smoking hippies, reclusive financiers and cashed-up property developers before him, John Hawkesby has escaped the pace of city life to Waiheke Island. Here he introduces the people and places he loves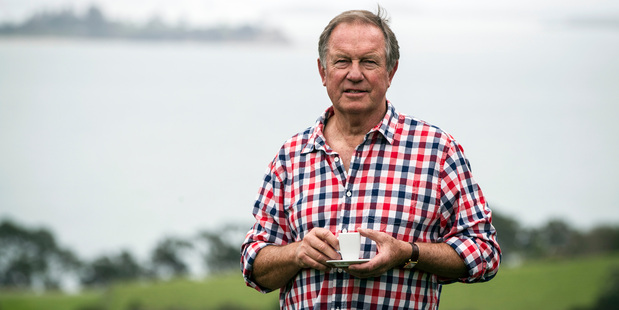 In the evening, he can look across the water to his old neighbourhood halfway towards the horizon. You guess at some level, he must feel pretty satisfied to see that smog-lined sunset from this distance. For a while, his old life made him the face of evening news. It ended in chaos when network TV battles, Prozac prescriptions, a $6.5-million payout and newsroom sniping made him the pivot of a political and media circus.
John Hawkesby admits that Waiheke Island was a place of refuge when his broadcasting career imploded 14 years ago. It had long been a mythical place to a million Aucklanders who heard second-hand of dope-growing hippies and outcasts on an island where motorways, McDonald's, and neckties were non-existent.
Did it have electricity? Did they speak English? Did they bathe?

From childhood visits, Hawkesby knew more about the island than most townies. In the years spent living here he's got to know it better - in a decade or so he'll be a certified local, he jokes.
In his new book Waiheke, Hawkesby says the island's "simplicity and gentleness" seduced him when he was licking his wounds.
Told of a gorgeous two hectare section on the island's west for sale, he signed in minutes. In doing so, he caught an early wave in a set of migrations that changed the island and captured the country's imagination. Locals groaned on seeing mansions pierce the ridgelines around Matiatia, where the newfast ferries arrived. The island became a linchpin of newspaper "property porn", portrayed as a millionaire's playground.
Outrageous claims pulled the punters. The island was said to be five degrees warmer than Auckland, and a coastal home with private beach was achievable on a middle-class income. In the three years to April 2003, average house prices jumped from $178,000 to $325,000.
"Waiheke is now considered one of the 'in' spots by Aucklanders and expats securing a slice of land for a summer holiday haven or for their eventual return," one estate agent told the Herald then. There was talk of an "ageing invasion" as golden oldies flocked to the island too.
No wonder Hawkesby thought Waiheke was the new Martha's Vineyard, blue-blood America's summer playground. He pitched the idea for a column in a local newspaper.
"They said: 'Listen here, you. You've been here five minutes. We don't want tossers like you wandering around saying this is going to be the next Martha's Vineyard'."
Some Waiheke old-timers may have perceived Hawkesby as a nouveau rich, chardonnay-swilling tosser, yet he spent most of his time immersing himself in the community. For much of this year, he has led locals in battle against construction of a contentious marina at Matiatia, the island's gateway. The marina's biggest backer, Graham Guthrie, is Hawkesby's neighbour. The two get along just fine, agreeing to disagree.
Hawkesby loves writing - broadcasting is too ephemeral anyway - and he loves talking to people. With a pace of life conducive to reflection, it's little wonder he combined two of his favourite things with a book about the island and its people.
"The idea was to showcase the island, not just through its natural beauty but to try to get the pulse and rhythm of the island which is ultimately done through its inhabitants."
Celebrities, politicians and talking heads were off-limits. Some participants, like legendary, reclusive model Judith Baragwanath, whom he calls New Zealand's Jean Shrimpton, took persuading.

Hawkesby passes Graham Guthrie on the way to Oneroa, the island's commercial centre. They wave at one another, even though Hawkesby finds his neighbour's marina plans ridiculous. They want to park their 160 boats in Matiatia, not a more suitable spot 10 minutes to the south, he complains.
They will ruin the first impression people have of Waiheke. Hawkesby shudders at the thought it might become another Gulf Harbour or Pauanui.
But here, you can take a stand and stay on good terms with a political adversary. People are comfortable in public meetings. It reflects an embedded social conscience and spirit of political activism endemic to Waiheke. Hawkesby says islanders supplied a disproportionate number of submissions to the Unitary Plan. They care.
Hawkesby is adamant that spirit seduced the newcomers, changing them more than they have changed the island.
"There are some very wealthy inhabitants on the island but they keep a low profile," he tells the Herald on Sunday at his home between Matiatia and nearby Church Bay. "They can't wait to get out of the Hugo Boss suit and put on the gumboots and Swanndri."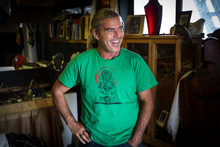 On Oneroa's main street, the most charming shop is that of celebrated sculptor and jeweller Toi-Te-Rangiuaia, known as Paora. Required tools on his latest big work were a 1kg hammer and a 10 inch nail, which seem incongruous for those who encounter in Paora the serene, authentic composure of a man who seems at peace with himself and the world.
He has just returned from a village in the Charente Maritime region, a 90-minute drive north of Bordeaux. "It was a beautiful experience for my wife and kids. Not so beautiful for the Visa," he jokes.
In a quarry turned into a sculpture park, he carved a 10m high sculpture in limestone. It depicted Hine-nui-tepo, the goddess of death and night, a tuatara, and the moko of Tane-nui-a-Rangi, the god who ascended to the most sacred of heavens to bring knowledge to the Earth.
Work started in 2009. Paora went to France for a few months in alternate years. The sculptor will probably return in 2015 and may be off again soon to work in the Marques as Islands.
Will he come back? Well, he always does. "It's a nice feeling to come back. It feels like a community."
In 1990, Paora's enterprise in Auckland working with at-risk kids was winding up, struggling for funds. He wanted a new start and couldn't decide where.
He considered Paekakariki on the Kapiti Coast. He also considered tiny Rakino, a Hauraki Gulf island of 150ha, five roads, and four times more dwellings than its 16-odd permanent residents.
Paora enjoyed visiting another Gulf island, Motuihe. After a weekend there he ran into an old friend, a Waihekean who, with an act of mighty generosity, helped change his life. "I was just looking for refuge. He said: Here are the keys to my house."
Paora spent Christmas there, before serendipity convinced him to stay.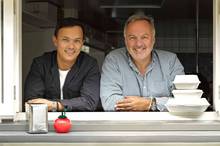 Down the road, recent arrival Jonathan Rutherfurd-Best and his partner Andrew Glenn run The Oyster Inn, a restaurant and hotel barely 11 months old but already counting Gordon Ramsay among its diners.
The couple had been working in hospitality and event management, organising events for high-end fashion houses and celebrities when a new, more peaceful life beckoned. They had no clear idea where to start.
Rutherfurd-Best grew up in Taranaki, left the country in 1981, and was startled to see how multicultural and dynamic New Zealand had become when he returned 30 years later. A day spent collecting tuatua on the beach was enough for an insight that changed everything.
"We realised, oh my God, we're in heaven. We can hunt and gather our own dinner," Rutherfurd-Best says. "Then it just got under our skin."
The couple were impressed with the warmth and the community spirit. "People really care about each other. Everything's so fresh and clean."
We're soon joined by the striking, black-lipped Judith Baragwanath, a model who had all of Auckland in a craze 40 years ago.
"I came here originally in the 70s. I knew that one day I'd come back. So, when Auckland lost its charm I packed up my bags and left," she says.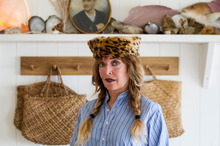 That was in 1994. The island's infrastructure was fragile. Baragwanath recalls Waiheke plunging into darkness when a hoon screaming around the narrow streets took out a power pole. A repeat event happened one night, just before an All Blacks test. She says the boy racer was lucky to escape a public flogging.
They are proud of the island's trend-setting, progressive political inheritance. The island declared itself nuclear-free in 1981, years before David Lange passed legislation.
The island, as many in the book tell Hawkesby, is where everybody knows everybody else's politics. To some of those interviewed, that's the best and worst thing about life on the island.
"We're far enough behind to be ahead," Hawkesby says proudly.