Address:
365 Dominion Rd, Mt Eden
Phone:
(09) 623 3140
Rating out of 10:
Food: 9, Service: 9, Value: 8, Ambience: 7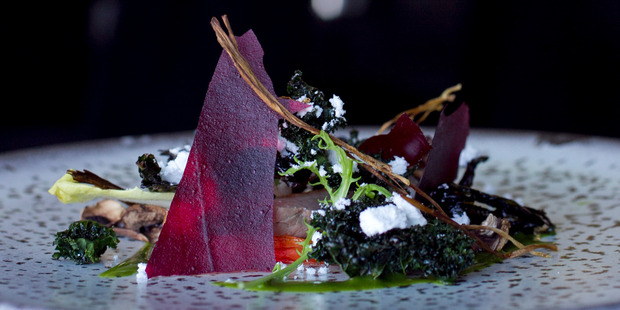 Property prices still rule as Auckland's most inescapable and most boring obsession but food is starting to run a close second. Even those of us who have a high personal and professional threshold of boredom with the subject begin to think in terms of overdose.
But then you go to a really top-level restaurant and the fascination renews its grip.
Auckland has plenty of decent, worthwhile eating places where the food bears a passing relationship, however faint, with what the ambitious might attempt at home. Then there are the venues where the concept and execution are from a different planet.
Merediths is one such place where the food is, in the true sense of the word, extraordinary. At what point, one wonders, does Michael Meredith decide enough is enough in the architecture of his dishes?
What inspired him to come up with chorizo broth or black pudding puree? And yet rarely do these flights of fancy seem overly elaborate. Each element brings a little ripple of pleasure in itself and a ripple of anticipation for what the next mouthful will bring.
You are free to savour the courses untroubled by choice, as the only decision you have to take with their tasting menu approach is to judge how many courses you feel prepared to encounter. We had intended to restrain ourselves to the minimum six but the presence of the wintry duck, of which more later, switched us to the eight option and we did not regret it.
After a little amuse-bouche of incomparably light beet and crab meringues, we embarked on the magical mystery tour. It is mysterious because the menu descriptions are wittily brief, reflecting the elegant touch of humour about the food. To list all the courses and their ingredients would be wearisome to read but to give you the idea, here is the composition of what the menu simply calls "wintry duck".
The duck breast rests on a yam puree with dehydrated carrot, cavolo nero, crispy kale and fresh dates. The dish is finished with beetroot transformed into a thin sheet, stalks of enoki mushroom and a walnut oil powder.
It is sensational. The duck is cooked to perfection, the kale contrasts crisply with the melting meat and the carrot adds another texture. If I had to pick just one of the eight courses, this would be it.
Fortunately we didn't have to pick just one and the others were almost as memorable.
The chorizo broth I mentioned came with salmon, which lurked under ricotta and the whole was, for me, perhaps the least successful of the dishes. Later, the horseradish was slightly overpowering for the carpaccio-style slices of red deer but these were probably the only blemishes in the evening's demonstration of creativity and technique, and a matter of individual taste.
The pork belly, which I seem to remember was one of Meredith's masterpieces as far back as when he was at The Grove, was simply superb, set off by the quirky black pudding puree. The scallops were not, as is standard, seared but left to display their unrivalled natural flavour, visually set off by a green concoction described just as "chlorophyll".
The frivolous egg and chook boasted sous vide chicken of remarkable texture. And so on through to the tangy citrus dessert topped with a coconut frosting and a rich chocolate with beet.
Of the service, it is sufficient to say it matched the food in its enthusiasm and professionalism. And it was pleasing, in these days of executive chefs, to see Meredith hands-on in the kitchen, even helping clean up at the end of what had been a very successful evening for this pair of customers.
We wondered what the all-vegetarian menu, which features on Tuesdays, is like. We'll have to try it.


Our meal: $305 for two eight-course tasting menus and four glasses of wine.
Our wine: A suitably fine wine list, well presented by knowledgeable staff.

Verdict: One of Auckland's very top-flight restaurants. Tremendous food. Best, perhaps, for couples or smaller groups ready to relish the best.